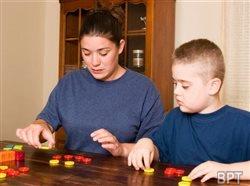 (BPT) – Fragile X Syndrome may sound a bit strange, like something from a sci-fi TV show. And although this disorder can cause unusual behaviors, especially in adolescents, it's actually the most common known cause of autism and other inherited intellectual disabilities.
Fragile X Syndrome, also known as FXS, FRX or Martin-Bell Syndrome, affects about one in 4,000 males and one in 8,000 females of all races and ethnic groups. Here's what every parent should know about this mysterious disease.
Is Fragile X Syndrome the same thing as autism?
No. Autism is a behavioral diagnosis for a range of symptoms generally characterized by an impaired ability to communicate and interact socially. Fragile X Syndrome is caused by a gene mutation and is the leading known genetic cause of autism. Most boys and some girls with this gene mutation have some symptoms of autism.
What signs suggest my child may have Fragile X Syndrome?
Most children and adolescents with Fragile X Syndrome will be intellectually impaired, and boys tend to be more severely affected than girls. Many children will exhibit some of the following behaviors:
* Hyperactivity and difficulty paying attention, especially young children
* Speech delay
* Hypersensitivity to loud noises or bright lights
* Hand-biting or flapping
* Being afraid or anxious in new situations
* Not making eye contact
* Over aggressiveness, particularly among boys
* Seizures (epilepsy), which affect about 25 percent of people with Fragile X Syndrome
People with Fragile X Syndrome also can have certain physical characteristics, which can be hard to recognize in babies and young children. These include a long face, large prominent ears, flat feet, double-jointed fingers and low muscle tone.
What can I do if my child has Fragile X Syndrome?
Organizations such as the National Fragile X Foundation (www.fragilex.org) and the FRAXA Research Foundation (www.fraxa.org) have plenty of helpful resources.
"The National Fragile X Foundation offers person to person support, educational materials and information about daily living strategies and treatments. With partial funding from the CDC, the NFXF created a national network of 26 Fragile X clinics. The NFXF connects families to these clinics and to affiliated, parent-run support groups located across the county. We also fund basic science and clinical research and regularly meet with policymakers to make the case for increased funding for Fragile X research and programming," says Jeffrey Cohen, director of public policy and government affairs at the National Fragile X Foundation. "We also help families impacted by Fragile X Syndrome find clinical trials that they can participate in to advance research toward potential treatment options. Patient participation is critically important to advance science."
For example, a new clinical trial investigating a drug that has been safely used for 30 years to treat other conditions in Europe and Asia, is now recruiting males and females (ages 15-55) with Fragile X Syndrome to be part of a 6-week clinical study. The study is researching the effects of the drug on symptoms exhibited by those with Fragile X. The study is being conducted at various sites throughout the United States. For more information about the clinical trial and to see how you or your son or daughter can qualify for it, visit www.TheFragileXStudy.com.
Can my child be tested for Fragile X Syndrome?
Individuals suspected of having Fragile X can be tested with a simple genetic blood test. Parents also can take the test to determine if they could pass the mutation for Fragile X on to their children. According to the CDC it's estimated that about one in 151 women and one in 468 men carry the mutated gene. That's more than one million individuals in the U.S. and nearly 30 million globally.
Because symptoms can be subtle, especially in young children, testing should be considered for anyone with signs of autism or unexplained developmental delay or intellectual disabilities. Although testing is easy and usually covered by health insurance, many people with Fragile X Syndrome are not correctly diagnosed.
What's it like to have a child with Fragile X Syndrome?
Parents' experiences are as unique as their children. But they typically can expect to spend a lot of time just helping their children perform simple daily tasks and learn how to live with their impairments, not to mention all the visits with doctors, specialists and school officials.