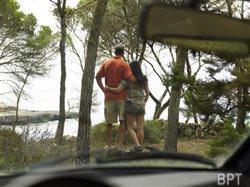 (BPT) – Following what was known as the "Polar Vortex" for millions of Americans, the summer travel season is finally here. This year will be the second highest traveled year since 2000, with the vast majority of people – more than 80 percent – traveling by car, according to research by AAA.
In a perfect world, packing up the car and heading out of town for your summer vacation is full of fun and adventure. However, as many of us have experienced, that's not always reality. The stress of planning your trip, making sure your car is prepped, and even being cooped up in the car for hours on end, can lead to more drama than most of us would care to experience.
In fact, the biggest vacation stressors are managing transportation, being unfamiliar with the destination and wasting time figuring things out, according to a new Monograms Road to Happiness Study. To help minimize the amount of stress that can quickly detour your summer dream vacation, travelers can take three simple steps:
Plan in advance. Nothing can derail your vacation (or finances) more than poor planning. Planning your vacation at least four to six weeks in advance will ensure you have adequate time to map out all the best routes and get the best possible travel deals. Often pre-paying for your hotel room and car rental can provide savings of at least 20 percent. It will also give you plenty of time to hunt for any deals you may be able to find for restaurants and/or entertainment venues. Searching on Groupon.com or LivingSocial.com will often turn up deals that can save an average 50 percent or more.
Consider renting a car. Not only are rental cars often the latest models with up-to-date safety features, they can save a significant amount of wear and tear on your own car. With the diversity of rental car fleets – such as Hertz's Green Traveler Collection that get at least 33 miles per gallon – you can also save money on gas. Between an abundance of online rental car specials and gas savings, you'll have a bigger budget to spend once you arrive at your destination. Worried you're too young to rent? Most car rental companies, such as Hertz, offer a Young Renter's program for travelers as young as age 20.
Add adventure to your drive. Half the fun of summer vacation can be the journey to your final destination. Consider making frequent stops and adding in shorter side trips to well-reviewed restaurants, museums, amusement parks or even to a scenic park where you can enjoy an afternoon picnic or walk. Often there are lists of adventures and local sites to see in community newspapers and magazines to help pick top spots to explore. Not only will this nicely break up your time spent in the car, it will give you more things to look forward to.
For more information on Hertz's Green Traveler Collection, as well as their diverse fleet and Young Renter's program, visit www.Hertz.com.