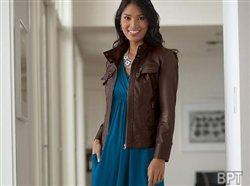 Like snowflakes, we're beautifully shaped in our own unique way. But with all the images we see in the media, it's hard to find clothes that make us feel good about our "flurry" of unique features.
Even with more than half of U.S. women size 12 or above, many women with "real" curves still find it hard to find fashions that make them feel confident in their clothes.
And that's why employees at fashion cataloger Monroe and Main (www.monroeandmain.com) are so passionate about what they do. As a group of "average women" themselves, they draw on their own experiences to help other women dress for their shape.
Here are the top 5 fit tips from their style experts:
1. To hide hips
Bringing the focus upward helps balance your body and takes the attention away from your hips. Add a top with a pop of color, or play with different necklines, collars and embellishments.
2. To add height
To add height, look for tops or dresses with an empire waist. The seaming falls above the natural waist and creates the appearance of a short torso and longer legs. Hint: an empire waist dress with vertical stripes will make you look even taller.
3. To camouflage your midsection
Not comfortable with your tummy? Dresses show off your best assets. Pair a dress with a structured jacket to add even more hourglass appeal to your shape.
4. To elongate a short waist
Trick the eye by playing with color. By pairing a darker color on the bottom with a lighter color or pattern on top, you'll make your upper half the focus. The length of the shirt can also give the illusion of a longer torso.
5. To de-emphasize your bust
If you're busty, find pieces that balance your bottom half, like trousers. Try darker colors on top and lighter colors on the bottom to draw the emphasis away from the bust line.
"Looking your confident best is all about choosing the right styles for your body type, and trying new pieces outside your normal go-to's. Who knows, you may soon be turning heads in a hot empire-waisted black dress with the perfect pair of high boots you never thought would look so good on you," says Allyson Dietrich, manager of the company's online content.
Monroe and Main literally searches the globe to find the latest trends, and then customizes each pattern to fit women size 6 to 24. Most of customers fall in the "above 12" sizes. Flip through a catalog and you will learn how an empire waist, off-centered seam or side-tie can magically make you feel put together and polished.
"We even use our own employees to 'model' our fit and style solutions. We don't put anything in our catalog or on our website we wouldn't wear ourselves," says Ann Bush, Monroe and Main catalog president.
Visit the company's "Fit For You Guide" at www.monroeandmain.com/fit or request a catalog using the link at the bottom of the webpage.