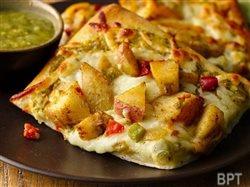 (BPT) – When the holiday lights fade for another year, the excitement really begins with the arrival of big games and tournaments in top winter sports like football, basketball and hockey. If you'll be playing game-day host for your team of fans, you know the flavors of the food you serve are as important as the clarity of your flat-screen TV.
In fact, studies show that many football fans say they associate a special food or snack with their favorite team. To be a great game-day host, it's important to serve the snacks and foods your guests will love. At the same time, you want to put your culinary stamp on the occasion.
Here are three simple ways to score big by adding some flare to traditional game-day fare:
1. Stay in the safe zone with some standby dishes and toss in some new options.
Not every play of your game-day meal needs to be a scoring pass. Try serving some reliable favorites – like your guests' favorite buffalo hot wings – along with appetizers or desserts they may not have tried before. You can also ensure success with every course by serving a standby beside something new. By giving guests the option to stick with favorites or taste something new, you can fill their stomachs and let them focus on the game at the same time.
2. Mix up beverage excitement with some game-day drinks.
The beverage table can often be overlooked, yet it is a great spot to add some excitement. Try creating your own game day drink. It can be as easy as renaming your favorite beverage with fun, sports-themed names like "touchdown tea" or "coach's cooler." Round out your drinks station by offering cups or straws in your favorite team's colors.
3. Slap some sophistication on popular game-day grub.
Some dishes simply must be on the menu for any game-day celebration: wings, sliders, chips and dip and pizza. A touch of sophistication can elevate these staples to something fresh and exciting. Try glazing wings with a new flavor, such as soy-ginger or chili lime. Mix things up with a variety of veggie chips (instead of just potato) and gourmet dips like crab and artichoke. Or upgrade everyone's favorite handheld and replace the ground beef in your sliders with lean turkey.
For dishes that are both grown-up and game-day gourmet, try these recipes from the 47th Pillsbury Bake-Off(R) Contest.
Grilled Potato and Roasted Salsa Verde Pizza
by Greg Fontenot of The Woodlands, Texas, winner of the $5,000 Crisco is Cooking(TM) Award
Prep time: 30 minutes
Total time: 50 minutes
Serves 4.
Ingredients:
1 pound tomatillos, husks removed, rinsed, coarsely chopped
4 tablespoons Crisco(R) Pure Olive Oil
1 bag (11 ounces) Green Giant(TM) Steamers(TM) frozen backyard grilled potatoes
1 teaspoon Watkins(TM) Ground Cumin
1/2 cup chopped fresh cilantro
1 can Pillsbury(TM) refrigerated classic pizza crust
2 cups (8 ounces) shredded mozzarella cheese
Directions:
Set oven control to broil. Spray 15x10x1?inch pan with Crisco(R) Original No?Stick Cooking Spray. Place tomatillos in pan and toss with 2 tablespoons of the oil. Broil 3-4 inches from heat for 9-12 minutes, turning once, or until tender and starting to brown.
Heat oven to 400 F. Brush large cookie sheet with 1 tablespoon of the oil.
Microwave frozen potatoes as directed on bag 3-4 minutes to thaw. Cut larger pieces of potato into bite-sized pieces. In medium bowl, mix potatoes and cumin.
Place tomatillos, cilantro, 1/2 teaspoon salt and 1/4 teaspoon pepper in a food processor or blender and cover. Process until smooth.
Unroll dough on cookie sheet. Press to form 12×8 ?inch rectangle. Spread 1/2 cup tomatillo salsa over rectangle. Sprinkle with cheese. Top with potato mixture. Drizzle with remaining 1 tablespoon oil.
Bake 12-22 minutes or until cheese is melted and crust is golden brown. Serve with remaining tomatillo salsa.
Spinach Turkey Sliders with Lemon Yogurt Sauce
Prep time: 25 minutes
Total time: 45 minutes
Serves 10.
Ingredients:
1 can Pillsbury(TM) Grands!(TM) Jr. Golden Layers Butter Tastin'(TM) refrigerated biscuits (10 biscuits)
4 tablespoons Crisco(R) Pure Olive Oil
2 teaspoons Watkins(TM) Sesame Seeds
1 box (9 ounces) Green Giant(TM) Steamers(TM) frozen chopped spinach
1 1/4 pounds ground turkey
2 containers (5.3 ounces each) 100-calorie fat-free lemon Greek yogurt, stirred
1/4 teaspoon Watkins(TM) Garlic Powder
Directions:
Heat oven to 400 F. Separate dough into 10 biscuits and place 2 inches apart on ungreased cookie sheet. Brush tops of biscuits with one teaspoon of the oil. Sprinkle with sesame seeds and press in lightly. Bake eight to 11 minutes or until golden brown.
Meanwhile, microwave frozen spinach as directed on box for 3 to 4 minutes to thaw. Drain well and squeeze dry with paper towels. In large bowl, gently mix spinach, ground turkey, 2 tablespoons of the yogurt, the garlic powder, 1 1/4 teaspoons salt and 1/4 teaspoon pepper just until combined. Shape mixture into 10 (3-inch) patties.
In 10-inch nonstick skillet, heat two tablespoons of the oil over medium-high heat. Add 5 patties and cook 4 to 6 minutes, turning once, until meat thermometer inserted in center of patties reads 165 F. Drain on paper towel-lined plate. Repeat with remaining oil and patties.
In small bowl, mix remaining yogurt, 1/4 teaspoon salt and 1/4 teaspoon pepper until blended. Split biscuits and spread 1 tablespoon yogurt sauce over cut side of each bottom biscuit. Fill biscuits with patties. Serve with remaining yogurt sauce.
For more great game-day recipes, visit www.bakeoff.com.