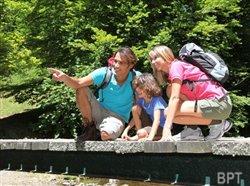 It's never too early to make your summer travel plans. DreamPlanGo, the popular website and social community devoted to bringing travelers vacation ideas and trip inspiration, surveyed a cross-section of Americans and found some interesting answers to that age-old question, "What are you doing this summer?"
True to form, America still loves the family vacation: 42 percent of respondents planning to travel indicate that a family trip is in the works. National parks are a traditional destination, and this summer is no different, with Yosemite, Yellowstone, Glacier and Acadia mentioned frequently. Many travelers also said South Dakota (Badlands, Black Hills and Mount Rushmore) or the beach (Sanibel, Panama City, the Outer Banks of North Carolina, Wildwood Crest N.J., and even Lake Michigan) was their destination.
We're still busy as ever though, and 26 percent of respondents say a weekend escape is the longest they can manage. Adventure travel (13 percent), romantic getaways (11 percent) and guys or girls getaways (8 percent) round out the top five trip ideas.
The cost of "getting there" hasn't changed travelers' plans much, if at all. A full three-quarters of respondents say that gasoline prices have not altered their summer travel plans. Likewise, 75 percent of travelers considering flying say that airline ticket prices have not changed their plans.
The road trip is alive and well in America, with 64 percent of respondents planning to drive to their summer travel destination. And a robust 28 percent of travelers say they will fly this summer; Alaska, Ireland, Paris, Belize and Costa Rica emerged as popular destinations for these big trips. Buses and trains have a small following, at 4 percent each.
Once travelers arrive at their destination, comfort and convenience are big factors, as indicated by the 41 percent of respondents who said a hotel or motel was their lodging choice. Bed-and-breakfasts and inns get the nod from 7 percent of travelers. The outdoor experience has its own following, with 15 percent camping in a tent, trailer or RV, and 14 percent staying at a resort, cabin or cottage, often near a lake or beach.
Visiting family and friends is big on the travel list, as evidenced by the 23 percent of respondents lodging with family and friends at some point in their travels. Here's a typical comment: "This summer I'm dreaming of returning to my home area near Erie, Penn., so I can reconnect with family and attend my class reunion!"
How are your travel plans shaping up for the summer? America has spoken, and it's fun to see how you compare. If you're looking for some concepts for your own summer getaway, check out sites like DreamPlanGo to find ideas and inspiration. Then get planning. America's getting out and getting away this summer, and you should too.