Your zzz's count this holiday season, so start counting them
November 13, 2013 - 3:12 am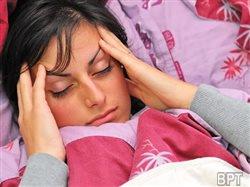 (BPT) – Between squeezing extra activities into your schedule, finding time to bake holiday treats for your children's classrooms and organizing a mini family reunion, the holiday season might be causing you a bit of stress. And if that stress is affecting your sleep, you could be caught up in the vicious cycle of exhaustion causing stress and stress causing more exhaustion.
Creating a personal sleep sanctuary will help you meet your needs for rest and rejuvenation and give you plenty of opportunity to count your zzz's and not lie awake wishing for sleep. By improving your quality and quantity of sleep, you are able to better handle all the stresses of the holiday season, and instead share in the fun activities at this time of year.
"A lack of sleep negatively impacts our mood and outlook, as well as our physical health," says Terry Cralle, a registered nurse and certified clinical sleep educator. "Sufficient sleep, a good diet and regular exercise are the three ingredients to staying healthy all season long."
You may be surprised at how many people experience issues sleeping. The Better Sleep Council reports that 66 percent of people 18 to 34 claim that they have trouble falling and staying asleep. That number drops to 53 percent of people ages 35 to 54, and just less than half of people 55 and older. If you fall into the portion of the population experiencing sleep troubles, consider these tips from the Better Sleep Council:
* Build a good sleep environment – A good sleep environment is imperative when it comes to counting zzz's each night. Start off with a quality mattress. "A mattress is an investment, not only financially but for your health," says Karin Mahoney, director of communications for the Better Sleep Council. "To help improve your sleep – and your quality of life – it's a good idea to compare the mattress you are sleeping on to new models every five years and to consider replacing your mattress if it is more than seven years old."
* Sleep in your ideal bedroom – Light, noise and even temperature can disrupt sleep or make it difficult to fall asleep. Purchase light-blocking shades and install them in windows to keep the sun, streetlights and passing car headlights from shining in. Consider finding a source of white noise – such as a fan or sound machine producing soft ocean sounds – to cover up other noises happening in the house like the heater kicking in, or someone getting up in the middle of the night to use the bathroom. Finally, you should consider turning the temperature in the bedroom down a degree or two – or getting it as close as possible to the ideal bedroom temperature of 65 F. A cooler temperature can help the body relax and fall into sleep much more easily.
* Count your sleep – not sheep – Track your sleep using a sleep app. Several apps reviewed by the Better Sleep Council provide users with a variety of benefits. For example, some are designed to monitor your breathing and movements, and they encourage you to wake up when you're in the lightest stage of the sleep cycle. Others can record your snoring and breathing habits to help determine if you are experiencing any distractions mid-slumber.
Catching the right number of zzz's can lead to better health and more energy this holiday season, helping to reduce your stress level. Make good sleeping habits and creating a sleep environment a priority, so you can wake up feeling refreshed every morning.
Learn more about how to give yourself the gift of a better sleep this holiday season at www.facebook.com/BetterSleepCouncilOrg.