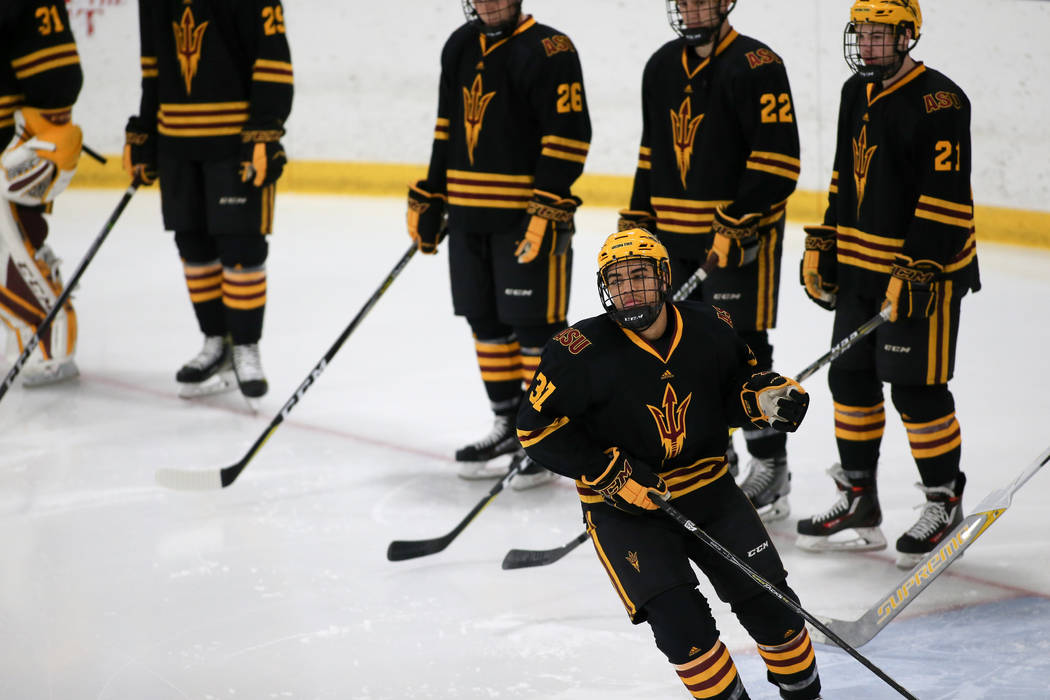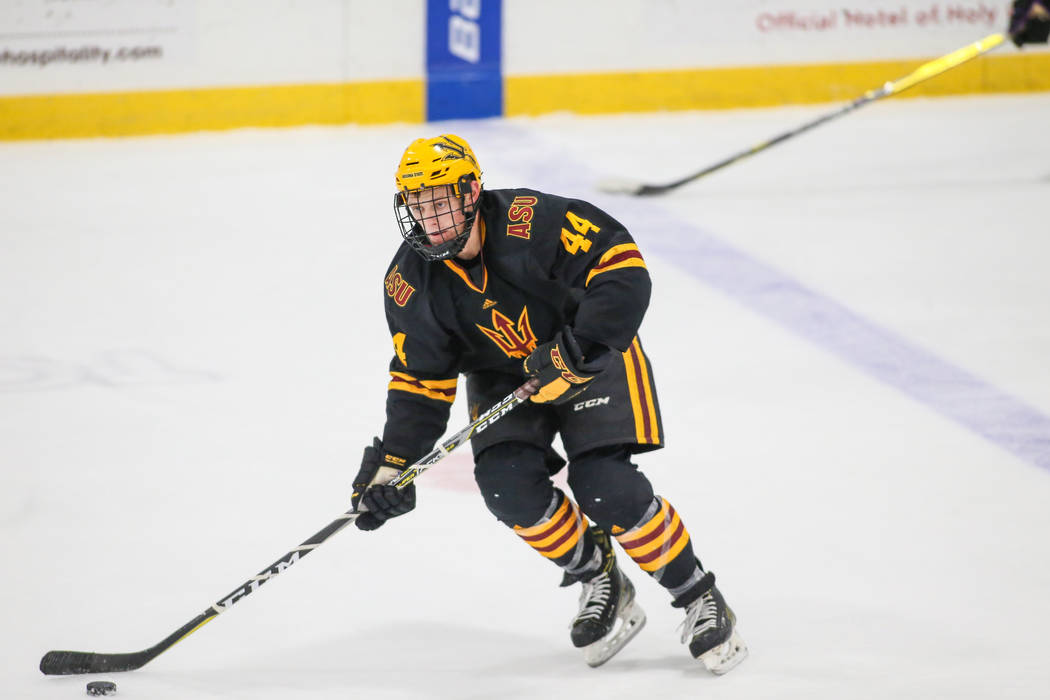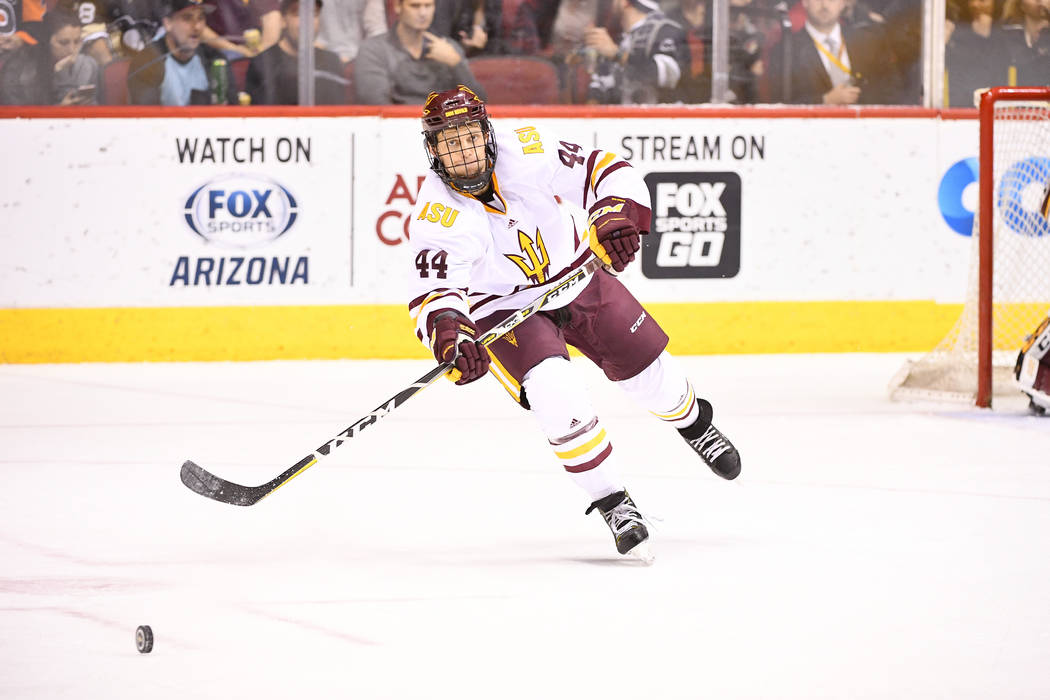 When a young Dominic Garcia told people in Las Vegas that he played hockey as a kid, he would be met by people saying they didn't even know there was hockey in the city.
These days, he sees those same people on social media hanging out at Golden Knights games.
He never thought he'd see an NHL team here. Neither did Joey Raats.They never figured they'd play college hockey in Las Vegas, either.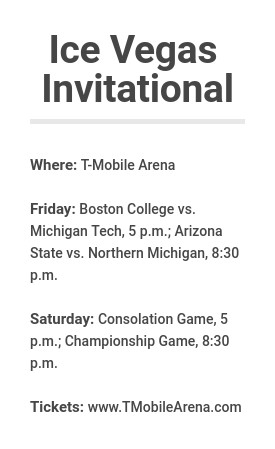 This weekend, Arizona State's two Las Vegans, Garcia and Raats, will return home as the Sun Devils compete in the four-team Ice Vegas Invitational at T-Mobile Arena.
"Playing college hockey was my goal from the start and I always thought I'd end up on the East Coast and now that I'm four hours away playing and now I'm playing in Vegas in front of all them (family and friends) is kind of surreal," Garcia said. "I don't even know how to explain it. It's just crazy to think about that it's happened."
A rolling start
Garcia, a freshman forward who has one assist in 19 games this season, started playing roller hockey around age seven before shifting to ice hockey about two years later.
He was the first in his family to play. His father boxed. His older brothers played lacrosse.
But he fell in love with the sport. He liked the fast pace and the atmosphere of roller hockey and the contact portion once he got on the ice.
He played in Las Vegas for as long as he could and even spent a year playing for a team nearly 300 miles away in California before playing his final three years of high school at Culver Military Academy in Indiana.
After that, he played in the North American Hockey League before making his way to Arizona State.
The location and popularity of the sport in the city made playing hockey in Las Vegas a sacrifice. Spending long hours in cars instead of hanging out with friends on weekends was the norm, but he was willing to do it to reach Division I.
"My parents (didn't) have to ask me if this was something that I wanted to do," Garcia said. "Once they saw the look on my face, they knew I was willing to sacrifice for it. Fortunately, they were able to help me doing it."
Dual citizenship
Raats, a junior defenseman who has one goal and four assists in 20 games this season , had a more traditional path into the sport — he is a dual citizen, with his family hailing from Canada.
His father, who played juniors, got him into it when he was 2.
Raats, too, made those same sacrifices, and moved around a lot to keep playing the sport he loved.
At about 10, he moved to Arizona and played three for three years before moving back to Las Vegas.
As a teenager, he went up to Canada to compete in the Alberta Junior Hockey League and then played for the Sioux Falls Stampede of the United States Hockey League after that before joining the Sun Devils.
"I've always had a passion for the game," Raats said. "I always try to better myself every day. I've lived for it my whole life."
Raats estimates that him and Garcia are two of only three or four Las Vegans currently playing collegiate hockey. From the non-traditional hockey city, it wasn't an easy path, but the two are excited to be able to play at home this weekend.
"I think it's unbelievable to have a chance to come back to my hometown and play in front of a lot of family and friends," Raats said. "A lot of people can't do that, especially in Vegas. I'm very fortunate for the opportunity to come back."
Contact Betsy Helfand at bhelfand@reviewjournal.com. Follow @BetsyHelfand on Twitter.