2 reasons the Rebels can win the Heart of Dallas Bowl
December 31, 2013 - 10:36 pm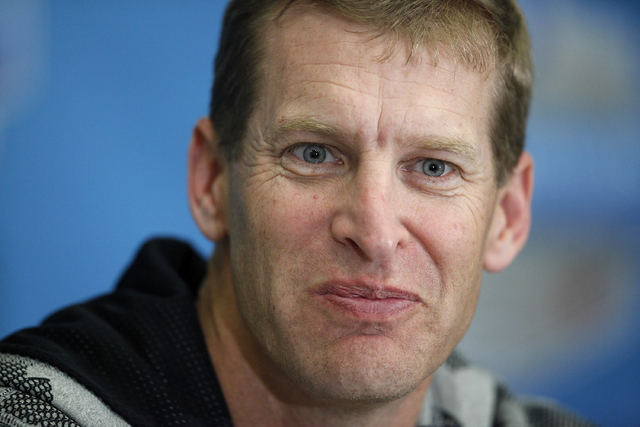 The Rebels are heading into their first bowl game in 13 years as 6.5-point underdogs. Their opponent's campus is a mere 43 miles from the stadium where the game will be played. The deck seems to be stacked against UNLV, but when has that mattered? Here are two reasons the Rebels can win the Heart of Dallas Bowl:
1. Texas Twosome
Tim Cornett and Devante Davis were a year apart at Houston's North Shore High School. The running back and wide receiver have played together since their pee-wee football days in southeast Texas. Now the duo heads to Dallas for a Texas homecoming of sorts, hoping to lead UNLV to its first bowl win since 2000. They could find the going tough against a North Texas defense that only gives up 18 points per game. Cornett, UNLV's all-time leading rusher, has been Bobby Hauck's go-to guy all year. If he can break loose, the Rebels have a great chance to win. They are 5-1 when Cornett rushes for over 100 yards this season. With Cornett doing the dirty work, Davis may be the Rebel best positioned to take advantage of the vaunted North Texas defense. The Mean Green D, ranked 9th overall in FBS, is only 62nd against the pass. Davis, who exploded for 4 touchdowns in the regular season finale against San Diego State, has tools that will have NFL scouts searching their channel guides for ESPNU on Wednesday. He may be too much for North Texas to handle on the outside.
2. Turnovers
If you've read or heard anything about the Heart of Dallas Bowl, you know about the North Texas defense. The Mean Green D gave up more than 28 points in only one game, against No. 23 Georgia in Week 4. Over the 12-week regular season, they've forced their opponents into 32 turnovers. But here's the thing, UNLV has been very good at NOT turning the ball over. Although their turnover margin for the season is only +6, the Rebels have given the ball away only 13 times, and had a negative turnover margin in only 2 games. While the North Texas defense is forcing turnovers, their offense has had a little bit of trouble holding on to the ball. Quarterback Derek Thompson has thrown 13 picks to go with his 14 TDs. UNLV's Caleb Herring has four more passing attempts than Thompson (and 8 more TDs) but has only thrown 4 INTs. If UNLV can win the turnover battle and give their potent offense a few extra shots on New Year's Day, we like their chances.
WHERE: Cotton Bowl, Dallas
WHEN: January 1
TV: ESPNU
10 DAYS OF UNLV FOOTBALL
10 well-known players to come out of UNLV
9 reasons to be a UNLV football fan
8 of UNLV's best moments this football season
7 things you should know about UNLV football
6 best quotes from UNLV football's 2013 season
5 reasons for UNLV football fans to look forward to next season
4 other bowls we'd like to see the Rebels in
3 bowl games UNLV has played in