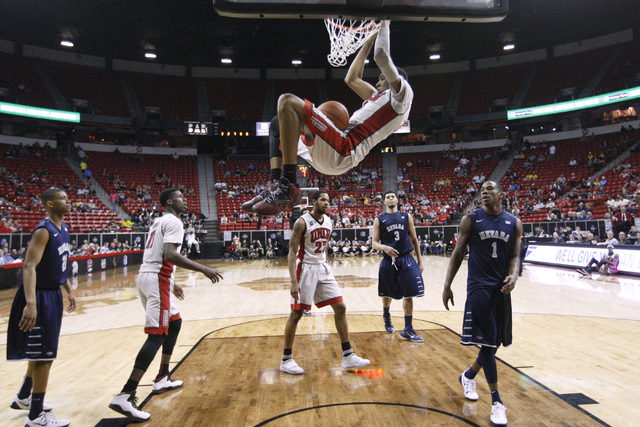 With the NBA draft order set following the league's draft lottery Tuesday night, former UNLV players Chris Wood and Rashad Vaughn have been projected as first-round picks by ESPN NBA draft expert Chad Ford.
Ford's mock draft on ESPN.com has Wood going to the Minnesota Timberwolves at No. 25 and Vaughn headed to the Los Angeles Lakers at No. 27.
Mock draft website DraftExpress.com projects the pair of Rebels to be back-to-back first-round picks, with Wood going to the San Antonio Spurs at No. 26 and Vaughn to the Lakers at No. 27.
While Wood, a 6-foot-11-inch power forward, has widely been projected to be a first-round pick and Vaughn, a 6-foot-6-inch shooting guard, had been expected to be a second-rounder, ESPN draft expert Jeff Goodman has it the other way around, with only Vaughn going in the first round, to the Brooklyn Nets at No. 29.
Mock draft site NBADraft.net has Wood going to the Nets at No. 29, with Vaughn going at No. 31 to the Timberwolves in the first pick of the second round.
Wood averaged 15.7 points, a team-leading 10 rebounds and almost three blocks per game for UNLV during his sophomore season en route to earning Mountain West first team all-conference honors.
Vaughn, who was hampered by two minor knee injuries over the past year, averaged 17.8 points and shot 38.3 percent from 3-point range (54-for-141) in 23 games for the Rebels on his way to being named the Mountain West Freshman of the Year.
This year's NBA draft is scheduled for June 25 at the Barclays Center in Brooklyn.