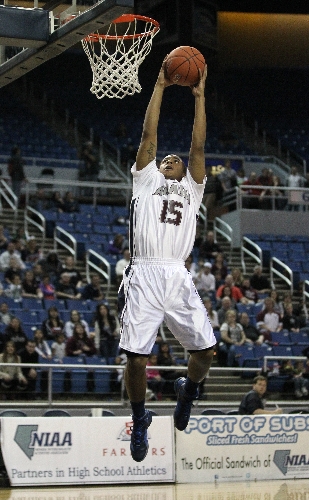 RENO — With under two minutes to go Saturday, Agassi Prep's boys could practically taste a second straight Class 2A basketball title.
The taste turned sour awfully fast.
The Stars watched a 66-58 lead slip away as West Wendover finished the game with an 11-2 run in the final 1:50 to hand Agassi Prep a crushing 69-68 defeat at UNR's Lawlor Events Center.
Corey Bostock's midcourt steal and basket in the paint with 12.7 seconds to play provided the margin of victory and capped a frantic comeback by the Wolverines (24-6).
"You've got to give it to them," Agassi Prep coach Wendell West said. "They did a great job tonight."
West Wendover forced five turnovers in the final two minutes and cashed them in for nine of the 11 points in the run.
Consecutive transition baskets by Justin Kidd and Bostock ignited the spurt, pulling the Wolverines to within four with 1:19 left. After Agassi's Anson Williams missed two free throws, Sean McGahey hit both ends of a one-and-one with a minute left to make it 66-64.
Agassi's DeCari Lide and Demadjeo Simon each hit 1 of 2 free throws to bump the lead to 68-64 with 46 seconds remaining, and the Wolverines even coughed up the ball on a charging foul 10 seconds later.
The Stars (23-6) lost the inbound pass and fouled Kidd, who made 1 of 2. Another turnover and foul sent Jesus Limon to the line, and he cut the lead to 68-67 with 24.2 seconds remaining.
That set the stage for Bostock's heroics.
"We called a timeout, and we said we can't turn the ball over, and we have to make free throws," West said. "We did the exact opposite of both of those. We turned the ball over and missed free throws. That was the difference in the game."
Lide had two chances, both on tough shots, to win it, but the buzzer sounded before Agassi could get off a third shot.
Kalinn Jackson led the Stars with 23 points. Williams had 15 and Lide 11.
"We had a great year," West said. "We didn't leave it all on the line tonight, but it happens sometimes. You've got to move on, can't hold on to it."
McGahey and Limon each scored 15 to lead West Wendover.
GIRLS
■ Pershing County 65, White Pine 60 — Sarita Jo Condie scored 33 points as the Mustangs (30-1) rallied to defeat the Bobcats (16-12) for the state title.
Condie shot 10-for-10 from the free-throw line in the fourth quarter, and scored 14 points in the final period as Pershing County rallied.
The Mustangs had beaten White Pine three times during the regular season, but the Bobcats quickly took control and led until Pershing County's comeback.
Condie finished 14-for-17 at the line, and made her final 12. Claudia Dennler added 10 points and six rebounds.
Bailey Moore led White Pine with 21 points, 13 rebounds and four steals. Maataua Kingston supplied 11 points and seven rebounds.
Contact reporter Bartt Davis at bdavis@reviewjournal.com or 702-387-5230.
In-depth high school sports coverage