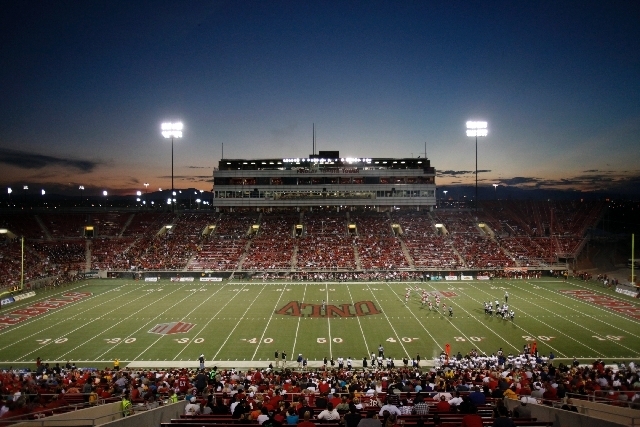 Editor's note: During our 10 days of UNLV football, we'll run a UNLV list a day leading up to the Heart of Dallas Bowl on New Year's Day.
The Rebels are on their way to their fourth bowl game. Here's a quick look at the other three the school has played in:
1984: UNLV vs. Toledo, California Bowl
UNLV's first bowl game — and first bowl victory — was the 1984 California Bowl, played in Fresno, Calif.
The 1984 season had been the Rebels' most successful yet: Led by Randall Cunningham, they won their first conference championship with an 11-2 record and beat Toledo 30-13.
The entire season was later forfeited and Toledo was awarded the bowl win upon the discovery that several of UNLV Coach Harvey Hyde's players had been ineligible to play during the 1984 season.
Hyde stepped down after the 1985 season.
1994: UNLV vs. Central Michigan, Las Vegas Bowl
The California Bowl moved to Las Vegas in 1992, becoming the Las Vegas Bowl.
Two years later, UNLV finished the regular season with a 7-5 record. They had upset UNR 32-27 and won a share of the Big West Conference championship.
UNLV was invited to play Central Michigan in the Las Vegas Bowl, where the Rebels won 52-24.
It was their second bowl victory in as many appearances and the first one they were allowed to keep.
2000: UNLV vs. Arkansas, Las Vegas Bowl
UNLV had struggled in 1999, its first year in the Mountain West Conference. But in 2000, things looked like they would go well.
The Rebels upset undefeated Air Force 34-13 and beat Nevada for the first time in five years.
The Rebels were once again invited to the Las Vegas Bowl, where they beat Arkansas 31-14 in front of 29,113 fans — a Las Vegas Bowl record at the time.
(The current record was set in 2006, when BYU beat Oregon in front of 44,615 people.)
Contact Stephanie Grimes at sgrimes@reviewjournal.com. Find her on Twitter: @steph_grimes
WHERE: Cotton Bowl, Dallas
WHEN: January 1
TV: ESPNU
10 DAYS OF UNLV FOOTBALL
10 well-known players to come out of UNLV
9 reasons to be a UNLV football fan
8 of UNLV's best moments this football season
7 things you should know about UNLV football
6 best quotes from UNLV football's 2013 season
5 reasons for UNLV football fans to look forward to next season
4 other bowls we'd like to see the Rebels in