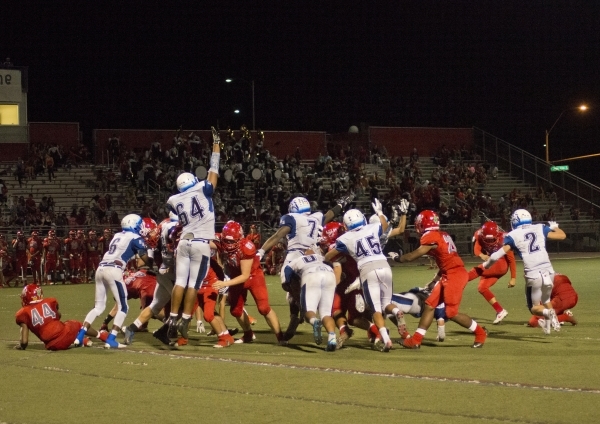 Here's a look at some of Friday's most interesting high school football games.
Mojave (3-2, 2-1 Sunset League) at Spring Valley (4-1, 2-1) — The Sunset League's playoff picture was a mess last season, with five teams tying for second place in the league at 4-3. Two of those were left on the outside when the postseason started (only the top four make the playoffs).
Things could be similar this year, with a cluster of four teams currently tied for second in the league at 2-1, which makes this game (and every league game) key for those hoping to secure a playoff spot and not have to rely on tiebreakers to decide their fate.
Spring Valley quarterback K.C. Moore is second in Southern Nevada in passing yards with 965, and has thrown eight TDs.
But he'll face a stout Mojave defense that has posted a shutout and held two other opponents to one touchdown.
Mojave's offense is a different story, as the Rattlers have scored a total of 10 points in the last two weeks. Things will be even tougher this week, as the team is without starting quarterback Lamaja Cunningham, who injured his collarbone in the team's loss to Faith Lutheran last week.
Coronado (2-2) at Las Vegas (3-1) — This isn't a league game, but both teams are trying to prove they're contenders for league titles and not pretenders.
The Cougars broke into the rankings this week, as coaches had them at No. 10 in the poll even after a 42-24 loss to Liberty last week. Quarterback Landen Rowland had a breakout performance with 309 passing yards and two TDs against the Patriots. Travis Boman, a 6-foot-5-inch, 221-pound tight end, has been the top target with 19 catches for 259 yards.
The ninth-ranked Wildcats have rotated Ronnie Broadhead and Zach Matlock at quarterback this season, and both have had some success. But the key this week may come on defense. Las Vegas allowed an average of 27.7 points in the team's first three games, but the Wildcats are coming off a shutout against Rancho.
Arbor View (4-1) at Desert Oasis (4-1) — Just looking at the records, this Northwest League matchup looks like the game of the night.
But if you dig a little deeper, you see that the potential for a blowout exists.
Desert Oasis might be 4-1, but the Diamondbacks' four wins have come against opponents that have combined to go 2-16 this season. The loss was a 50-0 blowout against a Basic team that lost 21-14 to Arbor View last week.
The fourth-ranked Aggies have responded well since dropping a 50-14 decision to No. 3 Desert Pines in the season opener. As usual, Arbor View has leaned on its ground attack, with multiple weapons contributing in the backfield. Sophomore Deago Stubbs stepped in last week and rushed for 177 yards and a touchdown after leading rusher Curtis Jones (673 yards, 7 TDs) went down with injury.
Silverado (3-1) at Basic (3-1) — The sixth-ranked Wolves are trying to bounce back after the 21-14 loss at Arbor View last week.
They should provide a stiff test for the Skyhawks. Basic had won its previous two games by a combined score of 110-0 before the loss to the Aggies.
Silverado had a bye last week after a confidence-building 13-7 overtime win over Palo Verde. The Skyhawks have shown some promise on defense, allowing a total of 21 points in their three wins.
Canyon Springs (2-2) at Foothill (3-1) — It's hard to call a non-league game a must-win, but Canyon Springs is in dire need of a victory before the Pioneers start league play next week.
Canyon Springs has dropped two straight, and the Pioneers open up Northeast League play with five-time defending Sunrise Region champion Liberty, so first-year coach Keith Jones is looking for some momentum in this one.
Foothill was no match for Desert Hills (Utah) in the season opener, losing 50-6. Since that time, the eighth-ranked Falcons have averaged 51 points in three wins over local teams.
Go to nevadapreps.com for a full schedule and complete scoreboard.
Complete coverage of high school sports.