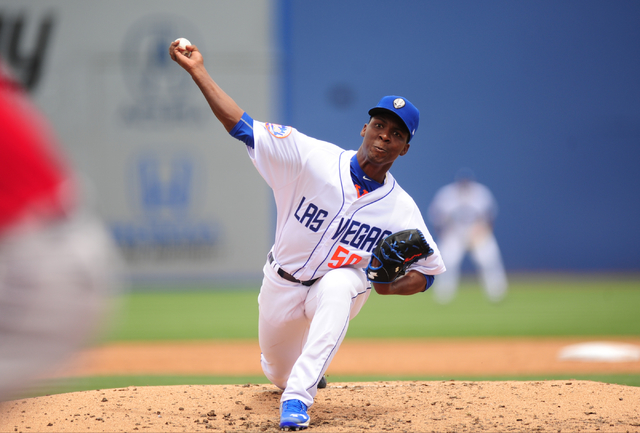 The 51s return to Cashman Field on Saturday after winning six of eight on their past road trip. Here are five players to watch in their series against Sacramento:
Clayton Blackburn, RHP, Sacramento
Blackburn, one of San Francisco's top pitching prospects, has made two starts this season with mixed results.
On April 22, Blackburn tossed 8 1/3 innings and gave up just one run on five hits in a win at Cashman Field.
The next time he faced the 51s, they tagged him for five runs in four innings.
The righty, who will start on Saturday opposing Rafael Montero, is 5-4 with a 3.50 ERA on the season.
Rafael Montero, RHP, Las Vegas
Montero is 3-4 with a 5.78 ERA on the season and has had his fair share of struggles but manager Wally Backman was encouraged by what he saw Montero's last time out.
Montero threw 6 2/3 innings and gave up four runs but Backman said he hit 97 miles per hour on the radar once and 96 a few other times, a sign that his velocity might be creeping back up.
In his one start against Sacramento this season, he picked up a win, throwing 5 2/3 scoreless frames and giving up just four hits.
Kevin Plawecki, C, Las Vegas
Plawecki, recently sent down by the Mets, has been the team's starting catcher the past couple days.
His arrival means both Johnny Monell and Nevin Ashley will see some time at first base. Backman said Plawecki likely would, too.
Plawecki, taken in the supplemental first round in 2012, hit just .194 in 41 games with the Mets this season.
51s bullpen
The 51s bullpen was taxed during the recent series against Reno after two recent call ups from the rotation.
The team could have doesn't yet have a listed starter for Sunday's game, though Seth Lugo could get the nod.
Lugo spent the bulk of the season starting but was moved into the bullpen earlier this month.
He hasn't thrown more than 39 pitches in a game since June 5 so if he starts, the bullpen will likely be relieved upon heavily.
Adalberto Mejia, LHP, Sacramento
Mejia, the Giants' No. 10 prospect per Baseball America, will get the ball on Tuesday against 51s ace Gabriel Ynoa.
Mejia was recently promoted from Double-A after going 3-2 with a 1.94 ERA in 11 starts this season.
In his first start, he threw seven scoreless innings and gave up just four hits but in his second, he was tagged for five runs in 6 1/3 innings.
Betsy Helfand can be reached at bhelfand@reviewjournal.com. Follow @BetsyHelfand on Twitter.