5 players to watch in 51s-River Cats series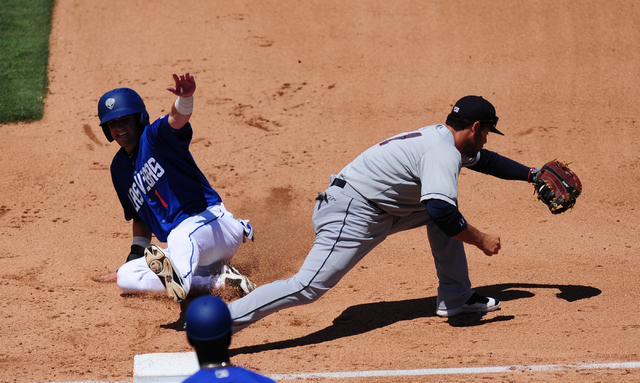 The 51s kick off a four-game series in Sacramento on Friday night. Here are five players to watch:
Gavin Cecchini, SS, Las Vegas
Cecchini has been the team's hottest hitter over the past couple series.
After a slow start to the season, Cecchini has started to come around, which manager Wally Backman has partly attributed to an adjustment getting himself more under control in the batter's box and partly to adapting and having a better understanding of how to face Triple-A pitching.
In his past eight games, Cecchini has hit .538, going 14-for-26 with five RBIs.
In that span, he's raised his batting average more than 100 points from .182 to .296.
Josh Edgin, LHP, Las Vegas
Edgin is currently with the 51s on a rehab assignment as he comes back from Tommy John surgery.
He threw one scoreless inning on both Monday and Wednesday against El Paso and is expected to throw again on Friday.
Edgin was with rehabbing with Class A Advanced Port St. Lucie before Las Vegas and the Mets must either activate him or option him by Monday.
There is a good chance he'll be optioned to Triple-A and remain with the 51s as he continues to work his way back to pre-surgery form.
In 2014, he posted a 1.32 ERA in 47 appearances out of the Mets bullpen.
Clayton Blackburn, RHP, Sacramento
Blackburn, who shut the 51s down when he faced them on April 22, is slated to start for the River Cats on Sunday.
His start against Las Vegas was his best of the season. He went 8 1/3 innings and gave up just one run on five hits while picking up his only win of the season.
Blackburn was listed as San Francisco's No. 9 prospect per Baseball America during the offseason.
Albert Suarez, RHP, Sacramento
The 51s got to Suarez for three runs on April 11 when he came on in relief for three innings. But after two rocky showings out of the bullpen, his next three appearances have all been starts. And they've all been quality starts.
In his first start of the season, he gave up just one run on five hits in five innings against the 51s on April 21. He starts on Saturday against Gabriel Ynoa.
Sean Gilmartin, LHP, Las Vegas
Gilmartin will start against the River Cats on Sunday, making his first start of the season.
Aside from Ynoa, he's been the team's most consistent starter, going 3-1 with a 2.70 ERA to begin the season.
In his last start, he gave up four runs in five innings — an inflated number because of an misplay not considered an error — while picking up the win against El Paso.
In two starts against the River Cats, he's 0-1, giving up a combined three runs in 9 2/3 innings.
Betsy Helfand can be reached at bhelfand@reviewjournal.com. Follow on Twitter: @BetsyHelfand