51s blow late lead, lose on walk-off homer at Sacramento
April 21, 2016 - 10:40 pm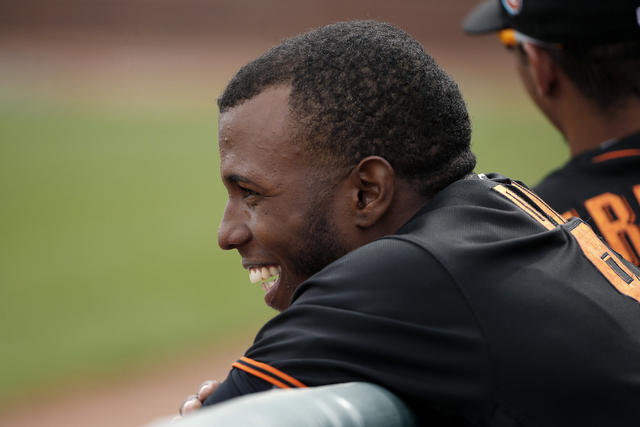 51s right-hander Gabriel Ynoa did everything he could to keep his team in Thursday's game, giving up no runs and two hits in 6 1/3 innings.
But the 51s' inability to capitalize on a bases-loaded, no-out situation in the seventh inning came back to haunt them in a 3-1 Pacific Coast League loss to the Sacramento River Cats at Raley Field in Sacramento, California.
"We didn't have good at-bats in the seventh when we loaded the bases, and that's what kept them in the game and I think that's what cost us the game," Las Vegas manager Wally Backman said.
Gorkys Hernandez sent River Cats fans home happy with a two-out, two-run homer off Jeff Walters in the ninth inning.
"(Walters) gave a pull hitter a pitch to pull out of the ballpark," Backman said.
After taking a 1-0 lead on a Marc Krauss sacrifice fly in the second inning, Las Vegas (6-7) played with that advantage for most of the game.
And after three straight walks to begin the seventh, they had a prime opportunity to pad their lead. Martin Agosta had thrown 12 straight balls, but instead of staying patient, Dilson Herrera swung at the first pitch he saw, breaking his bat and bouncing the ball back to Agosta.
"He's got to be really selective in that situation and look for a fastball down the middle. He got a pitch that was not even a strike. It was a ball that was way inside," Backman said. "I hate to say it, but that's kind of the development when you have a 22-year-old kid that's still learning. He's got to understand when he has to be selective and when he can be a little more aggressive."
Two more groundouts — one by Brandon Nimmo and the other by Matt Reynolds — squelched the opportunity.
"Everybody wants to be the hero and drive in those runs, but you've still got to be a selective hitter," Backman said.
The 51s had been struggling with runners in scoring position on their trip. But after team meetings Wednesday, their approach was better.
On Thursday, it was more of the same, as they finished 1-for-8 in those situations.
"Today we just went right back to where we were," Backman said.
Backman said in those situations some of the younger guys such as Herrera, Nimmo and Gavin Cecchini need to find the middle ground between being too passive and overly aggressive, while some of the older guys are pressing, trying to carry the weight of the team on their shoulders.
The River Cats (4-11) capitalized on their chances, manufacturing a run with two walks, a sacrifice bunt and a sacrifice fly to tie the game in the eighth before Hernandez's homer in the ninth.
The 51s will be looking for a series split Friday against the River Cats, the team at the bottom of the PCL standings.
"You hope that your young players and even the veteran players, they learn from games like today," Backman said. "We had a chance to blow that game wide open, and we just got way too aggressive."
Betsy Helfand can be reached at bhelfand@reviewjournal.com. Follow on Twitter: @BetsyHelfand