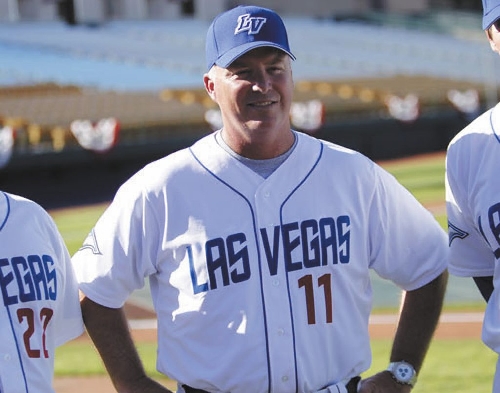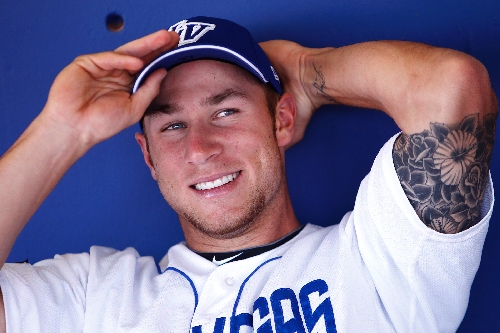 When Marty Brown managed Triple-A Buffalo, the Cleveland Indians' affiliate, from 2003 to 2005, the organization featured future major league All-Stars Cliff Lee, Grady Sizemore and Brandon Phillips, all acquired in a 2002 trade with the Montreal Expos for Bartolo Colon.
The first-year 51s manager sees similarities between those Bisons teams and this season's young Las Vegas squad, which will host Fresno — the Giants' affiliate — today in its 29th home opener at Cashman Field.
"Those guys were young and up-and-coming," said Brown, who has guided the 51s to a 5-3 start. "I'm not trying to compare this team with that team, but there's youth and there's athleticism."
Four of the Toronto Blue Jays' top prospects this season with Las Vegas are third baseman Brett Lawrie, left fielder Eric Thames, center fielder Darin Mastroianni and first baseman David Cooper.
All four are off to strong starts in their first year in Triple A.
Lawrie, who drilled a two-run double in the ninth inning Wednesday to lift the 51s to a 6-5 victory at Sacramento, is batting a team-leading .441.
Thames (.344) and Cooper (.344) are tied for the team lead in RBIs with eight apiece, and Mastroianni is hitting .324.
"We've got some young hitters, and they're finding their way right now," Brown said before Thursday's 2-1 loss to the River Cats in 11 innings. "Their talent has stepped up and shined."
Lawrie, 21, is ranked the No. 28 prospect in baseball by MLB.com and Toronto's No. 2 prospect — behind Blue Jays right-hander Kyle Drabek — by Baseball America.
Lawrie was traded from Milwaukee to Toronto on Dec. 6 for pitcher Shaun Marcum. The Canada native had 60 extra-base hits, including 16 triples, and 30 steals last season at Double-A Huntsville, where he played second base.
The former first-round draft pick is being groomed to play third for the Blue Jays.
"He's pretty special," Brown said. "(His offense) is what's going to take him wherever he needs to go. But we have to make sure, when he gets his opportunity to go (to Toronto), he's prepared to play third base."
Thames hit .288 with 27 home runs and 104 RBIs last season at Double-A New Hampshire.
"On the offensive side, he's pretty special to watch," Brown said. "He's going to hit a lot of home runs a long ways up into those trees in right field (at Cashman)."
The speedy Mastroianni, who also played at New Hampshire last year — along with Cooper (20 homers, 78 RBIs) and 51s outfielder Adam Loewen (13 homers, 70 RBIs) — led all Toronto minor leaguers in stolen bases with 46 and was third in batting average at .301.
"He's a yard rat. He'll be the dirtiest guy in the ballpark," Brown said. "He's going to hustle, steal bases and make defensive plays nobody else can make in this league."
Thames, 24, a San Jose, Calif., native and Pepperdine product, said the 51s should be fun to watch.
"We're definitely going to win this year," he said. "We have some great talent and we're strong in all cylinders.
"We have Mastro and Lawrie to steal bases like crazy. We have pitching — a lot of guys with big league experience — and we have a lot of bats."
Right-hander Scott Richmond and left-hander Brad Mills, who both have seen action with Toronto this season, are expected to anchor the 51s' pitching staff — which also features former big leaguers Chad Cordero, Wil Ledezma, Casey Janssen, Sean Henn, Rommie Lewis, Robert Ray and Josh Roenicke.
Las Vegas also will be led by veteran infielders Chris Woodward (.407) and Mike McCoy, outfielder Jason Lane and catcher Ryan Budde.
"It looks as though there's a huge competitiveness in a lot of our position players," Brown said. "I think it's going to play out and they're going to be really fun to watch."
Contact reporter Todd Dewey at tdewey@reviewjournal.com or 702-383-0354.
FRESNO VS. LAS VEGAS
WHEN: 7:05 p.m. today
WHERE: Cashman Field
RADIO: KBAD-AM (920)
PITCHERS: Grizzlies RHP Doug Mathis vs. 51s RHP Michael MacDonald