51s catcher 'back to normal'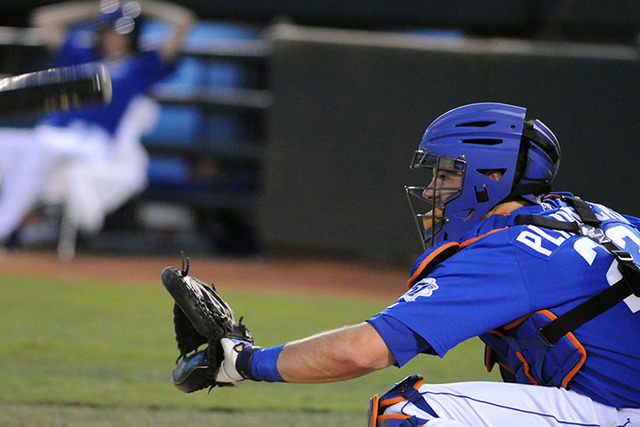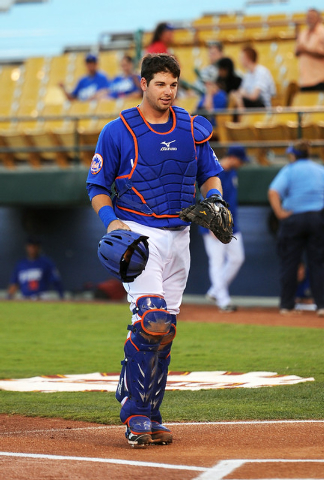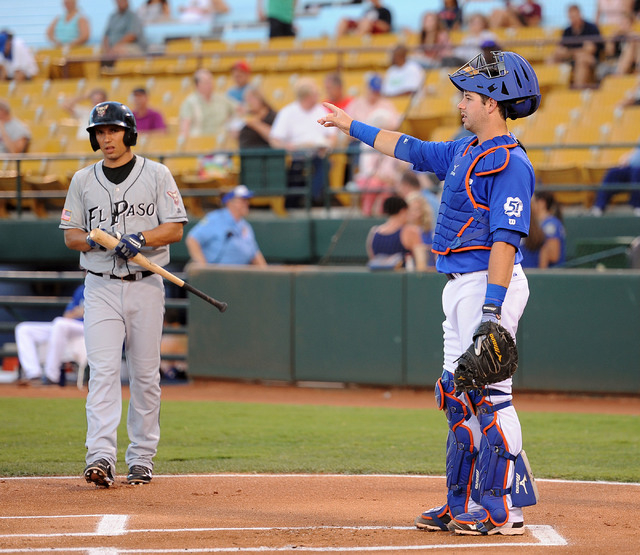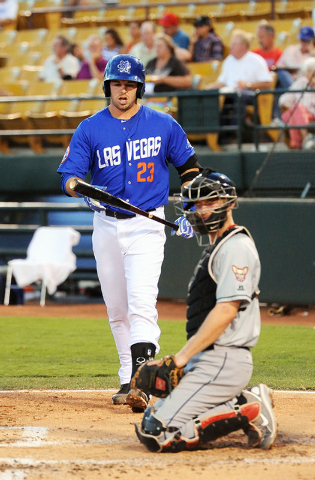 A whirlwind few weeks in which 51s catcher Kevin Plawecki was promoted to Triple-A for the first time and represented the United States in the All-Star Futures Game was enough to make his head spin.
Literally.
Plawecki was activated from the disabled list Monday after missing nine games with what was diagnosed as a mild case of vertigo — but the episode was anything but mild for the New York Mets' No. 5 prospect.
"It was kind of a scary situation. I'm glad that's all resolved and I'm feeling much better and back playing," the 23-year-old said before Thursday night's 2-0 win over the El Paso Chihuahuas before a crowd of 5,676 at Cashman Field.
About 30 minutes before Las Vegas' second game after the All-Star break in Salt Lake City, Plawecki was watching TV in the clubhouse with teammate Noah Syndergaard when he suddenly felt a spinning sensation.
"I was looking over at Noah. He was showing me something on his phone. When I looked back up, I just got super dizzy," he said. "It was pretty weird. Literally in a split second I just kind of got super dizzy, and I didn't know what it was from. I really couldn't pinpoint the situation that might've caused me to get dizzy.
"That was kind of the most scary part about the whole thing, not knowing what caused it. I didn't feel right for three or four days."
Said 51s manager Wally Backman: "It was ugly for a few days."
Plawecki was treated by a doctor in Las Vegas who determined the vertigo was caused by an inner ear infection.
"It took some time and some exercises to get rebalanced out and get everything back in sync, where we're at now," Plawecki said. "I feel back to normal again."
The Mets' first-round draft pick in 2012 out of Purdue — where he became the school's first player to win Big Ten Player of the Year honors and was named second-team All-American — Plawecki was promoted to the 51s on June 25 after batting .326 with six home runs and 43 RBIs in 58 games for Double-A Binghamton.
He homered in his first game for Las Vegas, but began his first foray in Triple-A mired in a 2-for-23 slump.
"I thought my at-bats were a little bit better than the numbers showed, but that's just how the game works sometimes," he said. "I put some good at-bats together, but the hits weren't really falling for me. Recently the hits have been kind of falling for me."
In his past 10 games spanning the All-Star break and his stint on the DL, Plawecki is batting .353 (12-for-34) with a homer and nine RBIs. He drove in a run in six straight games — seven including the Futures Game — before his RBI streak ended Wednesday, when he went 0-for-4 with a run in a loss to El Paso.
Plawecki had two hits in his return to the lineup Monday and drilled an RBI double Tuesday before sitting out Thursday's game.
"He hasn't missed a beat," Backman said. "He's a big prospect for us. He was a guy who was under the radar screen under (Mets catcher Travis) d'Arnaud. He's a very smart kid, he's always been able to hit, and he calls a good game.
"There are things he's got to learn — he still hasn't been in the minor leagues very long — but he's got a big upside."
In the Futures Game, Plawecki drove in the first run for the U.S. with a RBI groundout before Bishop Gorman graduate Joey Gallo, a Texas Rangers prospect, hit a go-ahead two-run homer in its 3-2 win over the World team before a crowd of 39,553 at Target Field in Minneapolis.
"It was a good experience overall playing at a big league park in front of a ton of fans. It was not a bad thing to be part of that game," Plawecki said. "I tried to take it all in and have as much fun as possible."
On the cusp of the big leagues in only his second full pro season, Plawecki simply wants to stay consistent. The 6-foot-2-inch, 225-pound right-handed hitter is batting .246 with two homers and 13 RBIs in 18 games.
"I need to have a consistent approach at the plate and be consistent behind the plate as well," he said. "Hopefully we can finish strong, make the playoffs and make a strong push in the playoffs and get some wins."
■ NOTES — Catcher Taylor Teagarden accepted an outright assignment to the 51s, and Las Vegas catcher Juan Centeno was sent down to Double-A Binghamton. … Rafael Montero (5-3) allowed three hits and had six strikeouts in 6 2/3 innings for the 51s (63-51).
Contact reporter Todd Dewey at tdewey@reviewjournal.com or 702-383-0354. Follow him on Twitter: @tdewey33.