51s center fielder den Dekker not horsing around, usually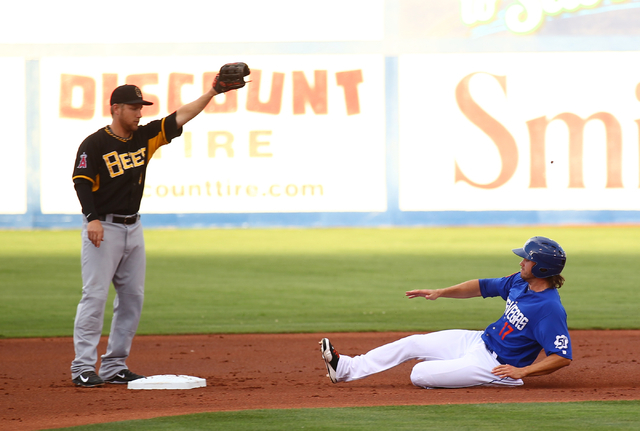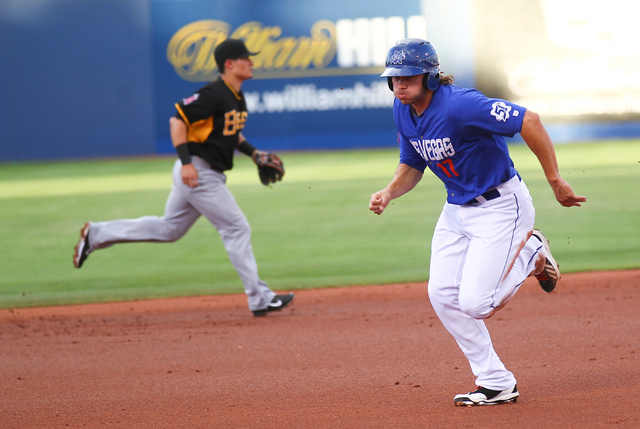 Besides a runaway horse and carriage, 51s center fielder Matt den Dekker caught everything that came his way in New York City during a recent three-week stint with the Mets.
Den Dekker and former Las Vegas closer Vic Black were sitting on a bench in New York's Central Park during an off day June 9 when den Dekker noticed a horse and carriage racing toward them that didn't look quite right.
"We were in the park and saw a horse without the driver that got spooked or something and ran by us," den Dekker said Tuesday before the 51s' 9-8 10-inning win over Salt Lake at Cashman Field.
The horse, named Pumpkin, became detached from its bridle while waiting in the carriage line. When the driver got out and tried to put it back on, the horse bolted into the park, where it came within about 5 feet of Black and den Dekker.
Pumpkin eventually ran back into the street, where the carriage slammed into an open taxi door, slowing the horse — which was unhurt — so drivers could catch it.
Den Dekker took a picture of the dented taxi door and wrote about the experience on his Twitter account (@UpperDecker): "Almost got ran over by a horse carriage running wild through the city."
In his first start of the season for the Mets on June 2 in Philadelphia, den Dekker played center field like a thoroughbred. In the second inning, he robbed Phillies first baseman Ryan Howard of a home run with a leaping, highlight-reel catch over the center-field wall. In the third, den Dekker gunned down Reid Brignac at the plate with a one-hop strike as he tried to score from second on a single by Ben Revere.
"He's shown he's got the ability to do some real special things," 51s manager Wally Backman said. "He's got all the tools. There's no question. He's a very good defensive center fielder."
Called up by New York on May 26 to replace injured outfielder Eric Young, den Dekker was optioned to Las Vegas on June 1. But he was quickly recalled by the Mets the next day to fill in for injured outfielder Juan Lagares and responded with the two dazzling defensive plays.
"I hadn't started a game before that, so it was nice to do something to feel like you're part of the team," he said. "I feel like I've been gifted with the ability to play outfield. It's fun to be out there and make plays."
While Backman said den Dekker, 26, is comparable defensively to Lagares, a Gold Glove-caliber center fielder, he struggled at the plate for New York — batting .156 (7-for-45, 13 strikeouts) in 17 games before being sent back to the 51s on June 19.
"It's hard for a young guy to go to the big leagues and be a bench player when they never have been one before," said Backman, who has managed den Dekker in parts of the past four seasons. "Offensively, I think he's improved every year. He's getting better. He's been much more consistent.
"For the time he's spent in the big leagues, he's obviously a defensive replacement guy that can run and he's got a little power. What his role will be down the road is probably still undetermined."
Den Dekker has quickly regained his groove at the plate for Las Vegas. He launched a walk-off, three-run homer in the 10th inning of the 51s' 8-5, 10-inning win over Memphis on June 23 and followed that up the next night by belting a tying, pinch-hit two-run blast in the eighth inning of Las Vegas' 10-8 comeback win over the Redbirds.
A two-time All-Southeastern Conference selection from the University of Florida who was the Mets' 2010 fifth-round draft pick, den Dekker singled in the first inning Tuesday to extend his season-high hitting streak to nine games.
He finished 2-for-5 with a double, walk and steal, is batting .417 (15-for-36) with two homers and eight RBIs during the spurt and is hitting .292 overall.
"I just feel relaxed, and my swing feels good right now," he said. "I'll try to keep up what I'm doing and hopefully I get called up and do the same up there."
In the meantime, he just needs to beware of wild burros and horses in the desert.
■ NOTES — 51s starter Noah Syndergaard, the Mets' No. 1 prospect, gave up five runs on 11 hits in 3 2/3 innings. … Josh Satin hit a walk-off two-run single for Las Vegas (50-35), which erased a 7-3 eighth-inning deficit.
Contact reporter Todd Dewey at tdewey@reviewjournal.com or 702-383-0354. Follow him on Twitter: @tdeweyout33.