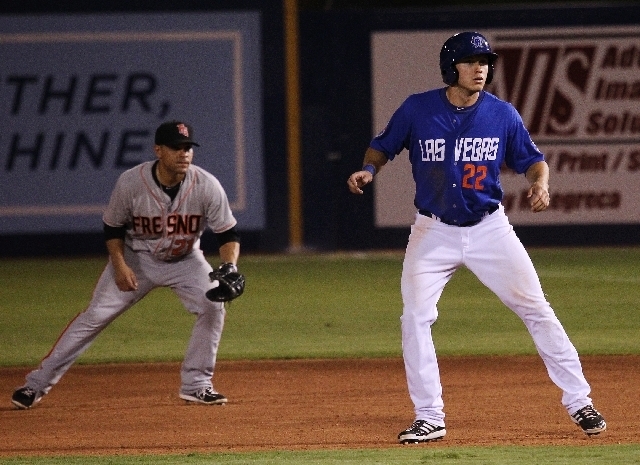 If there is a sequel to "The Adjustment Bureau," the 2011 film featuring Matt Damon, Matt den Dekker would be perfect for the starring role.
Over the past three seasons, the speedy 51s center fielder has started slow at each new level in the minor leagues before making the necessary adjustments and then thriving.
The 26-year-old hit .296 for Single-A St. Lucie in 2011 before getting promoted to Double-A Binghamton, where he batted .235.
He bounced back last season to bat .340 for Binghamton before getting called up to Triple-A Buffalo, where he hit .220.
Den Dekker missed the first three months of this season with a broken wrist, but since joining Las Vegas in July, he has engineered perhaps his most impressive turnaround yet.
After a 1-for-25 start for the 51s, den Dekker has hit a sizzling .353 (48-for-136) and played a key role in the team's playoff push.
"It takes him a little bit of time to make adjustments, but he has definitely shown he can make the adjustments," said Las Vegas manager Wally Backman, who has coached den Dekker in each of the past three seasons. "He's been huge for us. He's gotten a lot of big hits."
In the 51s' past four games, all wins, den Dekker is 10-for-16 with two homers, five RBIs and five runs. He homered twice in Monday's victory at Salt Lake and drilled a decisive, tiebreaking two-run single in the ninth inning Tuesday to cap Las Vegas' comeback win.
He had two hits Wednesday and went 2-for-3 with a walk in Thursday's 5-0 win over Fresno at Cashman Field.
"I feel good right now," den Dekker said. "I feel like my defense has been there, and offense is where I've struggled at times. But at times I've been really good, too, so I'm just trying to find a place where I can stay consistent and be good all the time."
Possessing a rare blend of power and speed, den Dekker hit 17 homers and had more than 20 stolen bases in each of the past two seasons.
"He's got a little bit of everything," Backman said. "He's a great outfielder. He can really run out there in center field and make a lot of plays. He gets a lot of extra-base hits and drives in some big runs."
Den Dekker had an outside shot at making the Mets out of spring training before he broke his right wrist diving for a fly ball in March. It was the first major injury he's ever had. He played 14 games for St. Lucie before joining the 51s.
"It was tough sitting there not doing anything for a while," he said. "It took a few weeks to get my legs back in shape and to get my swing back. It feels fine now."
Backman said the Mets shipped him to Las Vegas sooner than they'd planned to, which might have contributed to his slow start.
"We pushed him here faster than the organization probably wanted to, but we were in need at the time," he said. "He suffered through that 1-for-25, then he got going. He's been really consistent lately."
A fifth-round draft pick of the Mets in 2010 out of the University of Florida, den Dekker is a candidate to be a September call-up by New York.
"He's a possibility, for sure. He's got all the tools," Backman said. "(Mets manager) Terry (Collins) liked him a lot from what he saw in spring training. If it wasn't for the wrist injury, he was fighting for a big-league job."
Whether he gets the call from New York or remains in Las Vegas, den Dekker will adjust accordingly.
"Everyone wants to be up in the big leagues," he said. "But we want to make the playoffs, too."
Contact reporter Todd Dewey at tdewey@reviewjournal.com or 702-383-0354. Follow him on Twitter: @tdewey33.