51s drop pitchers' duel to Fresno 1-0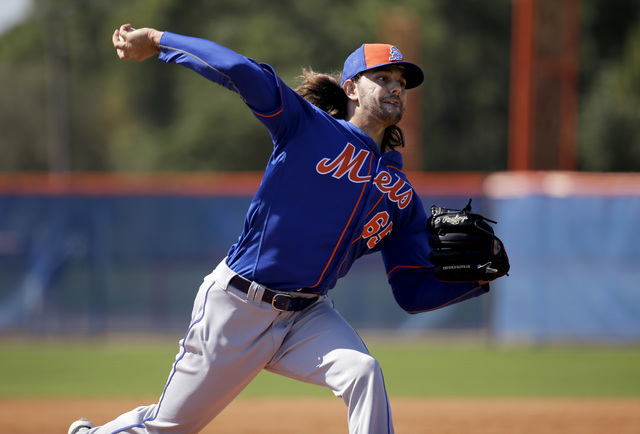 Pitchers' duels are rare in the Pacific Coast League. And for the 51s – a team that has struggled on the mound all year – they want to win one when they get one.
But it didn't turn out like that. Robert Gsellman was great for Las Vegas Tuesday night but Cesar Valdez was better for Fresno, and the 51s dropped the series opener against the Grizzlies 1-0 at Chukchansi Park in Fresno.
The 51s have lost seven of their last nine and three in a row. They are 5-8 since the All-Star break.
"We just really haven't consistently got big hits when we need it," 51s manager Wally Backman said. "The offense has been a little inconsistent of late."
After his start in Iowa on July 16, Backman noted Gsellman had not settled into a normal five-day routine. Because of a quad injury and the All-Star break, he hadn't had a chance to get the normal four days of rest.
If he's healthy and back on a routine, he's the pitcher the 51s expected. In his last two starts he's thrown 13 1/3 innings and allowed just three runs, while striking out 10 and walking three. Tuesday was the first walk he has issued in Triple-A this year.
"Their routine is very important," Backman said. "He's pitched really good. He pounds the strike zone and that hard sink has an angle."
Unfortunately for Gsellman and the 51s, Valdez one-upped him. He was brilliant for seven innings, surrendering just two hits and striking out seven without walking a batter.
Fresno got its run on a two-out single by Tyler White in the fifth, scoring Max Stassi who just narrowly avoided the tag on a play at the plate. Left fielder Roger Bernadina gunned down a runner to end the second inning, but Travis Taijeron was just late as the game's first and only run scored.
The 51s only had runners reach in four innings and only once into scoring position. They had men on second and third with one out in the fourth. Johnny Monell and Taijeron struck out to end the threat and they didn't get another runner on until the seventh.
Tuesday was the first time the 51s had been shutout since June 27 against Sacramento and the fourth time all season.
Justin Emerson can be reached at jemerson@reviewjournal.com. Follow on Twitter: @J15Emerson