51s finish 28th year in Las Vegas with 66-78 record
September 7, 2010 - 11:00 pm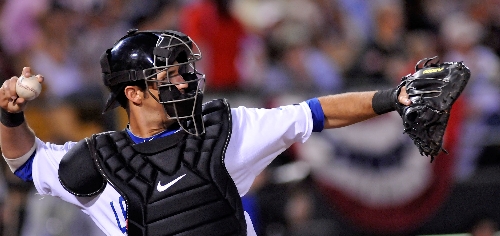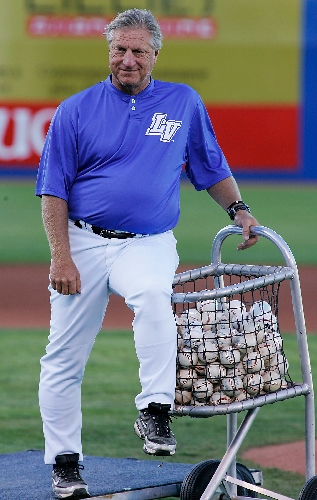 The 51s produced the Pacific Coast League's Most Valuable Player — in catcher J.P. Arencibia — for the second straight season and also featured one of the most explosive offenses in Triple-A this year.
Despite finishing second in the PCL in batting (.293), hits (1,480), runs (838) and home runs (172), Las Vegas still couldn't score enough to offset its sorry pitching staff, which served up the most hits (1,601) and runs (973) in the league and had the highest ERA (6.10).
As a result, the 51s finished their 28th year in Las Vegas with a 66-78 record — their second consecutive losing season and sixth in seven years. It also was the 10th straight losing season turned in by the Toronto Blue Jays' Triple-A affiliate.
"The win-loss record was not very good, but for me the most important thing is getting guys ready to play in the big leagues," said first-year Las Vegas manager Dan Rohn, a three-time PCL Manager of the Year. "We sent a lot of guys up there, and that part of it was very successful."
Fourteen players were promoted from the 51s to Toronto this year: Arencibia; pitchers Brett Cecil, Rommie Lewis, Josh Roenicke, David Purcey, Marc Rzepczynski, Brad Mills, Jesse Carlson, Shawn Hill and Robert Ray; infielders Jarrett Hoffpauir, Edwin Encarnacion and Mike McCoy; and outfielder Jeremy Reed.
The Blue Jays called up four players — Arencibia, Hoffpauir, Lewis and Roenicke — on Sunday and two more — Hill and Ray — on Tuesday after Las Vegas wrapped up its season with Monday's 6-5 loss at Portland.
"They all deserved it. They busted their butts," Rohn said. "I was hoping for a couple more but it didn't work out that way."
One surprising omission was 51s closer Jeremy Accardo, who started the season with the Blue Jays and went 3-2 for Las Vegas with 24 saves and a team-leading 3.48 ERA.
Accardo was one of three pitchers named to the All-PCL team (which also featured Arencibia) and is being paid $1.08 million this year by Toronto.
A year after Las Vegas slugger Randy Ruiz earned PCL MVP honors, Arencibia made it two in a row for the 51s, becoming the sixth player in franchise history to win the award.
The 24-year-old batted .301 with 32 homers, 36 doubles and 85 RBIs in 104 games for Las Vegas.
He also made a historic debut in the majors, becoming the first player in 121 years to crack two homers and four hits in his first game in Toronto's 17-11 win over the Tampa Bay Rays on Aug. 7 at Rogers Centre.
"(The Blue Jays) expect him to be a dominant player and he certainly lived up to the expectations they put on him," 51s general manager Don Logan said.
Las Vegas, which last made the playoffs in 2002, started this season 6-1, but lost 13 of its next 19 games to fall to 12-14 and never reached .500 again.
The 51s used 17 starting pitchers this year, with only three topping 100 innings.
"What hurt us the most was juggling the starting rotation all year," Rohn said. "You can't outslug everybody every night."
Roenicke (9-1), a hard-throwing reliever, led the team in wins and had a 3.64 ERA.
Hoffpauir hit for the cycle twice in 34 days and batted .295 with 16 homers and 73 RBIs.
Former first-round draft pick Brett Wallace batted .301 with 18 homers and 61 RBIs before being traded July 29 to the Houston Astros for 19-year-old outfielder Anthony Gose.
Las Vegas was three games under .500 on Aug. 7, but fell a season-worst 13 games under (61-74) on Aug. 28 after its season-high ninth straight loss, a 12-10 defeat to Reno at Cashman Field.
The 51s, who matched their worst home mark ever at 30-42 and went 36-36 on the road, dropped the first eight games of their last homestand of the season and were in danger of enduring their first winless homestand in franchise history.
But outfielder Jason Lane bailed them out in their Aug. 29 home finale, belting a walk-off grand slam to send Las Vegas to a 12-8 victory over Reno.
Contact reporter Todd Dewey at tdewey@reviewjournal.com or 702-383-0354.