51s have a lineup built to last
August 27, 2014 - 7:47 am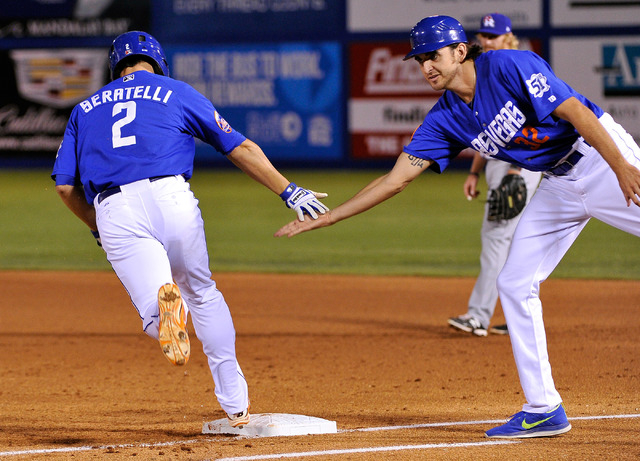 Last season, when the 51s clinched their first Pacific Coast League playoff berth in 11 years, they lost several key players down the stretch to the parent New York Mets before losing their first-round series in four one-run games to Salt Lake.
Manager Wally Backman — who has guided PCL-leading Las Vegas (79-60) to its second straight Pacific Southern Division title this season — expects things to go differently this year.
"Indications are, unless there's a big need in the big leagues, we're probably going to stay pretty much intact. That's a nice thing to hear. That didn't really happen last year," he said. "With what we have here right now, if we can stay intact, I like our chances a lot better than last year."
The first team in the 32-year franchise history to lead its division from wire to wire, Las Vegas will face either Sacramento (77-61) or Reno (76-62) in their best-of-5 conference championship series. The 51s will host the first two games at 7:05 p.m. on Sept. 3 and 4 at Cashman Field.
"We match up good with both of them. I like our chances whoever we play," Backman said. "If we go out and play our style of baseball, we've got a good chance to win."
Las Vegas — which has posted three straight winning seasons for the first time in franchise history and also is poised to post consecutive 80-win seasons for the first time — clinched its division crown Thursday, giving Backman time to rest some players and set his starting rotation for the playoffs.
"We have the pitching to win. There's no question about it," Backman said. "Pitching has definitely been a key to our success going back to the start of the year, when we started off 31-11."
Rafael Montero (6-3, 3.28 ERA), ranked the Mets' No. 3 prospect by Baseball America, is slated to start the playoff opener. Optioned to the 51s on Tuesday by New York, the right-hander will start against Albuquerque on Thursday in his final outing of the regular season, then will have five days off before the playoffs.
The rest of the rotation — which also features No. 1 prospect Noah Syndergaard (8-7, 4.85), Logan Verrett (11-5, 4.47), Matthew Bowman (3-2, 2.25) and Cory Mazzoni (5-1, 4.70) — will depend upon September call-ups and any other moves made by the Mets.
"We have a pretty good idea how we want to set it up, but we're kind of letting it play out this next week to make sure," Backman said. "The only guy we know we have lined up is Montero. Syndergaard will definitely be in one of the first games, too, if they stay."
After its sizzling start, Las Vegas went 32-42 before winning 16 of its past 23, including six straight.
"We have 13 guys that are in the big leagues right now that started the season on the roster here. That's a big change on the roster, and it showed. We struggled after we made all those changes," Backman said. "It took us a little while to get back on track, but the guys have got back on track. These guys have really grown together."
The balanced offense features Andrew Brown, the team Most Valuable Player who's batting .275 with a team-leading 19 homers and 62 RBIs; PCL All-Star first baseman Allan Dykstra, batting .281 with 16 homers and a team-leading 74 RBIs; and shortstop Matt Reynolds, hitting .340 since being called up June 19 from Double-A Binghamton.
"We've got a veteran ballclub out there with a few young guys who have done a great job for us," Backman said. "I like what we have."
Anthony Seratelli hit a grand slam in Tuesday's 9-5 victory over Round Rock, giving him two homers and eight RBIs in the past two games. The utilityman played in the PCL championship series the past two seasons, winning the Triple-A title last year with Omaha.
"Our chances are as good as anybody's. We're the best team in the league, I think," Seratelli said. "We'll have a very good chance of winning it as long as we do what we've been doing all year."
While the ultimate goal of every minor league player is to reach the big leagues, Backman said chasing a championship is always special.
"A championship is a championship," he said. "I think I've won six or seven of them. I've won a World Series, and every championship other than the World Series has still got a lot of meaning.
"It means something to the players. These guys have busted their butts for 144 games when this comes to an end, so to be able to go to the playoffs and try to win, that's what it's all about."
■ NOTE — Sewage backed up into the Aramark kitchen at Cashman Field at 10 a.m. Tuesday, causing the kitchen to close. The concession stands weren't affected because the food sold there is cooked on the grills on the first- and third-base lines. But Aramark had to bring in food from the Las Vegas Convention Center and a catering company for the Club Level Restaurant and press box at Cashman, as well as for the players. The Las Vegas Convention and Visitors Authority, which runs Cashman Field, cleared the sewer line and was still sanitizing the kitchen when the game started.
Contact reporter Todd Dewey at tdewey@reviewjournal.com or 702-383-0354. Follow him on Twitter: @tdewey33.