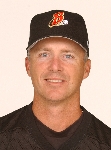 Most Las Vegas visitors arrive hoping to hit a jackpot. Marty Brown feels fortunate just to be coming to town.
The Blue Jays on Tuesday installed Brown, 47, as the 21st manager of the 51s, Toronto's Triple-A affiliate.
Brown, a native Oklahoman, is back in the country after managing in Japan for five seasons. Before that he was the Minor League Manager of the Year in 2004 when he won the International League title with the Buffalo Bisons, the Cleveland Indians' Triple-A club.
While Brown was with the Indians, his farm director was John Farrell, who became the Blue Jays' manager Oct. 26 and recommended Brown for the Las Vegas post.
"For a development guy, it's a good combination — a manager I know (Farrell) and who trusts me to develop players, and the talent (in Las Vegas) to go with it. I feel pretty lucky," Brown said.
And, he added, "It will be nice to have players who speak English."
Brown replaces Dan Rohn, who managed Las Vegas to a 66-78 record last season, its 28th in Southern Nevada.
The Blue Jays also announced that Tom Signore will replace Dave LaRoche as 51s pitching coach and Chad Mottola will return as Las Vegas' hitting coach. Signore was pitching coach at Double-A New Hampshire the past two seasons.
Brown has a nine-year minor league managerial record of 633-582 (.521) and is 374-341 (.523) at Triple A. He managed the Pacific Coast League's Nashville Sounds in 2001 and 2002 and guided Buffalo from 2003 to 2005, when he forged a friendship with Farrell.
"John has a relationship with him and knows Marty. He gave him an outstanding reference," said Charlie Wilson, the Blue Jays' director of minor league operations. "When your Triple-A manager has a good working relationship with your major league manager, that's a very important component to have."
Brown was drafted in the 12th round by the Cincinnati Reds in 1985 and hit .180 in 35 games in parts of three major league seasons with the Reds and Baltimore Orioles. He batted .274 in eight minor league seasons and also played three years in Japan before retiring in 1995.
Brown managed in the minors from 1997 to 2005 and in Japan's Pacific League from 2006 to this year, guiding the Hiroshima Toyo Carp for four years before managing the Tohoku Rakuten Golden Eagles last season.
"He was a very successful manager in the minor leagues and internationally in Japan," Wilson said. "Marty's a solid baseball guy and he's a very good teacher."
The 51s open their 29th season April 7 at Fresno, Calif., before returning to Cashman Field on April 15 for their home opener against the Grizzlies.
Contact reporter Todd Dewey at tdewey@reviewjournal.com or 702-383-0354.