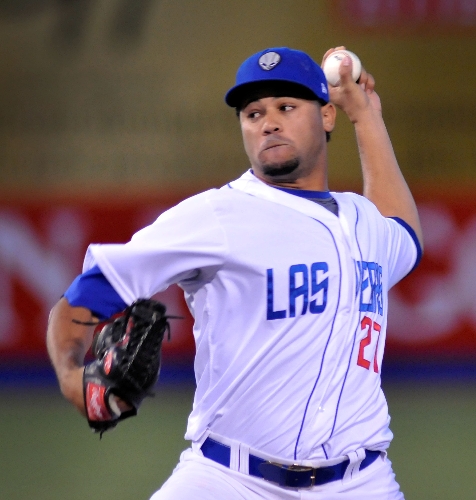 Talk about a grand finale.
Jason Lane launched a walk-off grand slam in the ninth inning to lift the 51s to a 12-8 victory over the Reno Aces on Sunday in Las Vegas' final home game of the season at Cashman Field.
Lane's first walk-off slam helped the 51s avert the first winless homestand in the franchise's 28-year history and kept them from standing alone with the worst home record in club history.
Las Vegas (62-74) — which closes its season with an eight-game trip to Sacramento, Calif., and Portland, Ore., today through Sept. 6 — went 1-8 on its homestand and 30-42 at Cashman Field. The Las Vegas Stars were 30-42 at home in 1994.
The 51s, who had their first losing home season since 2005, had twice gone 1-7 on a homestand but never winless.
Lane made sure that distinction continued, crushing an opposite-field drive over the right-field wall off Reno reliever Rafael Rodriguez to end a classic Pacific Coast League seesaw slugfest.
Jonathan Diaz struck out to start the ninth, but J.P. Arencibia belted a single to left field to trigger the uprising and Mike Jacobs followed with a single to center.
A wild pitch by Rodriguez moved the runners up and an intentional walk to Chris Lubanski set the stage for Lane.
"I was just trying to stay short, stay to the middle of the field and try to get something I could drive to the outfield to get the run in. He left a fastball up and I got it," said Lane, who also doubled and had five RBIs. "It's been a frustrating homestand … so it's nice to get a big hit and help the team win.
"Those (walk-off homers) never get old and they're always fun."
Arencibia went 4-for-4 with two doubles, two RBIs and two runs and Diaz had two hits and two RBIs. Manny Mayorson, Danny Perales and Jacobs added two hits apiece to the 51s' 16-hit attack.
The win ended a season-high nine-game slide. Las Vegas' previous longest losing streak was five games, also at home, from May 11 to 15.
"It shows the heart of this ballclub. We've battled all year long and we have not quit playing," manager Dan Rohn said. "It's always nice to win the last game. It would've been nice to win a lot more in between, but it's nice to win one in that kind of fashion."
Former 51s infielder Tony Abreu led the Aces (65-70) with three hits and three RBIs and Doug Deeds tripled among his three hits.
Las Vegas led 5-0 after two innings, but Reno, which won the season series 11-5, answered with two runs in the third and went ahead 6-5 with four in the fifth.
The 51s regained the lead in the fifth on two-out RBI doubles by Lane and Perales and made it 8-6 in the sixth on a Diaz sacrifice fly off Mike Hampton.
But the Aces would not go down easily, scoring two in the seventh to tie it.
Reliever Jamie Vermilyea, who signed with the 51s Sunday out of an independent league, walked Mark Hallberg and gave up a one-out RBI triple to Deeds as Reno closed to 8-7. Abreu then lined a tying opposite-field RBI single to left.
■ NOTE — The 51s drew 4,626 fans Sunday and 336,488 fans to Cashman Field this season for an average of 4,739.
Contact reporter Todd Dewey at tdewey@reviewjournal.com or 702-383-0354.
LAS VEGAS 12
RENO 8
KEY: Jason Lane launched a walk-off grand slam in the ninth inning to lift the 51s in their home finale.
NEXT: 51s (LHP Zach Jackson) at Sacramento (RHP Travis Banwart), 7:05 p.m. today, KBAD-AM (920)