51s' Jones picks up where he left off last year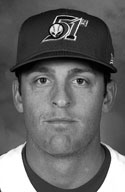 Almost exactly a year after leaving Las Vegas in the midst of a monster season to play in Japan, slugger Mitch Jones rejoined the 51s in late June. And he hasn't missed a beat.
Jones, who hit a career-high .303 with 19 home runs and 60 RBIs in 52 games last season for Las Vegas, has five homers and 11 RBIs in 11 games since being activated June 21 by the 51s.
On Monday, the outfielder stole the show from three former major league All-Stars — Nomar Garciaparra, Rafael Furcal, Andruw Jones — who started for Las Vegas.
Jones went 4-for-5 with a double, a triple, two homers and six RBIs in the 51s' 12-9 win over Salt Lake. All four of his hits either bounced off a wall or went over one, with his triple hitting high off the center-field wall, about 433 feet from home.
"When you're as strong as he is, when he gets the ball in the air, it's got a chance to go out of the ballpark," Las Vegas manager Lorenzo Bundy said before the 51s' 13-2 loss to Salt Lake on Wednesday at Cashman Field. "He gives us power, production and more thump in the middle of our lineup."
Jones left the team on June 8, 2007, for a more lucrative deal in Japan. He hit .160 in 30 games last season for the Hokkaido Nippon Ham Fighters of the Pacific League and started this year in Japan's version of the minor leagues.
After getting only 20 at-bats and spending "a lot of time over there just practicing and not getting a lot of game time," Jones was released and happily headed back to the United States, intent on taking care of some unfinished business in Las Vegas.
"I was ready to be gone, and I'm happy to get back here," he said. "I'm almost coming back at the time I left, and I feel like I'm trying to finish up what I started.
"I always had a feeling I wanted to come back here. I think if I had hung around, maybe I would've got an opportunity (with the Los Angeles Dodgers) somewhere down the road. It's kind of the reason I wanted to come back here."
Despite putting up some impressive numbers in the minor leagues — including 129 homers and 405 RBIs in parts of the last five seasons — the 30-year-old Jones, a four-time minor league All-Star, is still waiting for his first call to the majors.
"Obviously, my No. 1 goal is to someday get an opportunity in the big leagues, but I've been around long enough to know it's something you can't control," said Jones, a seventh-round draft pick of the New York Yankees in 2000. "All you can control is putting up your numbers every day and try to play the game the right way.
"I'll keep pursuing it until I finally get to where I'm going."
Jones was called up to the Yankees on May 20, 2006, but was sent down the next day without playing.
"I think eventually he'll get a shot," Bundy said. "He's just got to keep grinding."
One knock on Jones is that he strikes out a lot. He has fanned 662 times in his last five seasons and 1,038 times in his career.
Hitting .244 (10-for-41) for the 51s, Jones has struck out 13 times, following Monday's game by striking out three times each Tuesday and Wednesday.
"There you have it, but when he steps up to the plate, everybody thinks something big is going to happen," Bundy said. "He carries that threat, and we don't have a lot of guys on the team who can say that."
• NOTES — Garciaparra started at designated hitter and went 3-for-3 with an RBI. He's expected to start at shortstop tonight. … Andruw Jones, who went 0-for-2, made his second straight start in center field and is expected to be the designated hitter tonight.
Contact reporter Todd Dewey at tdewey@reviewjournal.com or 702-383-0354.
SALT LAKE – 13 LAS VEGAS – 2 KEY: Matt Brown had four hits for the Bees, who had 18 hits and scored runs in each of the first six innings, including four in the first. NEXT: Bees (Nick Adenhart) at 51s (Jason Schmidt), 7:05 p.m. today