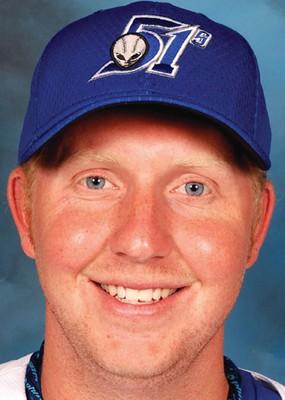 Nine outs away from a no-hitter, 51s left-hander Greg Miller was completely relaxed as he sat in the dugout and talked to teammates Thursday night.
Forget about nervousness and superstitions. Miller was not the least bit concerned that he might allow a hit, because he knew his night was already history.
Because of an early-season pitch limit, Miller was pulled after pitching six no-hit innings in Las Vegas' 9-5 victory over Colorado Springs at Cashman Field.
"It's in the back of my mind. I know that it's there," Miller said of his no-hit effort. "At the same, I'm just trying to get people out and keep our team in the game."
Only a few of the 4,642 fans booed when Miller was lifted for a pinch hitter in the bottom of the sixth.
Miller was relieved by right-hander Spike Lundberg, who allowed a line-drive single to the Sky Sox's Sean Barker with two outs in the seventh.
Lundberg gave up two hits in two innings. Harold Eckert allowed four runs, three earned, on two hits in the ninth for the 51s (9-5).
Two years removed from his second shoulder surgery, Miller is being handled with care to protect his health. He is on a pitch limit of about 80 early in the season.
"That's completely understandable with everything I've been through. I just want to be able to get through this season healthy, and keeping me on a strict pitch count will help that," said Miller, who made 77 pitches, 42 for strikes.
Miller (1-0) walked two and struck out four. He did allow one run, but it was unearned because of a throwing error by shortstop Tony Abreu in the sixth inning.
"That shows the potential that he possesses," said 51s manager Lorenzo Bundy, adding there was "no chance" of Miller trying to finish the game.
"He was fine with it. He knows what we're trying to get accomplished here. He's getting better and better every start."
Miller was caught by 37-year-old Kelly Stinnett, who had a strong game at the plate and behind it. Stinnett hit a solo home run in the second inning and a two-run double in the sixth.
Andy LaRoche's solo homer in the fourth inning put Las Vegas up 3-0. James Loney added a two-run double in the eighth.
In his previous start Saturday, the 6-foot-6-inch Miller was pulled after 70 pitches. He was overpowering while striking out seven in four innings in an 8-6 victory over Salt Lake.
Before the first of two shoulder surgeries in 2004, Miller was ranked the No. 2 prospect in the Los Angeles Dodgers organization.
He split last season between Double-A Jacksonville and Las Vegas, going 3-0 with a 4.38 ERA in 33 games in relief for the 51s. Miller was moved back into a starting role this season.
"He feels good about the way he's throwing," Bundy said. "It's fun to watch him."
Las Vegas 51s
LAS VEGAS — 9
COLORADO SPRINGS — 5
KEY: 51s left-hander Greg Miller was lifted after pitching six no-hit innings.
NEXT: Colorado Springs (Ubaldo Jimenez) at 51s (Travis Smith), 7:11 p.m. today, Cashman Field