51s lefty Mills has designs on MLB ballparks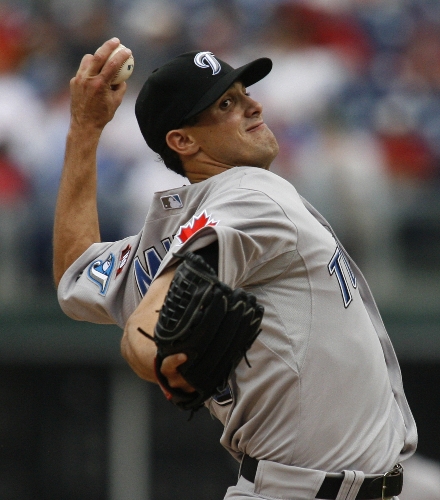 Should incoming 51s owner Chris Milam need help designing the state-of-the-art ballpark he hopes to build in Las Vegas, Brad Mills is willing to pitch ideas as well as baseballs.
The Las Vegas left-hander owns a civil engineering degree from the University of Arizona.
"If he wants to know how to design a good stadium, come talk to me," said Mills, who started for Las Vegas (20-17) in Saturday's 4-3 win over Round Rock (23-13) at Cashman Field.
Mills (3-2), who allowed three runs on seven hits, struck out five and walked none in seven innings, said he and former 51s pitching coach Dave LaRoche toured new stadiums together last year and pointed out their flaws.
"I'd love to get a job using my baseball background to go into a sports architecture firm and be a consultant or whatever," Mills said. "That really interests me, all the stadiums, because I can get the sports aspect and the engineering and architectural aspect, too."
The native of Mesa, Ariz., attended Arizona on an academic scholarship and walked on with the baseball team.
Mills, 26, said he learned to balance his heavy load of schoolwork and baseball in his first two years with the Wildcats, when he was used mostly as a reliever and lefty specialist.
"I wasn't a huge part of the team. That kind of evolved over my four years. But since I went to school for school first and foremost, that was kind of where my head was at, and baseball kind of just came along," he said. "My parents instilled in me a good sense of how important my education is."
Mills was drafted twice by Toronto, in the 22nd round in 2006 and in the fourth round in 2007. After the '06 draft, he opted to return to school for his senior year to finish his degree, which he said has helped alleviate the pressure to succeed in professional baseball.
"That's the biggest reason why I told all the scouts my junior year of college I wanted to go back," Mills said. "A lot of them thought that put into question my devotion to baseball, and it was kind of the opposite.
"I felt like, if I have my degree in my back pocket, I can go play minor league baseball with no worries over 'What if I don't make it?' "
Mills, who is an avid reader and plays piano and guitar, might never have to use his degree if he continues to pitch the way he has this season.
The 6-foot, 185-pounder has a 2.68 ERA in eight starts, in which he has averaged nearly seven innings. He has allowed 16 earned runs on 46 hits in 53 2/3 innings, with 44 strikeouts and 12 walks.
"He's been more consistent with his fastball and his command in every single start," Las Vegas manager Marty Brown said. "I think he can pitch at the major league level on any given night against any team. It just depends on him staying consistent and being ready when the time comes."
Mills, who entered Saturday with a 28-21 mark and 3.28 ERA in the minors, made his major league debut in 2009 and earned his first big league win last July, when he held the Orioles to two hits in seven shutout innings.
He went 1-0 with a 5.64 ERA in 22 1/3 innings for the Blue Jays last season and was promoted to Toronto in April for two days but didn't see action.
"I'm grateful for them even thinking about me," Mills said. "Your heart still jumps every time you get called up."
Contact reporter Todd Dewey at tdewey@reviewjournal.com or 702-383-0354.
LAS VEGAS 4
ROUND ROCK 3
KEY: Eric Thames drilled a walk-off RBI double with two outs in the ninth inning.
NEXT: Express (Neil Ramirez) at 51s (Luis Perez), 12:05 p.m. today, KBAD-AM (920)