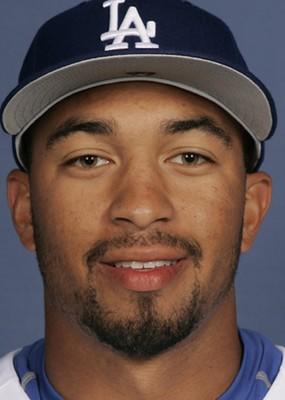 A sore shoulder forced Los Angeles Dodgers outfielder Matt Kemp to delay his Triple-A rehabilitation assignment and leave Las Vegas before Friday night's game.
The 51s were not hurting without him, and Choo Freeman made sure of that.
Freeman hit a grand slam during an eight-run fourth inning to carry Las Vegas to a 9-5 victory over Colorado Springs before a crowd of 6,448 at Cashman Field.
Kemp, who did not play Thursday after going 0-for-3 in his rehab debut with the 51s on Wednesday, headed back to Los Angeles for more treatment on his separated right shoulder.
"I don't know if I'm overdoing it and trying to rush back, but I just need to be patient with this injury," Kemp said.
Las Vegas manager Lorenzo Bundy said he hoped to use Kemp as the designated hitter Friday, but Kemp said his shoulder was too sore.
The 51s (10-5) open a four-game series at Sacramento today. Kemp could return to Triple A next week.
"I love this game, and sitting out is not one of the things I want to do," Kemp said. "If I'm not healthy, I do no good for the team."
Las Vegas' outfield is in good shape even without Kemp, one of the top young players in the organization.
Freeman, a center fielder who played 88 games for the Colorado Rockies last season, also walked twice and scored three runs.
Left fielder Delwyn Young went 2-for-4 with two RBIs, and right fielder James Loney went 2-for-4.
Right-hander Travis Smith continued the 51s' string of quality starts. Smith (2-1) allowed two runs in six innings and also hit an RBI single.
Kemp played 44 games for Las Vegas last season and batted .368. He appeared in 52 games for the Dodgers and hit .253 with seven homers.
"Matt's a physical specimen, a big guy who can run and throw and hit for power and steal bases and play defense," Bundy said. "He's got a chance to be able to do it all.
"He's got a lot to learn about this game, and he's on the right track. He's a super talent, there's no doubt about it."
Kemp, a 6-foot-4-inch, 230-pounder, said he thought there was a "good chance" he would start the season with the 51s, but he finished spring training with a flourish.
In the Dodgers' home opener April 9, Kemp crashed into the outfield wall. He went on the 15-day disabled list the next day.
"I was going pretty good, and the team is playing real good," said Kemp, hitting .429 in five games for L.A. "I want to be up there. We've still got about 150 games left, so I need to take my time and get it right."
Bundy said Kemp, 22, is prominent in the Dodgers' plans.
"I'm quite sure Matt's a big part of their future," he said. "Whether the future is this year, as an everyday player or not, that's yet to be determined."
Las Vegas 51s
LAS VEGAS — 9
COLORADO SPRINGS — 5
KEY: The 51s' Choo Freeman hit a grand slam during an eight-run fourth inning.
NEXT: 51s (Eric Stults) at Sacramento (Brad Halsey), 7:05 p.m. today, Raley Field