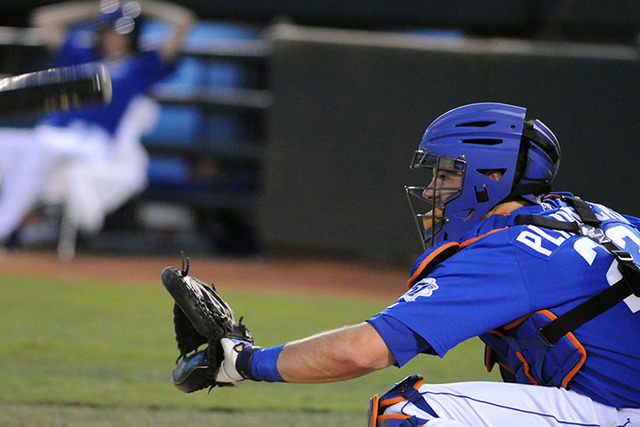 In the top half of the seventh, the 51s saw a two-run lead slip away with a pair of solo home runs. In the bottom half, they saw a prime scoring opportunity disappear with a triple play.
And so a game that the 51s led most of the way quickly changed directions and in the eighth, the Aces took a permanent lead, sending the 51s to a 7-4 loss at Cashman Field.
With runners on first and second in a tied game and catcher Kevin Plawecki at the plate, manager Wally Backman opted to send the runners.
Less than a minute earlier, he had turned to infielder Matt Reynolds and reliever Jeff Walters sitting on the bench and told them he was going to play a hunch.
"I said 'The only thing that can happen if the count goes 3-2 and I send the runners with no outs, the only thing that's supposed to happen is bad,'" Backman said. "The next pitch was ball three. The next pitch he hit into the triple play."
Plawecki hit a line drive to third and Dilson Herrera was caught off second and Brandon Nimmo off first.
"I played a hunch thinking (Plawecki) was going to hit a ball on the ground. I was trying to create holes for him," Backman said. "It wasn't even a close triple play. Everybody was out by 60 feet."
And after that — or maybe even slightly before — the momentum spun away from them.
The 51s bullpen, which had been solid the past few games, gave up a combined five runs. In the seventh, Beck Wheeler gave up home runs to both Mitch Haniger and Peter O'Brien to tie the game, sending starter Darin Gorski to a no-decision.
"(Haniger) hit an 0-2 pitch. O'Brien hit a 1-2 pitch in the seventh to tie it on hanging breaking balls," Backman said. "If he buries those pitches, they're probably strikeouts."
The Aces got three more in the next two innings off of Chasen Bradford, with an Ildemaro Vargas single serving as the game-winning run.
Haniger's second home run — his ninth in 11 games against the 51s this season — helped provide one of the two insurance runs the Aces tacked on in the ninth.
Haniger has now hit five home runs in the first three games of the series. In 55 games in Double-A earlier in the season, he had just five.
"He's been laying off everything that is even borderline on the strike zone and anything that is left over the middle of the plate, he's crushing," Nimmo said. "That's a really good hitter right there. I'm glad I don't have to pitch against him."
Before Haniger's first home run, the 51s were in control. They took an early lead thanks to some aggressive baserunning from Herrera in the first and build upon that in the next two innings, scoring a run in each off the recently-demoted Shelby Miller.
Meanwhile, Gorski had limited the Aces to two runs in 5 1/3 innings and Walters had helped him out of a jam in the sixth. They entered the seventh up 4-2.
"We definitely had their backs up against a wall, but that's baseball. It can turn in a second," Nimmo said. "(The triple play) certainly got them out of a pressure situation but Kevin hit that ball hard and normally when you're going, that third baseman is going to cover the bag and that's normally (a) two-RBI double at least."
Betsy Helfand can be reached at bhelfand@reviewjournal.com. Follow on Twitter: @BetsyHelfand
Up next
Who: Reno Aces at Las Vegas 51s
When: 7:05 p.m. Monday
Where: Cashman Field
Starters: Edwin Escobar (5-2, 5.17 ERA) vs. Ricky Knapp (0-0, 0.00 ERA)
Next five
Tuesday: Las Vegas at Fresno, 6:05 p.m.
Wednesday: Las Vegas at Fresno, 7:05 p.m.
Thursday: Las Vegas at Fresno, doubleheader, 5:05 p.m.
Friday: Las Vegas at Fresno, 7:05 p.m.
Saturday: El Paso at Las Vegas, 7:05 p.m.
Update
Sean Gilmartin, who was scheduled to pitch on Monday, will miss the game with shoulder soreness. Manager Wally Backman said Gilmartin had been dealing with it for the past couple of weeks. Ricky Knapp will be activated from Class-A Advanced St. Lucie to make the spot start, his first in Triple-A.