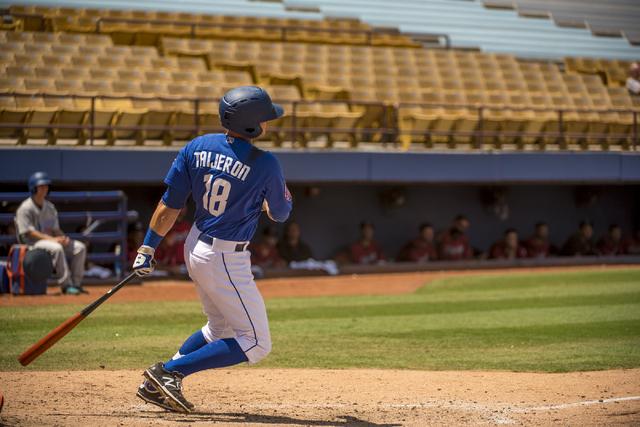 CHARLOTTE, N.C. — A year ago, Travis Taijeron traveled to Omaha, Nebraska, for the Triple-A All-Star Game as the 51s' lone representative.
"They picked on him the whole time," third baseman T.J. Rivera said of Taijeron's Pacific Coast League teammates last year, laughing. "They threw stuff at him."
"I made some friends," Taijeron responded. "I did get picked on a little bit, but you know what? I manned up and I just said, 'I'll get you guys back during the season.' "
This time around, Taijeron has some built-in friends. Joined by Rivera, pitcher Gabriel Ynoa and manager Wally Backman, the 51s have sent one of the largest contingents to the game, which will take place Wednesday and be televised on MLB Network.
For Backman, it will be a challenge trying to fit 11 pitchers in nine innings. But he already knows how he will use his Las Vegas players, thanks to the voting process. All three were players "elected," meaning they were voted in by fans, managers and media members.
Taijeron and Rivera will be in the starting lineup, which Backman tweeted out a few days early on Sunday.
Rivera, who is hitting .348 with 63 RBIs this season, will hit second, and Taijeron will hit sixth, serving as the PCL's designated hitter.
Ynoa will pitch the third inning after Fresno's Brady Rodgers, who will throw the first two innings.
"To me, it's all about the players," Backman said. "It's a nice thing for them, and I know it takes up a lot of their time because most of them would want to have a break."
Taijeron and Rivera called their All-Star nod "an honor," and both seem to be enjoying their experience.
Taijeron participated in the Home Run Derby on Monday but bowed out in the first round.
On Tuesday, the two participated in the Richard Petty Driving Experience at Charlotte Motor Speedway, where they were driven for a few laps at speeds near 165 mph.
"I thought we were going to get thrown into the wall a couple times," Taijeron said. "I tried running T.J. off the road, but he wouldn't take it. I was trying to convince my driver."
Safely back at BB&T Ballpark, Rivera said the ride was a "little scary," but he enjoyed it.
"You kind of got that experience where you were kind of racing almost, but they played it a little safe, I could tell," Rivera said. "They didn't want to pass each other, but it was still fun."
Tuesday also was a workout day, and festivities were scheduled for Tuesday night and Wednesday.
"I think for the players it's an exciting time for them," Backman said. "They get to bring their families here. The game's on national TV, so they get to show what they're kind of all about. Hopefully they all have a great game."
And this year, the 51s have some teammates to experience it with.
"It makes it easier coming with some guys that you know. It's easier to adapt to the ones around you and whatnot, and it's pretty cool to have Wally as the manager," Rivera said. "It's been a good time so far."
Betsy Helfand can be reached at bhelfand@reviewjournal.com. Follow on Twitter: @BetsyHelfand