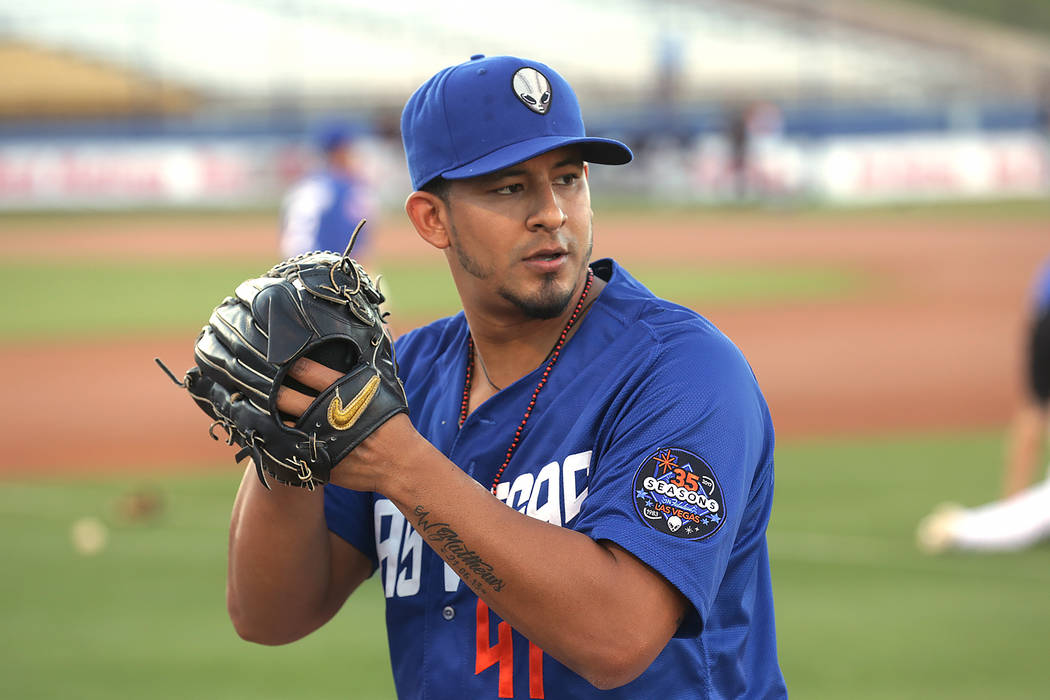 The Tacoma Rainiers went 2-for-13 with runners in scoring position and left 16 men left on base on Wednsday night. They still capitalized on enough opportunities to defeat the 51s 7-2 at Cheney Stadium.
From the get-go, the Rainiers (40-37) were in control, scoring twice in the first. The 51s came back to tie the game at 2-all on Xorge Carrillo's two-run single. That was all the offense the 51s could muster — Las Vegas had just two more hits the rest of the night.
But the Rainiers were far from done. In the fourth, Tacoma flexed its muscle and socked two homers to break open the game against Las Vegas starter Wilfredo Boscan. 51s (30-49).
Leonys Martin belted a solo homer to break the tie, and Boog Powell followed with a three-run blast to put Tacoma up, 6-2.
All told, Boscan gave up 12 hits and a pair of walks for six runs and was lucky the Rainiers didn't do even more damage against him.
"Unfortunately, Boscan made too many mistakes over the middle of the plate and got hurt but for the most part the guys battled well," manager Pedro Lopez said.
The fourth inning marked both the end of his night and the end of pitching coach Frank Viola's night. Viola was tossed with two outs after arguing with home plate umpire John Bostwick.
"It looked like … (Boscan) felt like the umpire missed a couple calls and he just lost his composure a little bit and made some mistakes over the middle of the plate," Lopez said. "He didn't have his best stuff but I thought he battled."
After Boscan's exit, Ben Rowen, Kevin McGowan and Beck Wheeler followed. Rowen (1 1/3 innings) and McGowan (two innings) had scoreless outings, though each walked a pair. Wheeler gave up one run in his inning of work, walking two and allowing a hit.
Tacoma starter Casey Lawrence retired 12 straight batters after giving up Carrillo's game-tying single.
"He pitched well. Can't take anything away from him but at the same time I mean there were a lot of hard-hit balls that we hit right at people and just unfortunately it doesn't [show] on the box score but I thought that we swung the bats well."
The 51s had just five hits in the loss, four coming off Lawrence in his six innings of work.
"I'm happy the way we swung the bats," Lopez said. "I'm not happy because we lost but I thought the guys did a good job. They had a good approach. They hit the ball hard."
Up next
Who: Las Vegas 51s at Tacoma Rainiers
When: 7:05 p.m. Thursday
Where: Cheney Stadium
Starters: Ricky Knapp (3-9, 6.24 ERA) vs. Christian Bergman (5-0, 3.21 ERA)
Next five
Friday: Las Vegas at Salt Lake, 5:35 p.m.
Saturday: Las Vegas at Salt Lake, 5:35 p.m.
Sunday: Las Vegas at Salt Lake, 6:05 p.m.
Monday: Las Vegas at Salt Lake, 5:35 p.m.
Tuesday: El Paso at Las Vegas, 7:05 p.m.
Update
Matt Reynolds was called up to the Mets as Robert Gsellman hit the disabled list with a strained hamstring. Pitcher Wilfredo Boscan was activated from the temporarily inactive list and started on Wednesday.
Contact Betsy Helfand at bhelfand@reviewjournal.com. Follow @BetsyHelfand on Twitter.