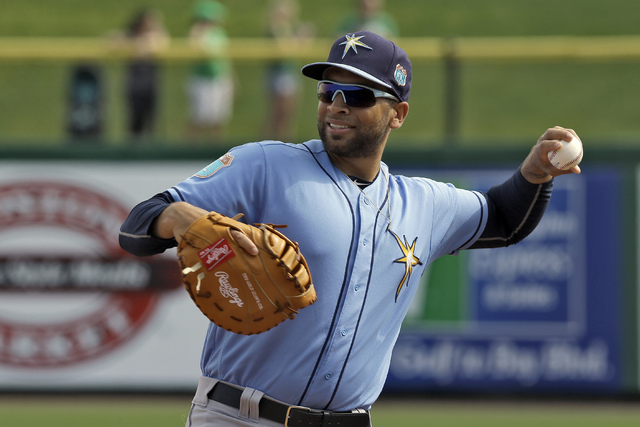 The 51s begin an eight-game road trip Monday with the first four games against the El Paso Chihuahuas, the Triple-A affiliate of the San Diego Padres. Here are five players to watch in the series:
James Loney
Loney finds himself in the minors to begin the season after not making Tampa Bay's Opening Day roster.
Loney was released by the Rays and picked up by the Padres on a minor league deal in April.
He's spent the entire season at Triple A, hitting .311 with 23 hits in 19 games.
Loney, a 10-year major league veteran, is also a former 51, having played in Las Vegas in 2006 and 2007 while the team was affiliated with the Los Angeles Dodgers.
Dilson Herrera
The Las Vegas second baseman has been dealing with a sore lower back since Tuesday's game.
He was supposed to play Sunday before being replaced in the lineup shortly before the game by Matt Reynolds.
Manager Wally Backman said Sunday the team put Herrera through pregame activities and he was still feeling some soreness. Backman expected Herrera to be back in the lineup Monday after missing four straight games.
Manuel Margot
The center fielder clocked in at 56th on Baseball America's latest top 100 prospect list.
At 21, he's the Padres' second-ranked prospect.
Margot is hitless in his past four games, but from April 17 to 26, he had a torrid 10-game stretch during which he went 16-for-39 (.410).
He's hitting .253 in 21 games and 79 at-bats this season.
Gabriel Ynoa
Ynoa takes the ball Monday for the 51s in the first game of the four-game series.
His 1.48 ERA leads the Pacific Coast League, and his 0.99 WHIP is third behind Round Rock's Chad Bell and Oklahoma City's Julio Urias, who is considered one of baseball's best pitching prospects.
Ynoa has thrown three straight quality starts and hasn't allowed more than two runs in a game while going at least five innings in all four of his outings.
Hunter Renfroe
Renfroe is the Padres' third-ranked prospect and 86th overall per Baseball America.
The right fielder is hitting .291 in 20 games with 23 hits and four home runs.
He hit 20 home runs between two levels last season, and his four homers this season are tied for the team lead with Ryan Schimpf.
Betsy Helfand can be reached at bhelfand@reviewjournal.com. Follow on Twitter: @BetsyHelfand