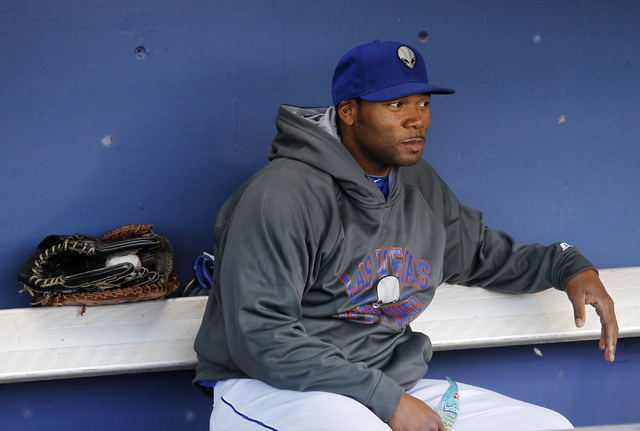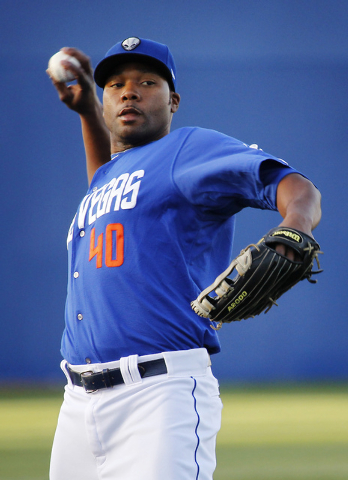 Brandon Allen has had his share of big moments in baseball, but few can rival the rarefied feat the first baseman helped the 51s achieve Thursday night in Salt Lake City.
Allen was the fourth consecutive Las Vegas batter to belt a home run — following Allan Dykstra, Zach Lutz and Taylor Teagarden — in the fourth inning of the 51s' 16-4 romp over the Bees.
It was only the fifth time in Pacific Coast League history a team had hit four straight homers, and it has been done only seven times in the majors.
For good measure, Allen finished 5-for-6 for his second career five-hit game.
"It was pretty special. The five hits wasn't that big of a deal, but the four homers back-to-back was something I've never seen before," he said. "It was definitely the thrill of a lifetime to be a part of that, and who knows if anybody will see it again."
The 28-year-old Allen — who has 179 homers, including 12 in the majors, in his 11-year career — said he wasn't trying to hit one out against Salt Lake left-hander Jose Alvarez, who served up the aforementioned four straight shots, on six pitches, to Las Vegas.
"I wanted to stick to my approach and not get big and not try to hit a homer. That's where you get yourself in trouble," the 6-foot-2-inch, 235-pound left-handed hitter said. "I just wanted to get a good pitch and make a good swing on it, and boom, it was a homer."
After launching a 1-and-0 pitch over the right-field wall, he was greeted in the dugout by a rousing reception from his teammates — who reportedly were promised dinner by outfielder Andrew Brown if Allen delivered.
"It was all laughter, because apparently if I hit a homer, we were going to get a spread or something from Brownie or somebody," Allen said. "I'm not sure. We haven't seen any food yet."
Allen drilled his fourth single of the game in the eighth inning to improve to 5-for-5. With a chance to match Las Vegas manager Wally Backman — who went 6-for-6 for the Pittsburgh Pirates in 1990 — Allen flied out to deep center in the ninth against a position player who had been brought in to pitch.
"I almost took him out of the game," Backman said, jokingly. "I didn't want someone to match me."
Allen strained his calf midway through spring training with the parent New York Mets and hit .471 in five games for Single-A St. Lucie before joining the 51s on April 25.
He has continued his tear for PCL-leading Las Vegas (25-10), batting .341 (15-for-44) with two homers and five RBIs in 14 games.
"I knew once he came back, he was going to get going like he has," Backman said. "We saw that last year. He's a guy that can do a lot of damage in the middle of the order."
After seeing action in the majors the previous four seasons — in which he joined Russell Branyan as the only players to homer into the upper deck at the new Yankee Stadium — Allen spent last year with the Tucson Padres, compiling 17 homers and 76 RBIs.
He signed with the Padres a week after getting released by the Texas Rangers at the end of spring training.
Allen, playing for his sixth big league organization, strives to maintain a positive attitude despite having been traded twice and released three times.
"It gets frustrating. I haven't been out a whole season, knock on wood," he said. "I think I still have something to offer, but it definitely gets discouraging knowing that at any minute I could be done.
"Hopefully I can help them (the Mets) out in the big leagues and stay up there for a while."
■ NOTES — Allen sat out Saturday night's game against Tacoma, which was suspended at 9:53 p.m. with two outs in the top of the eighth inning and the game tied 5-5 because of wind gusts that turned Cashman Field into a veritable dust bowl. The crowd of 8,072 quickly departed and the players turned to shield themselves from the dirt as the wind picked up. … The game is scheduled to resume at 12:05 p.m. today and will be followed by the originally scheduled game. … 51s utilityman Eric Campbell was called up to the majors for the first time by the Mets, who optioned first baseman Josh Satin to Las Vegas. … Satin and Mets shortstop Omar Quintanilla, who was designated for assignment Thursday to make room for 51s shortstop Wilmer Flores, are expected to join Las Vegas on Monday.
Contact reporter Todd Dewey at tdewey@reviewjournal.com or 702-383-0354. Follow him on Twitter @tdewey33.