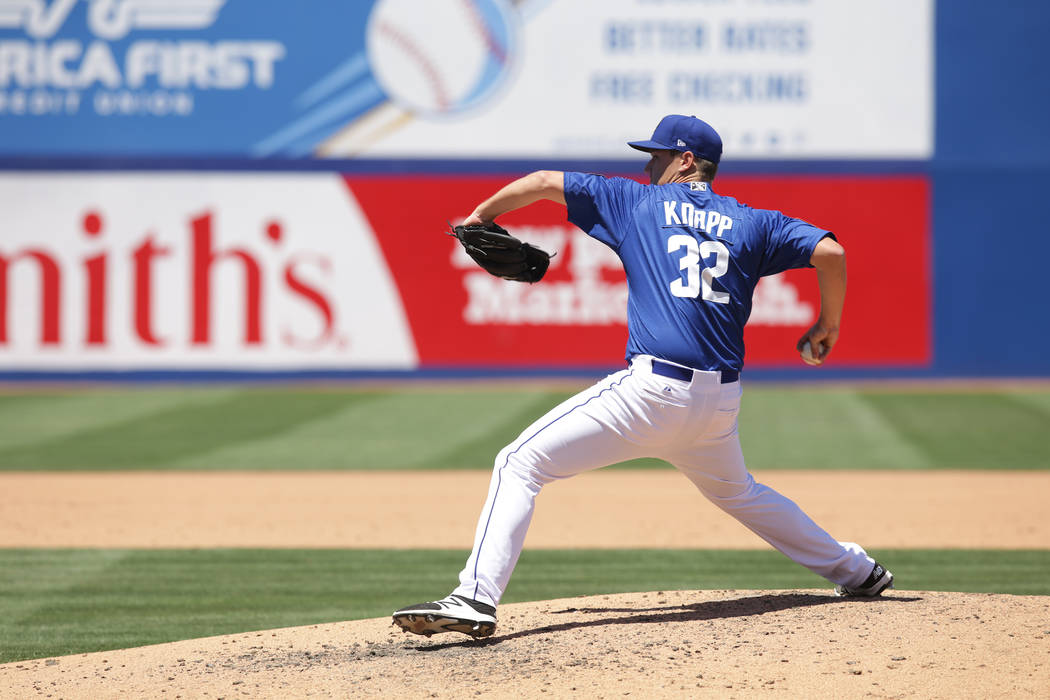 It was supposed to be a bullpen day for El Paso. Instead, Adam Cimber threw 6 2/3 innings as the Chihuahuas beat the 51s 5-1 on Tuesday night at Cashman Field.
Cimber allowed just one runner past second base. The 51s' biggest threat was when Gavin Cecchini and Amed Rosario collected back-to-back hits with one out in the fourth.
"He kept the ball down; he ran the fastball in, sliders away and he did a really good job," 51s manager Pedro Lopez said. "He did a really good job minimizing his mistakes and I think it was probably the fourth inning when we had men on first and second one out with Dom (Smith) and (Kevin) Plawecki coming up. … (He) got ahead, put Dom and Plawecki away with good pitches so you've got to tip your hat whenever you face guys like that."
Cimber, who has a sidearm delivery, was tough on the 51s (32-53) all night, getting Las Vegas to ground into double plays in the first, fifth and sixth innings.
"I think every guy that throws from down there that's in the game right now is making money because of it," Lopez said. "It's extremely hard to pick up and it's just a tough pitcher to face."
Las Vegas starter Ricky Knapp tossed a quality start, but wound up taking the loss.
Knapp gave up three runs in his six innings, but all came with two outs in the third inning.
"I thought that my last three of four outings have been pretty good, but they've all kind of had that one inning," Knapp said.
El Paso scored first in the third when the Chihuahuas (41-44) took advantage of a lead-off walk. A stolen base, a single and pair of doubles later and El Paso had a 3-0 lead.
"It's one inning. It was one inning last outing and then after that, he goes back to doing what he does best," Lopez said. "He gets ground balls, he attacks the strike zone and he did a really good job. Just unfortunately tonight one inning and that was the ball game. I know Frank and him have been working extremely hard on trying to get him to be more consistent and hopefully next outing will be a better outing."
After Knapp's night was done, the 51s scored one run in the seventh inning on a Travis Taijeron single, which plated Kevin Plawecki and cut the El Paso lead to two.
Reliever Beck Wheeler gave up a two-run blast to Jabari Blash in the eighth to widen the lead to four runs, but the 51s fought until the last out in the ninth, bringing the tying run up to the plate in the form of Josh Rodriguez, who struck out to end the game.
"I'm pleased, once again, not with the outcome but I'm pleased with the way the guys battled throughout the whole game," Lopez said. "That was huge."
Up next
Who: El Paso Chihuahuas at Las Vegas 51s
When: 7:05 p.m. Wednesday
Where: Cashman Field
Starters: Zach Lee (2-1, 5.82 ERA) vs. Mitch Atkins (1-1, 6.10 ERA)
Next five
Thursday: El Paso at Las Vegas, 7:05 p.m.
Friday: Las Vegas at Albuquerque, 6:05 p.m.
Saturday: Las Vegas at Albuquerque, 6:05 p.m.
Sunday: Las Vegas at Albuquerque, 5:05 p.m.
Monday: All-Star break
Update
Mitch Atkins will make his second start of the year at Cashman Field on Wednesday. In his first two starts since joining the 51s from independent ball, the right-hander has given up eight runs (seven earned).
Contact Betsy Helfand at bhelfand@reviewjournal.com. Follow @BetsyHelfand on Twitter.