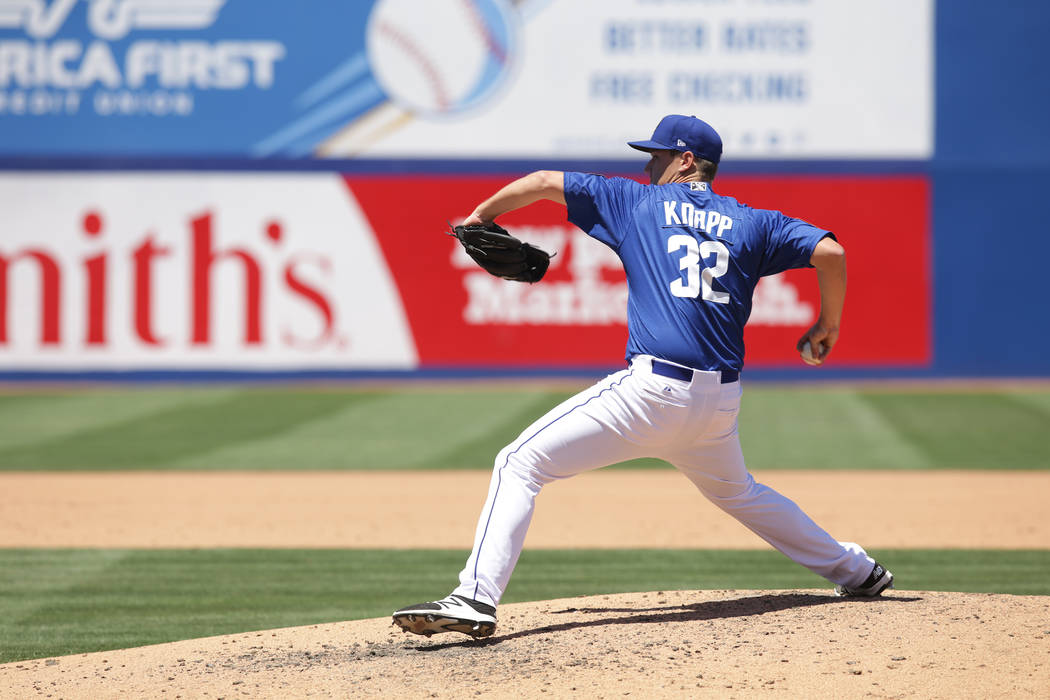 Ricky Knapp's first start of the year against Tacoma was one of his best.
On May 3, the righty tossed a season-high 7 2/3 innings against the Rainiers, giving up just one run on five hits.
On Friday, Knapp couldn't replicate that success against Tacoma, falling victim to one of the top teams in the Pacific Coast League.
The Rainiers chased Knapp from the game after just 2 2/3 innings, as they went on to win 9-0 at Cheney Stadium after rain delayed the start of the game for 90 minutes.
It was Knapp's second shortest outing of the year and the seven runs he gave up marked a new season high.
"He probably didn't have his best stuff and just wasn't making adjustments," manager Pedro Lopez said.
After throwing a 1-2-3 first inning, Knapp gave up a run to lead off the second inning on a D.J. Peterson home run.
And an inning later, the floodgates opened.
Knapp retired the first two batters of the third, getting Leonys Martin and Mitch Haniger to ground out and fly out respectively, before Daniel Vogelbach got things started with a single to center.
An Andrew Aplin triple was the big hit of the inning, driving in three runs, but in total, Knapp gave up four hits and issued three walks before Lopez signaled for reliever Beck Wheeler.
"(Knapp) got two quick outs in the third inning and then after that, went away from contact," Lopez said. "Went away from contact (and) made some mistakes up in the zone."
The 51s, meanwhile, could not get anything going offensively, often falling behind against Tacoma starter Andrew Moore.
"Tonight, you've got to give him credit," Lopez said. "He got ahead and kept us off balance."
Moore threw 5 1/3 scoreless innings, giving up five hits in his outing while striking out eight. Lopez said he didn't think the 51s had a good approach against him.
"(He threw) a lot of first-pitch strikes, he kept it away from us and we just couldn't make adjustments," Lopez said.
Las Vegas did have its opportunities, leaving seven runners on base and going 1-for-10 for with runners in scoring position.
In the fifth, Gavin Cecchini tripled to lead off the inning before the next three batters struck out swinging.
In the sixth, Amed Rosario led off the inning with a double before Moore and reliever Ryan Kelly combined to strike out the next three batters.
And in the seventh, Las Vegas had another opportunity with two on and one out, but couldn't convert.
"We had a tough day at the plate. It was kind of cold out there," Lopez said. "Just a tough game overall."
Up next
Who: Las Vegas 51s at Tacoma Rainiers
When: 7:05 p.m. today
Where: Cheney Stadium
Starters: Sean Gilmartin (1-2, 7.31 ERA) vs. Dillon Overton (1-1, 9.68 ERA)
Next five
Sunday: Las Vegas at Tacoma, 1:35 p.m.
Monday: Off
Tuesday: Sacramento at Las Vegas, 7:05 p.m.
Wednesday: Sacramento at Las Vegas, 7:05 p.m.
Thursday: Sacramento at Las Vegas, 7:05 p.m.
Update
Ricky Knapp was activated on Friday after being placed on the temporarily inactive list earlier this week. Blake Beavan was sent back to Double-A Binghamton after making a spot start for the 51s. … Friday's game in Tacoma began late because of a weather delay, and finished after deadline.
Contact Betsy Helfand at bhelfand@reviewjournal.com. Follow @BetsyHelfand on Twitter.