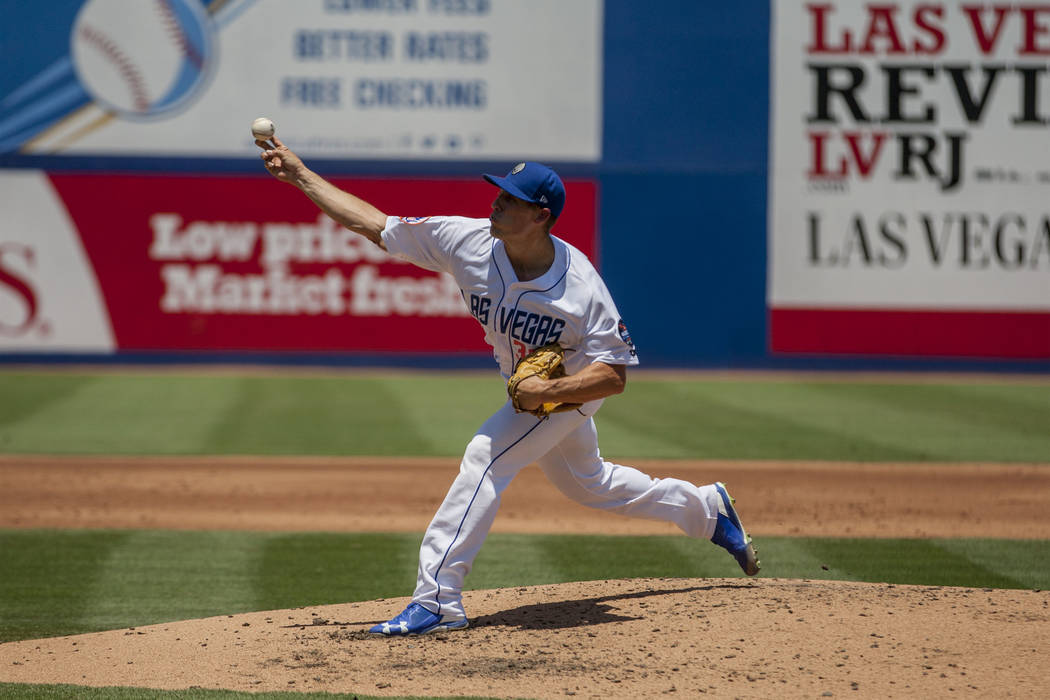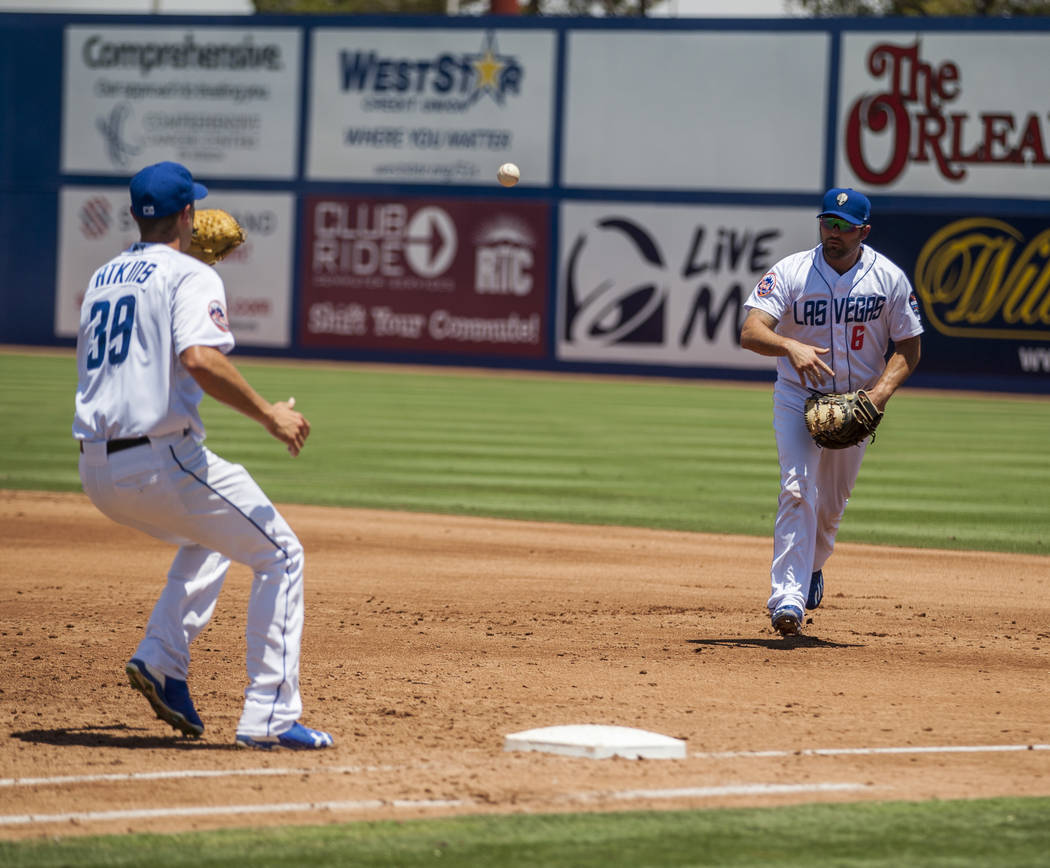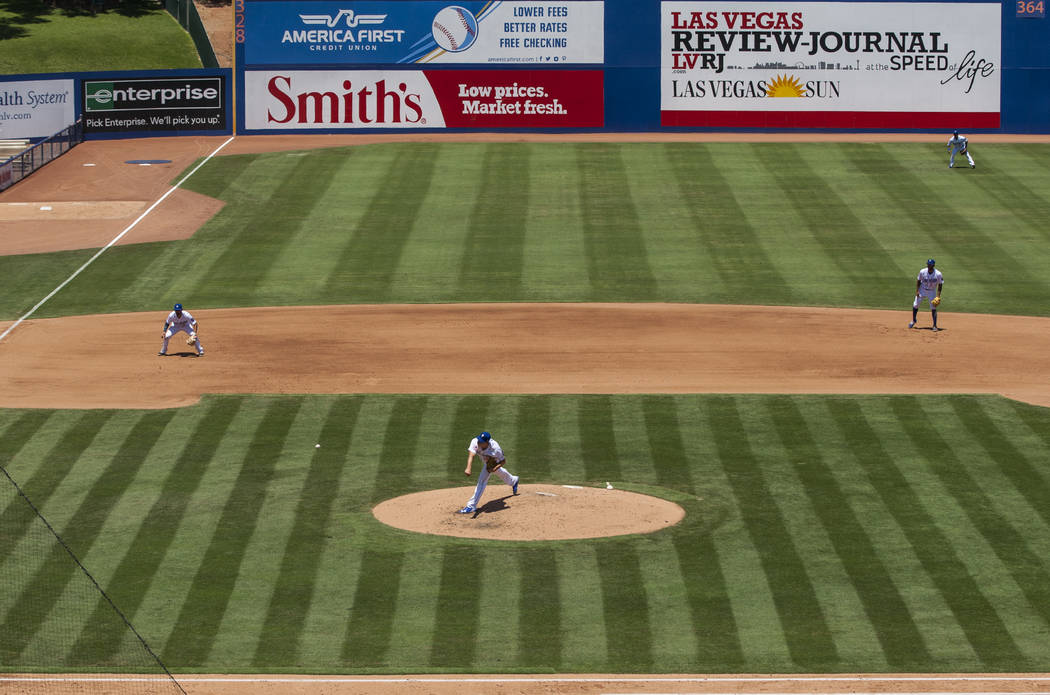 Mitch Atkins' career with the 51s got off to a bumpy start as the right-hander, recently signed from independent ball, gave up three runs in the first inning.
But he settled down after that, giving up a total of four runs — three earned — in his 5 1/3 inning outing.
It was enough to keep the 51s (29-47) in the game, but the offense scored just one run off of Daniel Wright in seven innings as Las Vegas dropped the series finale 4-3 to Salt Lake (42-34) on Sunday at Cashman Field.
"I thought it was good. I felt good," Atkins said. "Make a couple better pitches here and there and limit a couple runs, but I thought I threw the ball well, battled well. It wasn't the best. It wasn't the worst. I felt good, though. It's something to build off of."
Manager Pedro Lopez said Atkins located the ball better at the bottom of the strike zone as the game went on.
"He was up in the zone early and then he was able to make good pitches after the first inning," Lopez said. "Gave up a run in the fifth on once again a ball up in the zone, but for me overall I thought he threw the ball really well."
His opponent, Wright, was economical with his pitches, completing seven innings with only 70 pitches and giving up just one run — a solo home run to leadoff hitter Victor Cruzado in the first inning.
"I felt like we were getting good pitches to hit and there were a lot of hard hit balls," Lopez said. "I'm not going to tell guys to take pitches when the guy's around the plate and you know he's going strike one. I liked the approach. I liked that the guys were aggressive today and they got good pitches to hit and they put good wood on it. Unfortunately, they were just hit right at people."
Wright, who entered Sunday sporting a 7.71 ERA, retired 11 batters in a row to end his outing and 17 of 18 from the second inning until the seventh.
He got two double plays in the first two innings, but faced little trouble, giving up just four hits.
"He had all three pitches working, and typically when a pitcher can throw all three pitches for strikes and command everything, it's most likely going to be a good day for him," said 51s third baseman Jio Mier.
Cody Decker's single in the eighth inning off Mike Morin was the team's first hit since the second inning. The only other baserunner during that span was Dominic Smith, who was hit by a pitch in the fourth inning.
The 51s did mount a threat in the ninth, battling back to score two runs on Travis Taijeron's RBI single and Xorge Carrillo's sacrifice fly. They put the tying run on base, but Gavin Cecchini popped up to third to end the game.
"I think we swung the bats better than the numbers tell," Lopez said.
Up next
Who: Las Vegas 51s at Tacoma Rainiers
When: 6:05 p.m. Monday
Where: Cheney Stadium
Starters: Tyler Pill (4-1, 2.04 ERA) vs. Chase De Jong (3-3, 4.89 ERA)
Next five
Tuesday: Las Vegas at Tacoma, 6:05 p.m.
Wednesday: Las Vegas at Tacoma, 7:05 p.m.
Thursday: Las Vegas at Tacoma, 7:05 p.m.
Friday: Las Vegas at Salt Lake, 5:35 p.m.
Saturday: Las Vegas at Salt Lake, 5:35 p.m.
Update
The 51s will head out on another extended road trip, this one taking them to Tacoma and Salt Lake. In their last series at Tacoma, they lost two of three. At Salt Lake, they lost three of four.
Contact Betsy Helfand at bhelfand@reviewjournal.com. Follow @BetsyHelfand on Twitter.