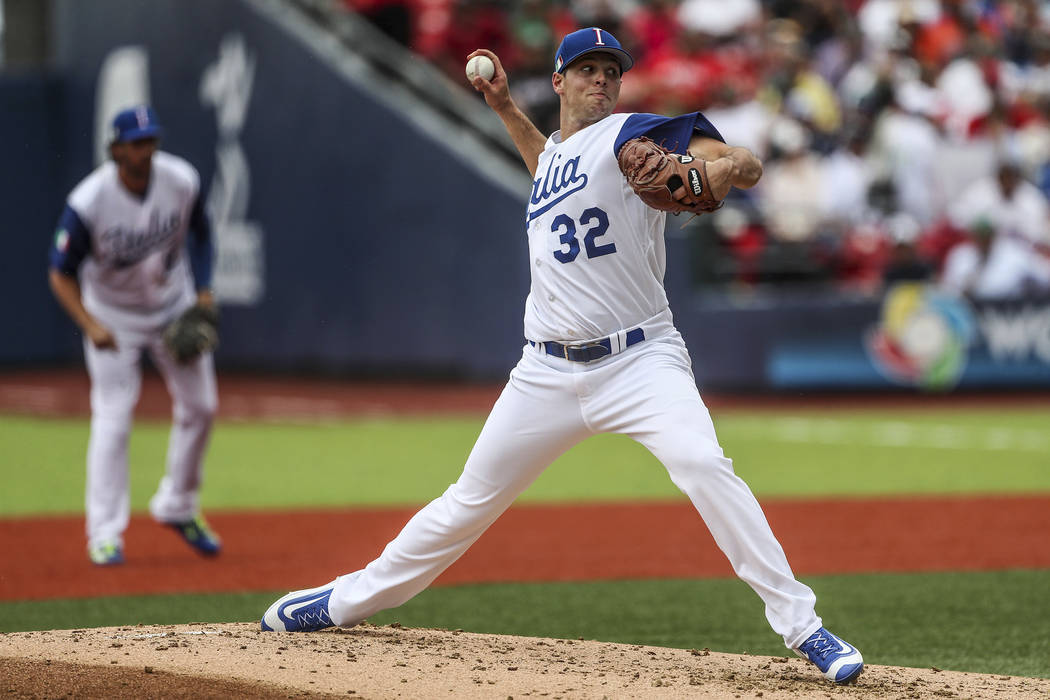 Rafael Montero was supposed to start Thursday for the 51s.
The Mets needed him instead.
With Montero scheduled to start Friday for New York because of Noah Syndergaard's injury, the 51s were thrust into a bullpen game.
And the Rainiers beat up on the bullpen, winning 8-1 at Cashman Field for their third straight victory over the 51s.
"(The) good thing about it, we were able to come out of it with not too much damage to the bullpen, just unfortunately didn't pitch well enough and we couldn't get the bats going," Las Vegas manager Pedro Lopez said.
The 51s jumped to a quick lead, scoring in the second inning on Desmond Jennings' infield single that brought in Travis Taijeron.
Phillip Evans followed with a single. But Sam Gaviglio then retired 18 in a row before Xorge Carrillo doubled in the eighth inning.
"I think we could have done a better job knowing that he was sticking to his cutter and to his offspeed," Carrilo said. "Instead of trying to pull it or something, just stay through the middle or something like that. We just couldn't do it. The guy made good pitches (and) stayed down in the zone."
Gaviglio retired the 51s (13-15) mostly on ground balls, though he did strike out five in 7 2/3 innings. He allowed one run on three hits with no walks.
"That kid, he did a pretty good job," Lopez said. "Mixed pitches well. He got ahead. That's the name of the game. You get ahead, you put people away. He did that tonight."
But Lopez also said he thought the 51s were taking good pitches "just to take," and that they needed to be more aggressive.
"I was telling (hitting coach) Jack (Voigt), part of our plan is it's an aggressive but passive approach," Lopez said. "Passive meaning if it's a fastball, but it's not the location that we are looking, we've got to let it go, but if it's a pitch that we know we can do some damage, then we've got to offer at it and try to drive it. Just unfortunately we didn't do that tonight."
While Gaviglio was shutting down the 51s, the Rainiers (17-9) were doing damage against the bullpen.
Kevin McGowan started in place of Montero and allowed two runs in 2 2/3 innings.
Beck Wheeler, Ben Rowen and Cory Burns then pitched 1 2/3 innings apiece, and Dave Roseboom threw the final 1 1/3 innings. Wheeler and Burns each allowed three runs.
"I think Wheeler did a good job his first inning out there, and then his next inning out he just got in trouble. Same thing with Burns," Lopez said. "And I think it'd be a different ballgame, but I don't think it would have mattered anyways the way we were swinging the bats."
Up next
Who: Tacoma Rainiers at 51s
When: 7:05 p.m. Friday
Where: Cashman Field
Starters: Chris Heston (2.38 ERA), Rainiers, vs. Tyler Pill (1-0, 0.00 ERA)
Next five
Saturday: Las Vegas at Albuquerque, 6:05 p.m.
Sunday: Las Vegas at Albuquerque, 12:35 p.m.
Monday: Las Vegas at Albuquerque, 5:35 p.m.
Tuesday: Las Vegas at Albuquerque, 10:05 a.m.
Wednesday: Off
Update
The Mets signed right-hander Blake Beavan from the Mexican League, where he was 1-0 with a 3.79 ERA, and assigned him to Triple A. The 51s put right-hander Wilfredo Boscan on the disabled list because of a knee injury. He was pulled from his last start in the third inning.
Contact Betsy Helfand at bhelfand@reviewjournal.com. Follow @BetsyHelfand on Twitter.