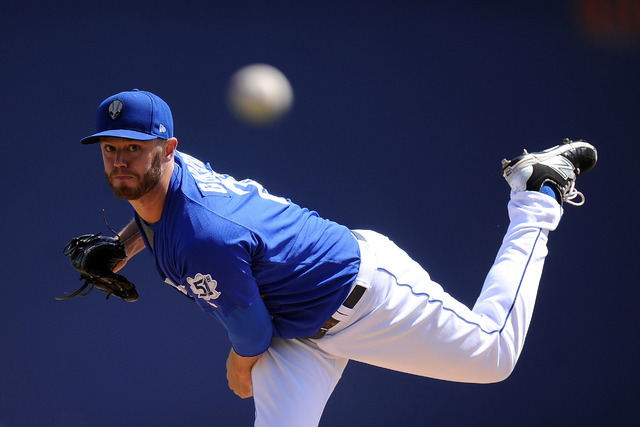 It's not often the 51s are shut out.
But four pitchers shut down the 51s' offense, as Las Vegas dropped the finale of a four-game set against the Rainiers 4-0 on Tuesday night at Cheney Stadium.
"They pitched their bullpen against us, and their bullpen pitched well against us," Las Vegas manager Wally Backman said. "Good pitching beats good hitting. We're first or second in the league in hitting, but good pitching is going to beat good hitting, and that's what happened tonight."
Las Vegas was shut out for the sixth time this season, and the 51s managed just three hits — all coming off Emilio Pagan (1-1).
Shortstop Gavin Cecchini singled to lead off the fourth, but was doubled up a batter later. Eric Campbell singled with two outs in the inning but also didn't get very far.
An inning later, Travis Taijeron singled. He, too, was wiped out in a double play.
The 51s had their best scoring opportunity in the seventh after Campbell walked to lead off the inning and got to third after a stolen base and a throwing error.
He never got farther than that, though, and that was it offensively for the 51s (61-70).
The 51s scored just 12 runs in the four-game series, unusual for a team that averages 5.64 runs per game and leads the Pacific Coast League in runs.
Starter Darin Gorski (4-4) took the loss, but deserved a better fate.
Gorski was perfect through three innings before giving up a two-run homer to Stefen Romero in the fourth. Dae-Ho Lee followed with a solo shot.
The Rainiers scored once in the seventh on a bases-loaded walk off reliever Beck Wheeler.
"Gorski had one bad inning," Backman said. "Other than that, he pitched OK."
In making his first quality start since early June, Gorski went six innings.
It was the 51s' fourth quality start in the past five games, a positive sign for the rotation, but Las Vegas has been alternating wins and losses since Aug. 15.
"It's been more consistent, that's for sure," Backman said of the starting pitching. "They've given us a chance to win games. It's kind of been one of those things where when we do get good pitching, we don't get good timely hitting or the opposing team pitches better that day."
Betsy Helfand can be reached at bhelfand@reviewjournal.com. Follow on Twitter: @BetsyHelfand