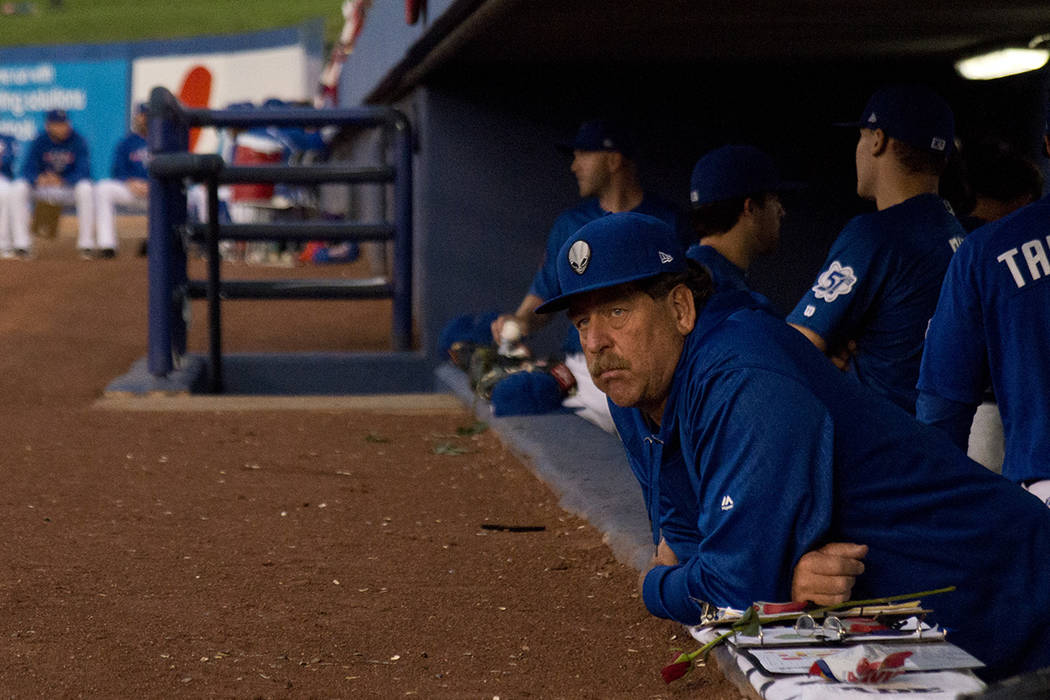 The New York Mets' pitching depth was discussed ad nauseam this offseason.
Some of that depth was supposed to have trickled down to Triple-A, but that didn't happen because of injuries to Steven Matz and Seth Lugo.
So instead, thanks to promotions, a trade and free agency, the 51s' rotation looks vastly different than it did last season. And by the end of the season, it could be completely revamped again.
"It changes pretty much weekly it seems like, but the big things is we have to throw strikes here," Las Vegas pitching coach Frank Viola said. "We might give up a few runs via the home run, but as long as they're solo homers over a couple walks and a home run, we'll be OK because we've got the offense and the defense to make things happen, so it'll be an interesting year and the big thing is just keeping these guys healthy."
For now, here's a look at who will start the season in the 51s' rotation.
Adam Wilk
Wilk boasted a 3.61 ERA in 15 starts with Triple-A Durham (Rays) last season. But he didn't pitch after June 24, opting to have season-ending hip surgery to repair his labrum.
Now fully recovered, Wilk will start Opening Day for the 51s, and he said in mid-March his hip felt great.
Viola called the veteran, who has pitched briefly in the majors during three separate seasons, a crafty lefty.
"He's got a fastball, curve, cutter and a changeup," Viola said of the veteran who has pitched briefly in the majors during three seasons. "(He) needs to get those pitches over the plate and just mix and match."
Ricky Knapp
Knapp was with the 51s briefly last season, though he spent most of his time at Single-A St. Lucie, where he went 9-4 with a 2.14 ERA in 16 games.
Knapp pitched in six games for Double-A Binghamton and started three games for the 51s. He went 0-1 with a 5.50 ERA in his 18 innings with Las Vegas.
"He's been in the organization for a number of years, and he's really in the last couple of years found himself," Viola said. "He's going to be what I call a crafty right-hander. He just has to mix and match his pitches, too."
Wilfredo Boscan
Boscan has jumped around the minor leagues since 2007 but is new to the organization. Viola has only seen him pitch once, as he arrived late to spring training because he had visa issues, but he said Boscan had a good curveball.
"He does a nice job establishing the strike zone and pounding the zone," Viola said.
Viola said Boscan will be limited to 60 to 65 pitches as he works to stretch out his arm.
Boscan appeared briefly with the Pirates last season but spent most of his time with Triple-A Indianapolis, where he was 6-7 with a 3.75 ERA.
"I'm excited to see him go out there and see what he's got," 51s manager Pedro Lopez said.
Donovan Hand
Hand joined the Mets after spending last season in Taiwan and in independent ball. Now, he's eager to prove himself.
"Being 30 years old, I just wanted an opportunity to pitch again because I feel like ultimately if I get the opportunity to pitch in affiliated baseball, I have a good feeling of where I'll end up," Hand said.
Hand pitched in the majors in 2013 and 2015 for the Brewers and Reds.
"He's another one that's not overpowering, but he knows how to pitch," Viola said.
Sean Gilmartin
Gilmartin, who was in the rotation for most of last season, should be the ace of the staff. He's also the most likely to be called up as the only 51s starter on the 40-man roster.
He struggled with a shoulder issue during spring training, which Viola described as bursitis. But he's healthy now.
He was scheduled to throw Tuesday and will be limited to about 60 pitches in his first start, Viola said.
Gilmartin was 9-7 with a 4.86 ERA for the 51s last season.
"You know what you get with Sean. He's a strike-thrower," Viola said. "Puts the ball in play and has very good success at the Triple-A level. Just needs to get the ball every fifth day, and he'll be fine."
Contact Betsy Helfand at bhelfand@reviewjournal.com. Follow @BetsyHelfand on Twitter.
Order of 51s rotation
Thursday: Adam Wilk
Friday: Ricky Knapp
Saturday: Wilfredo Boscan
Sunday: Donovan Hand
Monday: Sean Gilmartin