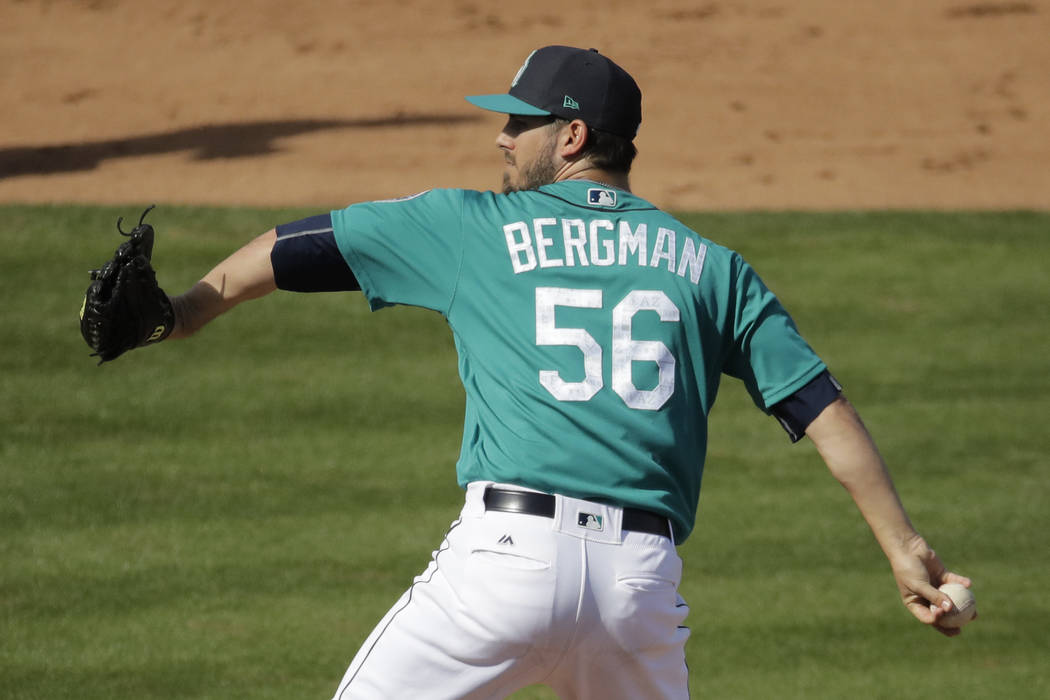 The 51s had few answers to Christian Bergman for five innings.
By the time they broke through for two runs, they were in a hole they would never recover from.
Bergman tossed a quality start as Tacoma beat Las Vegas 5-3 on Tuesday night at Cashman Field.
"I think he mixed pitches well to both sides of the plate," 51s manager Pedro Lopez said. "He moved the ball around, and we just couldn't get anything going. I don't think it was so much about approach. I think it was more about him going out there, executing his pitches."
The 51s (13-13) managed just two hits off Bergman in his first five innings.
In the sixth, the 51s scratched out two runs. Xorge Carrillo started the inning with a single, and back-to-back doubles from Wilmer Flores and Amed Rosario brought in two runs to make the score 4-2. That was the closest they would get.
Bergman (5-0) went six innings, allowing two runs on five hits with one walk and four strikeouts.
The Rainiers (15-9) jumped to an early lead, striking for one run in the first inning.
They padded their lead with one in the third and two in the fourth on a two-run homer from Zach Shank off Las Vegas starter Adam Wilk.
"(Wilk) got in trouble today," Lopez said. "He just didn't have his best stuff, and he made one too many mistakes over the middle of the plate against a good-hitting ballclub."
Wilk (2-3) allowed four runs on 10 hits and struck out seven in 4 2/3 innings.
Logan Taylor, called up Tuesday from Double-A Binghamton, helped preserve a tired bullpen, throwing 2 2/3 innings.
Taylor arrived from Binghamton in the late afternoon. He knew he probably would be needed, so he said he tried to stay hydrated at the airport.
"I felt pretty good, especially considering the fact that I was in the airport for 12 hours today," Taylor said. "I could have made a better pitch at the end, but I was just trying to keep attacking the strike zone because I know those guys needed a little bit of a break and I didn't want to make it any worse by throwing any extra pitches or walking guys."
Taylor was pulled in the eighth inning after giving up a home run to Dario Pizzano, the only run and hit he allowed. He walked one and struck out two.
"We needed him," Lopez said. "We were short in the bullpen, and what a job he did. He did a really good job, gave us a chance to win the ballgame. Just unfortunately we couldn't get that big hit."
The 51s loaded the bases in the ninth but scored only one run, when Phillip Evans was hit by a pitch.
One out later, Brandon Nimmo flew out with the bases loaded to end the game.
Nimmo (hamstring/hand) and Flores (knee) came to the 51s on rehab assignments Tuesday. After the game, Lopez said they both felt good.
Flores finished 2-for-4 with a run and an RBI and probably will DH on Wednesday.
Nimmo went 0-for-5 and said before the game he still was working to get his timing back.
"He's been out for a while, Lopez said. "Just unfortunately that injury with his hamstring in the WBC (World Baseball Classic) kind of hurt him, kind of set him back, but he's a good hitter. He's got a really good strike zone. I think it'll take him a couple more at-bats for him to get going here."
Nimmo will have an opportunity for a few more at-bats early Wednesday when the 51s host their School Day game at 10:35 a.m.
"It's a quick turnaround for everybody," Lopez said. "Tomorrow there's going to be a lot of coffee drinking around here."
Up next
Who: Tacoma Rainiers at 51s
When: 10:35 a.m. Wednesday
Where: Cashman Field
Starters: Ryan Weber (1-0, 0.48 ERA), Rainiers, vs. Ricky Knapp (1-2, 5.47 ERA)
Next five
Thursday: Tacoma at Las Vegas, 7:05 p.m.
Friday: Tacoma at Las Vegas, 7:05 p.m.
Saturday: Las Vegas at Albuquerque, 6:05 p.m.
Sunday: Las Vegas at Albuquerque, 12:35 p.m.
Monday: Las Vegas at Albuquerque, 10:05 a.m.
Contact Betsy Helfand at bhelfand@reviewjournal.com. Follow @BetsyHelfand on Twitter.