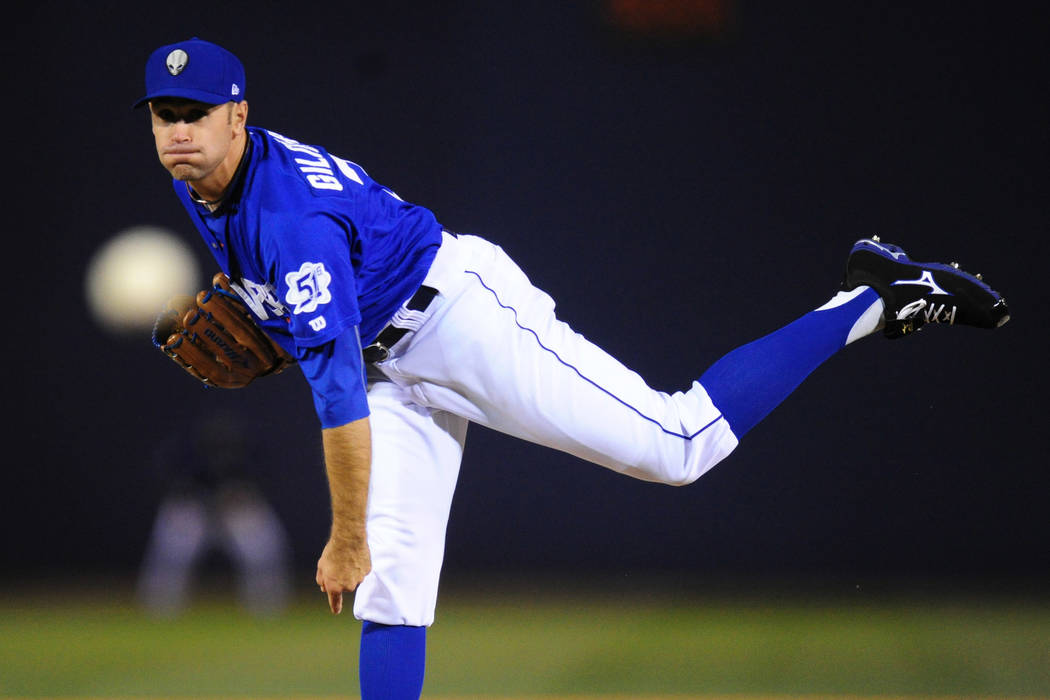 After finishing up a homestand 1-7 on Thursday, manager Pedro Lopez said the team "could not be playing any worse."
Since that point, the results have been good. The 51s have now picked up consecutive wins for the first time this month, beating New Orleans on Saturday.
The 8-2 victory on Saturday at Shrine on Airline came after the 51s jumped out to an early lead and never looked book, also receiving a solid pitching performance from starter Sean Gilmartin and their bullpen.
"If we're able to do what we're capable of, I think we're going to be OK," Lopez said. "The lineup, it's good enough to go out there and compete. I think the pitching is good enough to go out there and compete as well. We're doing a good job. We're playing solid defense, we're pitching well and we're getting timely hits."
Las Vegas (18-25) set the tone early with consecutive singles from Brandon Nimmo, Amed Rosario, Dominic Smith, Travis Taijeron and Josh Rodriguez producing three runs.
Sean Gilmartin gave back two of those runs in the bottom of the second inning to New Orleans (14-28) with a Carlos Paulino two-run home run, but that was it for his five-inning outing.
"I think he just didn't have his 'A' game early on in the game the first two innings and he was just trying too hard and then after that, he settled down, tried to relax a little more and made pitches when he needed to," Lopez said.
Gilmartin's start was cut short by a 1:26 rain delay in the top of the sixth inning. His night ended after just 61 pitches, shorter than it would have been otherwise.
Logan Taylor picked the bullpen up, throwing three scoreless innings and giving up just two hits. Alberto Baldonado tossed a scoreless ninth in the win.
Meanwhile, the 51s scored once in the fifth inning after Smith singled to center and Chad Hinshaw bobbled the ball, allowing Gavin Cecchini to score.
They added three more in the eighth on a Xorge Carrillo home run and one more in the ninth when Taijeron singled to drive in Nimmo shortly after Smith had been intentionally walked in front of him.
"It's just a matter of them going out there and executing the game plan and performing and I think it's always good when we're winning. I think the clubhouse, it's looser after we win versus dropping three or four or five games in a row," Lopez said. "It is not because of lack of effort or concentration. I think it's more things weren't going our way, maybe guys were trying too hard and that's the reason for it. They're doing a good job. They're having fun so hopefully we get another good game tomorrow."
d'Arnaud joins on rehab
Mets catcher Travis d'Arnaud, with the 51s on rehab, pinch hit in the game and flew out to left.
Lopez said d'Arnaud would catch for nine innings on Sunday and then the Mets would tell him the plan moving forward.
He has been on the disabled list since May 5 with a bruised right wrist.
Up next
Who: Las Vegas 51s at New Orleans Baby Cakes
When: 11 a.m.
Where: Shrine on Airline, Metairie, Louisiana
Starters: Tyler Pill (2-1, 2.04 ERA) vs. Scott Copeland (3-4, 4.72 ERA)
Next five
Monday: Las Vegas at New Orleans, 5 p.m.
Tuesday: Las Vegas at Round Rock, 5:05 p.m.
Wednesday: Las Vegas at Round Rock, 5:05 p.m.
Thursday: Las Vegas at Round Rock, 5:05 p.m.
Friday: Las Vegas at Round Rock, 5:05 p.m.
Update
Tyler Pill gave up a season-high six runs (five earned) in his last start out against Iowa. Pill threw 5⅔ innings and gave up nine hits, including two home runs, in the 51s' extra-inning loss.
Contact Betsy Helfand at bhelfand@reviewjournal.com. Follow @BetsyHelfand on Twitter.