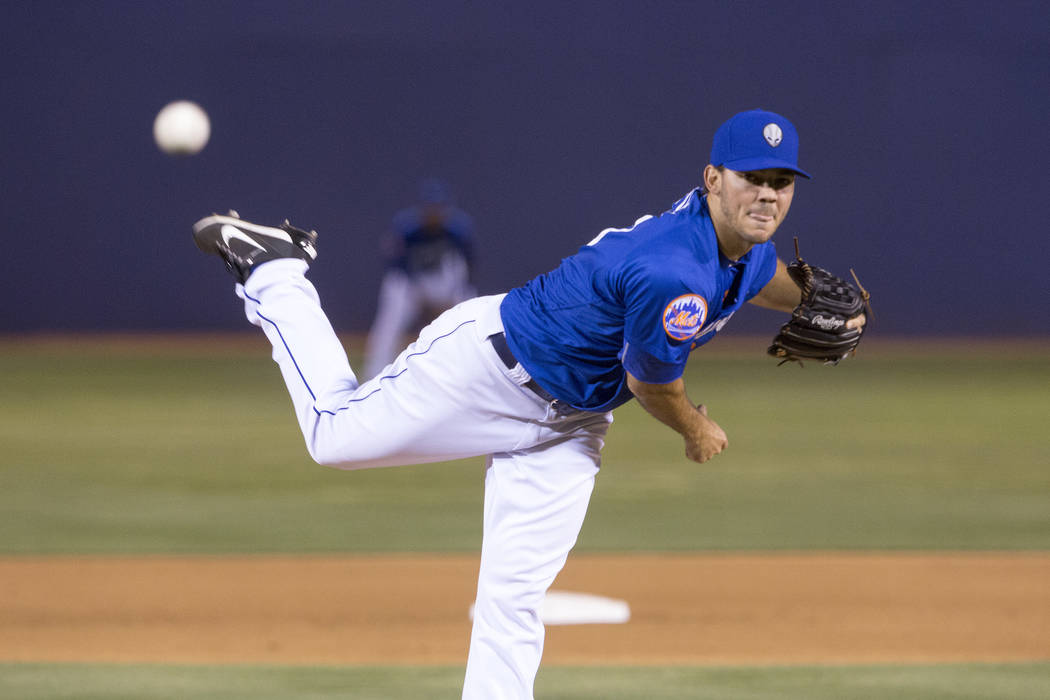 The 51s were well on their way to victory.
They had taken a lead on just the second pitch of the game and kept padding their advantage. Their ace was on the mound and by the sixth inning they had built an eight-run advantage.
It should have been enough.
But the Rainiers had other ideas.
Tacoma came back from eight runs down on Monday, scoring all nine runs between the sixth and eighth innings, to win 9-8 at Cheney Stadium and send the 51s to one of their toughest losses of the season.
"This has been the trademark of the whole year, the inconsistency overall," manager Pedro Lopez said. "Nights like this we get really good offense … had good pitching early on and then later in the game we just couldn't pitch and then it goes the opposite on some of the other nights. The pitching does a really good job and then we're one hit away from doing something and we haven't been able to do it."
The 51s (29-48) had mounted an advantage with back-to-back home runs from Victor Cruzado and Matt Reynolds in the first inning and added to that with a Travis Taijeron home run in the second and Amed Rosario sacrifice fly in the third before bursting open for four more in the top of the sixth.
But the Rainiers (39-36) finally broke through off of Tyler Pill, who had thrown five scoreless innings up to that point.
Home runs from Tyler O'Neill and Andrew Aplin — a two-run blast — began the comeback.
Pill left his outing after six innings, having struck out seven. He departed with a five-run lead.
"I think that Tyler did a really good job. First two innings, got in trouble but he made good pitches to get himself out of jams and then from there on out, was in command," Lopez said. "He located pitches well, mixed pitches well and then in the sixth made a couple mistakes up in the zone but overall I thought he ended up making good pitches to finish strong."
The Rainiers chipped away at the lead even more in the seventh off of Logan Taylor, one of the 51s' most reliable relievers.
Another two-run home run — this one from Leonys Martin — cut the lead to 8-5.
That set the stage for the big eighth inning.
Taylor walked the first two batters and struck one out before Lopez summoned for Alberto Baldonado.
"Logan came in in the seventh inning and made a couple mistakes. But overall I thought he threw the ball well in the seventh and then in the eighth just went away from contact, worked behind, back-to-back walks," Lopez said. "And then Baldonado came in and every pitch he threw was up in the zone."
Baldonado allowed three hits in the inning, allowing both inherited runners to score and also two of his own.
The 51s, in a season filled with Mets injuries and call ups, have lost both of their closers this season — first Paul Sewald and then Chasen Bradford — to the big leagues.
"What's tough is that not everybody can pitch at the end of the game, the same way as you've got RBI guys and that's all they do for a living," Lopez said. "Not everybody is able to pitch in those last two innings so you've just got to keep running them out there and hopefully they can learn and hopefully they can get better."
The result of that on Monday was a result they'd like to have back.
"If not the toughest, it's got to be up there. We've lost some tough games," Lopez said. "I thought that the hitters did a really good job, had a really good job approach … and we just unfortunately couldn't finish at the end."
Up next
Who: Las Vegas 51s at Tacoma Rainiers
When: 6:05 p.m. Tuesday
Where: Cheney Stadium, Tacoma, Washington
Starters: Donovan Hand (1-3, 6.99 ERA) vs. Tyler Cloyd (1-0, 1.54)
Next five
Wednesday: Las Vegas at Tacoma, 7:05 p.m.
Thursday: Las Vegas at Tacoma, 7:05 p.m.
Friday: Las Vegas at Salt Lake, 5:35 p.m.
Saturday: Las Vegas at Salt Lake, 5:35 p.m.
Sunday: Las Vegas at Salt Lake, 6:05 p.m.
Update
Right-hander Donovan Hand will look to rebound from his last start in which he gave up nine runs (eight earned) in just five innings. In his outing before that, he gave up just one run in seven innings pitched.
Contact Betsy Helfand at bhelfand@reviewjournal.com. Follow @BetsyHelfand on Twitter.