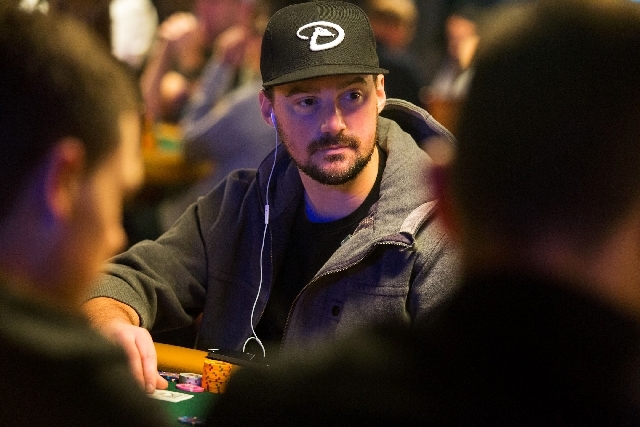 It's a good thing Eric Baldwin couldn't hit the curveball. Otherwise, no one would have known how good a poker player he is.
His high school buddies knew from their Friday night games growing up in Beaver Dam, Wis. He took their money on a regular basis, with the pots sometimes growing to as much as $300, which is pretty good coin for a teenager.
Now, the poker world knows how good Baldwin is. The 31-year-old has won more than $4 million playing cards for a living since turning pro in 2006. The former right fielder and captain of the Wisconsin-Whitewater baseball team has found the perfect remedy to satisfy his competitive urges.
Baldwin, who lives in Henderson with his wife, Mary, is a regular World Series of Poker competitor. This year's event runs through July 15, when the final table for the November main event will be set, at the Rio Convention Center.
"They're similar in a lot of ways," Baldwin said. "Like baseball, there's so much to think about in this game. You can have paralysis by analysis. I try to minimize my thoughts and not outthink myself.
"The big difference is, in baseball, you're at the plate and you have a split second to decide whether or not you're going to swing. In poker, you have a little more time to decide what you're going to do."
In poker, as in baseball, players go through slumps. Baldwin went through one in 2011.
"I got a little complacent," Baldwin said. "The game evolves at a tremendous rate, and I was missing out. So I had to get back to studying and learning the things that made me successful in the first place.
"If you let the ups and downs sway you, you have no chance."
Baldwin minored in math in college, so he can figure out how much to bet and the odds during a given hand, which he believes can give him an advantage.
"I've always been good with numbers," he said. "So doing the math was never a problem."
He also knows a good deed when he sees one. In 2009, he donated $200,000 to Wisconsin-Whitewater to have lights installed at Prucha Field, the Warhawks' home baseball stadium. That allowed the program to play night games, practice after dark and host NCAA Division III regional tournaments.
"My college coach, John Vodenlich, came to me with a proposal to help," Baldwin said. "I always wanted to give back to the program because it did so much in helping develop me as a man."
Vodenlich said Baldwin's generosity meant more than just being able to play night games. "It demonstrates a loyalty I'll remember the rest of my life," the coach said. "I hope it will help others connect with the program."
Vodenlich remembers Baldwin as a disciplined hitter who got along well with everyone. He also remembers Baldwin reading books about poker on bus rides.
"I told him he should consider something a little more stable to do with his life," said Vodenlich, who was in Las Vegas when Baldwin won his first WSOP bracelet in 2009 in a $1,500 Texas Hold 'em tournament. "I'm glad he didn't listen to me."
Baldwin said he knew he was meant to be a poker player from those Friday night games as a teen.
"The same guys always won, and the same guys always lost," he said. "So, I started playing online and had some early success, and it took off from there."
Baldwin said in some ways poker is more physically taxing than baseball. It's certainly tougher mentally.
"At the end of a 12- to 14-hour day, you're just mentally shot," he said.
Those marathon sessions at the table also help Baldwin forget about the struggles of his father, Steve, who has Stage 4 colon cancer. Much the way baseball can be a place for someone to put his troubles aside for a few hours, the poker table can be equally therapeutic.
"I do try to block it out when I'm playing," Eric Baldwin said. "He's going through a lot right now. But he's a tough guy, and I think poker helps take his mind off things."
Contact reporter Steve Carp at scarp@reviewjournal.com or 702-387-2913. Follow him on Twitter: @stevecarprj.