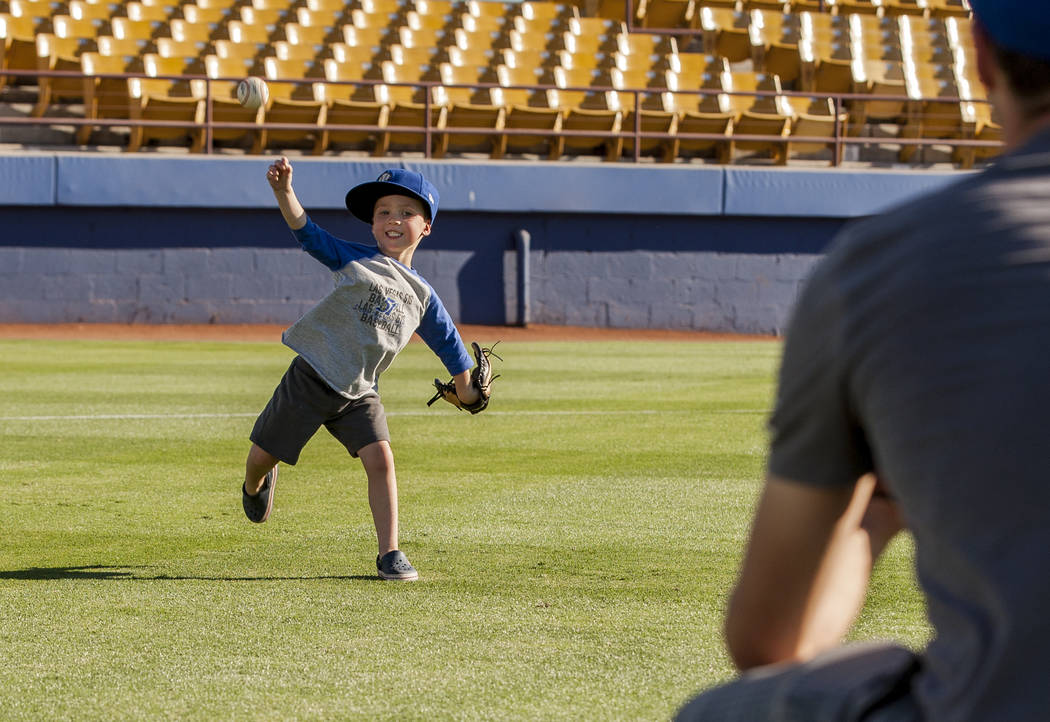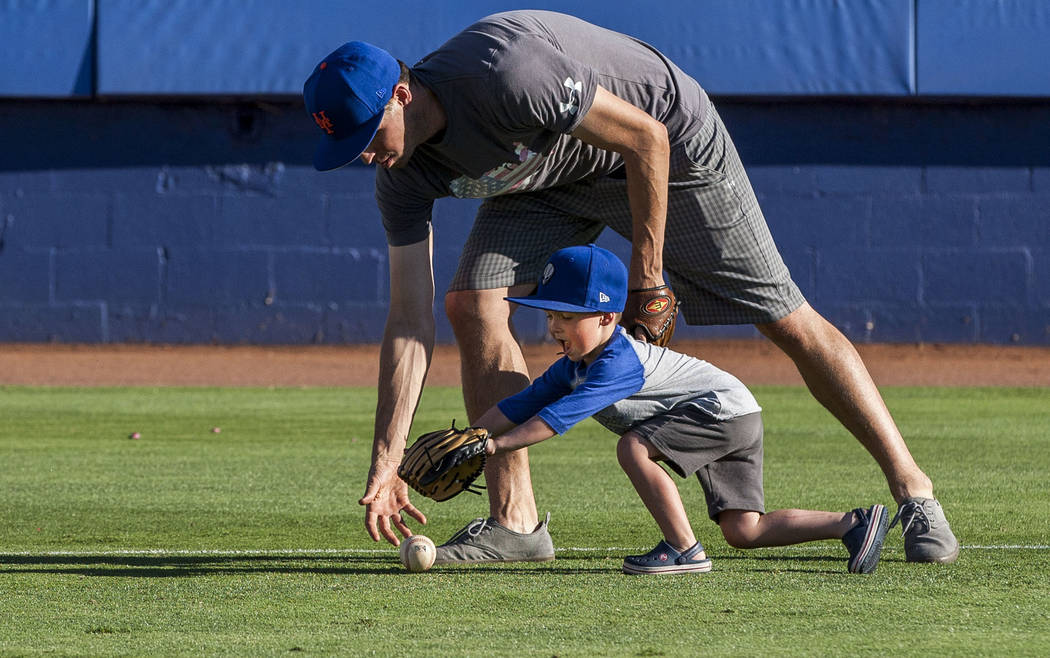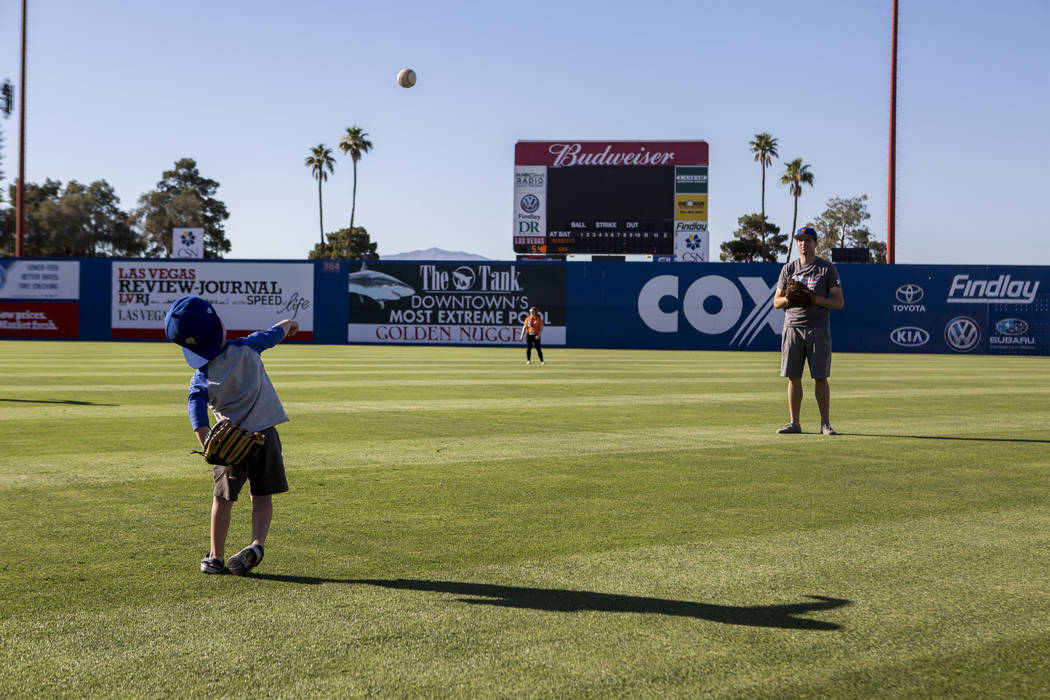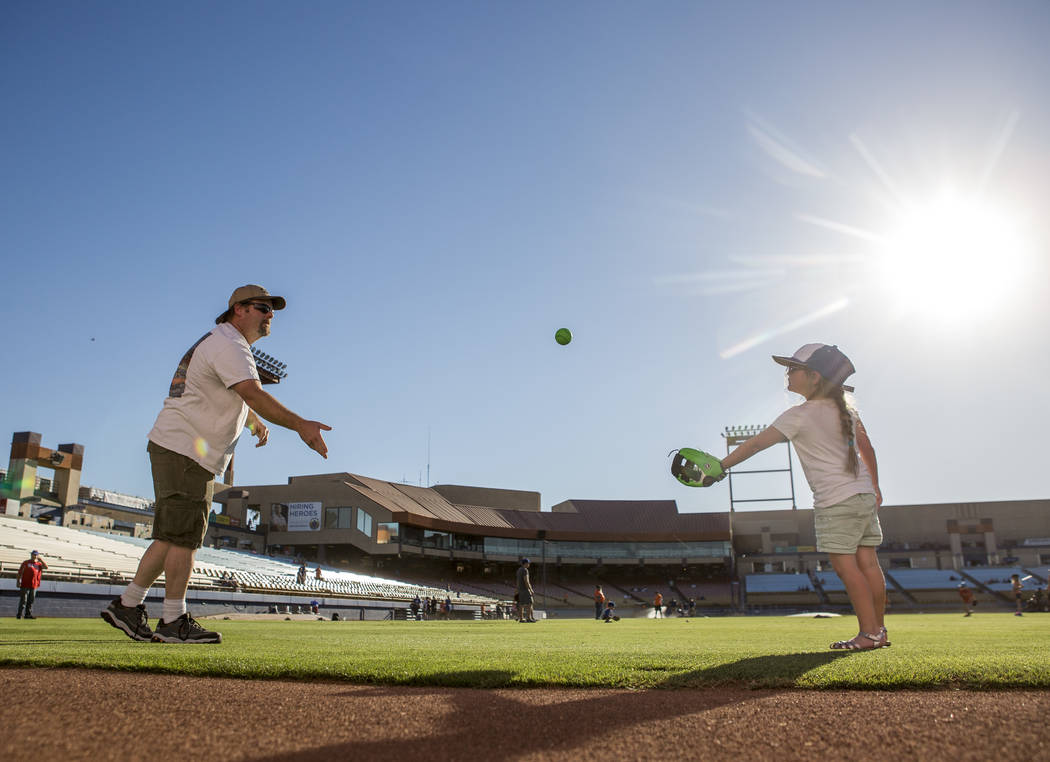 Hey, Dad, you wanna have a catch?
Remember when buying your dad a necktie he would probably never wear was the Father's Day tradition that first came to mind?
That changed during the 1980s.
In 1984, the poet Donald Hall compiled a bunch of baseball essays into an elegant volume called "Fathers Playing Catch with Sons." The title piece was sort of about that theme, about how playing catch with one's old man can forge bonds and memories that last forever. It also was sort of about the author trying out for the Pittsburgh Pirates long after he had starting writing verse and prose.
And then in 1989, a catcher sporting old baseball flannels named John Kinsella strolled out of a cinematic cornfield onto a baseball diamond carved from it by his son and asked if this was heaven.
No, Ray Kinsella said, it was Iowa. And John said, "Iowa?" He could have sworn it was heaven.
And then Ray Kinsella asked his dad if he wanted to play catch on a Field of Dreams.
The sentimental music swelled. Grown men — and most Las Vegas 51s with whom I spoke about recollections of having played catch with their fathers — begin to cry.
"Tears definitely came out of my eyes," infielder Gavin Cecchini said, and the other Las Vegas players and coaches pretty much confessed the same. Except for one.
Relief pitcher Chasen Bradford said he did not weep during the final scene of the movie.
Not even when Ray's voice cracked and the music swelled?
"No, I'm good," Bradford said.
Relief pitchers are tough guys, with beards and chin stubble and colorful nicknames such as "the Mad Hungarian" and "Goose" and "the Mexicutioner."
That's why I'm still marking Bradford down for a yes.
Gavin Cecchini
51s infielder Gavin Cecchini said that unlike a lot of sons, he didn't have to wait for his father to come home from work to play catch with him.
Glenn Cecchini — and Raissa Cecchini, Gavin's mom — coached Gavin and his pro-baseball-playing brother, Garin, at Barbe High School in Lake Charles, Louisiana. Gavin could warm up with Pop, Garin with Mom, who was the team's first base coach. Or vice versa. Whenever they wanted.
They still play catch as a family.
"Every time I'm home during the off-season, he's always doing baseball stuff with us," Gavin Cecchini said of his dad. "I get to play catch with him all the time."
Cecchini, who is only 23 but was recalled to the big club Thursday, says playing catch with one's father makes a person feel like a kid again.
"Baseball is supposed to be fun," he said. "Whenever you get to do it with family members, it's a really good experience for everyone."
Chasen Bradford
If you've seen Chasen Bradford warm up in the 51s' bullpen, you may understand why he and his dad, Doug, haven't had a catch since Chasen was playing Little League ball in Henderson. Chasen throws a very hard sinker.
"My dad only played Little League. That was the highest level, and so at a certain point it got to where I was throwing too hard for us to play catch," the bearded right-hander said.
(This is the part they didn't show as credits rolled in "The Natural." They only showed Robert Redford/Roy Hobbs playing catch in a wheat field with somebody we assume to be his father. They didn't show the son firing one into the pocket of the old man's shabby fielding glove, making his palm sting.)
Bradford said that when he starts a family, he'll look forward to playing catch with his son as his father did with him before Chasen starting throwing hard sinkers.
"Definitely," the Silverado High graduate said. "I think it's a big American thing. It's built into our culture. It's a bonding experience. (Fathers) want to play catch with their kids and have their kid use the same glove for like 15 years until he gets to our level, where gloves are free."
Jeff Glenn
It often was hot where 51s backup catcher Jeff Glenn grew up, first in the Phoenix area and then in Winter Haven, Florida. In Florida, it also was humid.
Glenn said his father wasn't a baseball player. John Glenn played football and basketball. But he played catch with his boy in the backyard, even when it was hot and humid, even when the bases were loaded at work and nobody was out and nobody was warming up in the bullpen.
"He'd come home from work, and I'd say, 'You wanna play catch? You wanna play catch?' " Jeff Glenn recalled in the cool shade of the 51s' dugout. "No matter how bad his day was at work, he was always there for me.
"He would always throw a knuckleball. I was so impressed, because I could never throw one."
Jeff Glenn said that when he starts a family, and his son — or daughter — asks to play catch, he hopes he will always be there for him — or her — as his dad was for him. Even when it's hot outside.
Maybe he'll even develop a knuckler.
Frank Viola
Long before he was making sweet music with his change-up and his other pitches en route to winning the American League Cy Young Award, there always were lots of guys wanting to play catch with Frank Viola. That was one reason the 51s' pitching coach didn't get to throw the baseball around with his father as much as some of the other kids on Long Island.
"It's so funny. My dad (also named Frank) was the guy who was instrumental in me playing baseball, but he never really played himself. The only thing he really played is church softball," Viola said before batting practice at Cashman Field on a sultry Thursday afternoon.
"When it comes to playing catch like in 'Field of Dreams,' the scene at the end of the movie and stuff like that, we really never had a chance to do that. But we did more stuff. We'd go to 10 Mets games a year. He taught me how to keep score. He taught me the rules of the game. … I didn't get the opportunity to do what a lot of kids got to do (with their fathers), but I got to do a lot more."
After he retired, Viola coached his son, Frankie Jr., in high school and AAU ball.
Did they play catch?
"Oh, yeah. All the time. Anywhere we were and we had a glove in our hand, we played catch. We still talk about it, laugh about it. It was a special time for both."
Russ Langer
In Encino, California, one of two places where longtime 51s broadcaster Russ Langer was raised, there was a big front yard on an acre of land.
"It had a big, beautiful yard, where we'd go fairly regularly to have a catch," Langer said of languid days spent tossing a baseball with Martin Langer, his father. "I was probably in my 20s when we did it last, maybe in my 30s."
Langer is now roughly Julio Franco's age. He still can see his dad, who was 96 when he died, crouching and pounding his raggedy catcher's mitt — "it must have gone back to the Smoky Burgess era" — for effect.
"It is a special memory that gets more special as time goes on," Langer said.
Russ Langer thinks it's neat that major and minor league ballparks let fathers and sons onto the field to have a catch on Father's Day to create their own special memories.
"The first time I saw it we were in Sacramento," he said. "Here were fathers and sons playing catch in the outfield. They had the (sentimental) music going; it was an emotional moment. It gets you choked up, especially in my case because my dad is no longer around."
Don Logan
51s president Don Logan says he might be the lesser-known of the baseball Don Logans from Tonopah. His father, the first Don Logan, was a pitcher who could make a fastpitch softball dance.
Did he recall the last time the Don Logans played catch?
"I want to say coming home from college, my junior year," the younger one said. "All the sons played their dads in a fastpitch game, and he pitched, and I warmed him up. I was used to having to catch him, but I don't remember ever playing catch with him after that.
"I was 21 years old."
He took a moment to reflect that it had been 36 years since the Don Logans from Tonopah had last thrown the ball around together, and how fathers playing catch with sons is such a cherished memory.
Hey, Dad, you wanna have a catch?
"You don't know if it's the last time," Don Logan said.
"You don't even want to think about that."
Contact Ron Kantowski at rkantowski@reviewjournal.com or 702-383-0352. Follow @ronkantowski on Twitter.