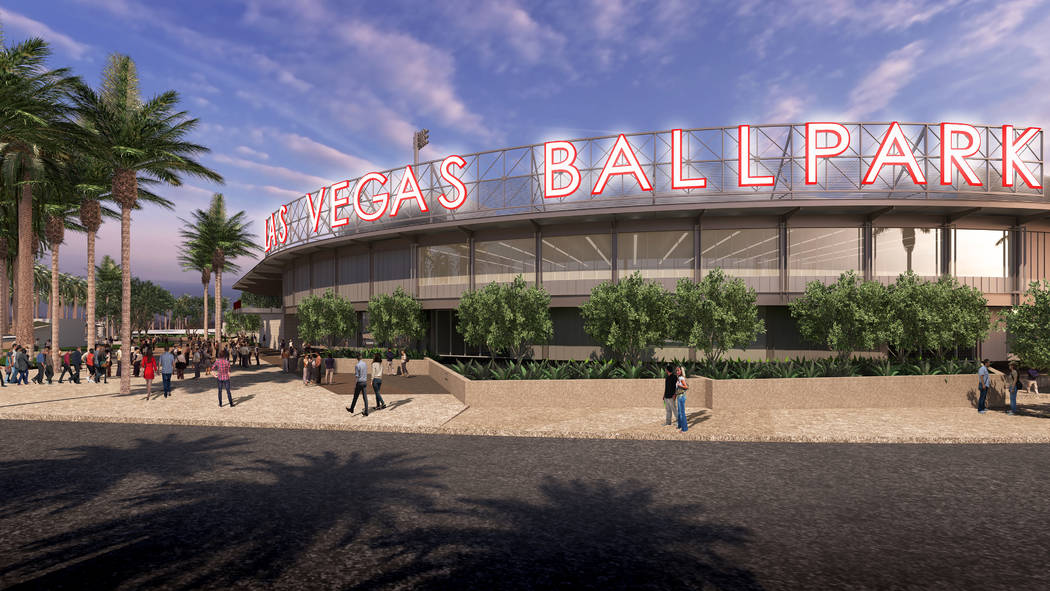 Though the total price tag will be around $150 million, the cost of building Las Vegas Ballpark, the future home of the 51s, will be about on par with the price of other recent Triple-A structures.
About $90 million of the total price will go toward construction of the stadium itself — one million less than First Tennessee Park, the home of the Nashville Sounds that opened in 2015.
Typically, municipalities own land in deals like this, meaning the cost of land isn't included in the price tag.
In this case, the land is already owned by the Howard Hughes Corp. — the team's owners — and is valued at around $30 million. About another $30 million will go toward infrastructure — water, power, sewer — and off-site costs, which include parking lots and roads, team president Don Logan said.
Dan Rajkowski, the executive vice president and chief operating officer of the Triple-A Charlotte Knights, said that their stadium — which opened in 2014 — cost $62 million. In today's market, he guessed that number might jump up to $85 or 90 million.
The Knights' stadium is leased from the county for $1 per year, but he estimated they were probably "sitting on $30 million of dirt."
Southwest University Park in El Paso, Texas, which was opened in 2015, cost $78 million. Logan said they tried to model Las Vegas Ballpark off southwest Texas stadium.
"Everybody feels like that's the best … one out there and (we were) trying to replicate that and that was built four years ago," Logan said. "(In) just the four years, the cost of steel and concrete and everything has gone up and then beyond that, it's more expensive to build in Vegas than it is in Texas."
So, what can all that money buy?
"Anything that's out there that everybody's doing that's cool, we're going to do it," Logan said.
The new ballpark will seat around 10,000 fans and will be designed by HOK. Per a Howard Hughes Corp. release, it will be "designed to create a festival-like atmosphere," and will be "landscaped to complement the master-planned community."
The release also says the new park will include "22 suites, club seats, berm seating, party zones and decks, picnic tables, kids' zone, bars and even a pool beyond the outfield wall."
"You've got to have destinations within the ballpark," Logan said. "You've got to have enough concession points of sale. You've got to have enough restrooms — particularly women's restrooms — (and) the scoreboard is key."
Everything in the renderings is subject to change, Logan said, but the current images show blue, installed seats running from foul pole to foul pole, as they do away with the bleachers that comprise much of the seating at Cashman Field. It also will include, among other things:
— Berm seating overlooking the bullpens, both of which will be in right field and there will be seating on both levels of the park and in left field.
— A pool area will be just beyond the center field wall, like at Chase Field in Phoenix.
"I've been adamant about a pool since day one," Logan said.
— A kids' zone located in deep center field and a fan activity area in the vicinity. It will be patterned after the Band Box in Nashville's park, which has a bar and restaurant and games like ping pong, pool, corn hole and more, Logan said..
— A large scoreboard, more than twice the size of the current one in Cashman Field, will be in left field.
— Drink rails in left field, possibly a bar and a specialty food stand.
— And a club level behind home plate, which is still under development.
For the players, Logan said the stadium would have two indoor batting tunnels and a mound so pitchers can get work inside when it is too hot out. Cashman Field has one single-lane batting cage that is outside.
"Everything you saw in those renderings is what we're thinking about. In terms of putting it into an actual plan, there's a cost element involved in it, too," Logan said. "(Architects have) been doodling with it for awhile but I would say within the next six weeks, they'd have a better idea of what we're going to try to put in there."
Contact Betsy Helfand at bhelfand@reviewjournal.com. Follow @BetsyHelfand on Twitter.