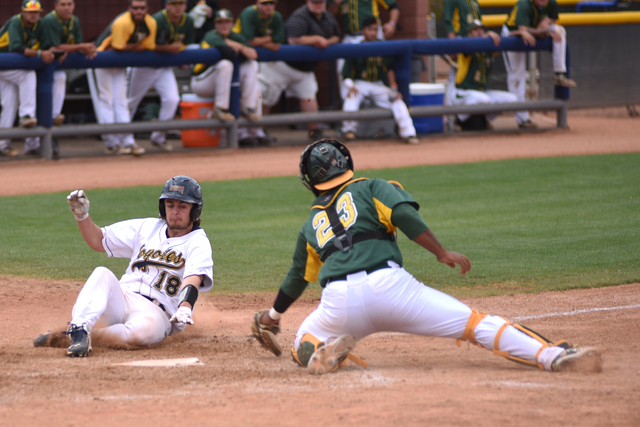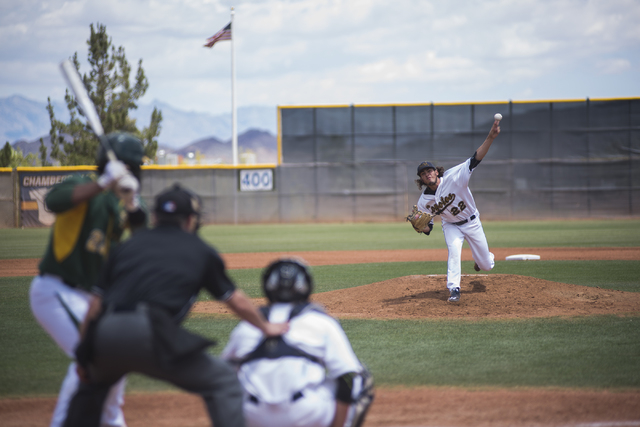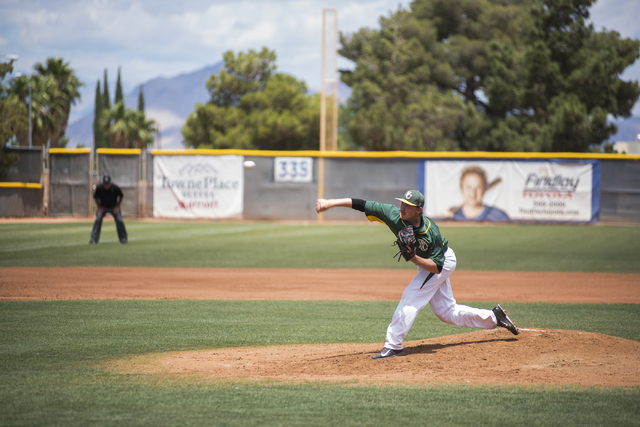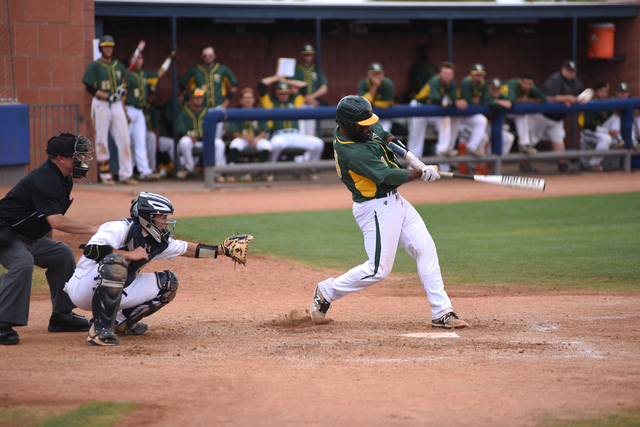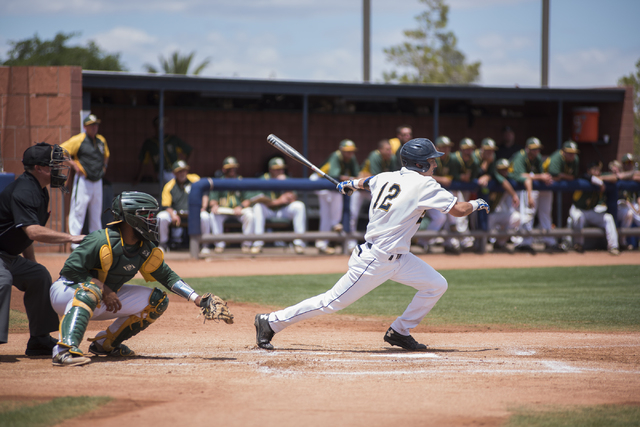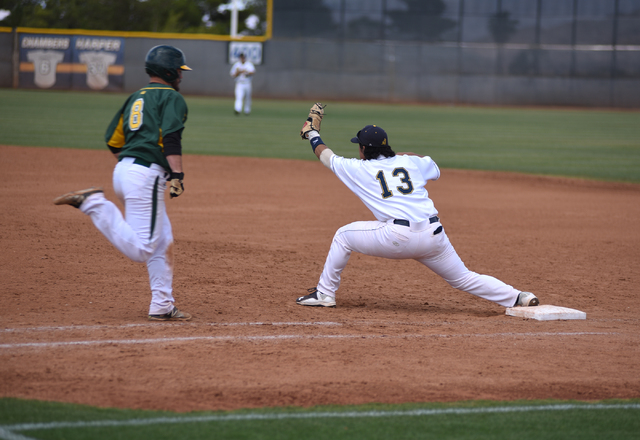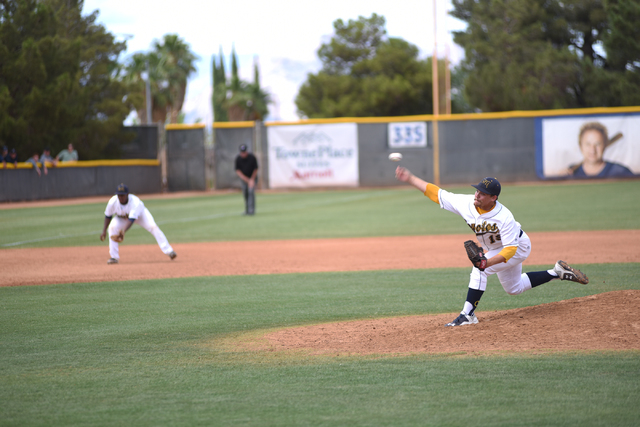 As players from Yavapai College held up the trophy and then emptied a water container on their coach, College of Southern Nevada's players and coaches watched in silence.
Some stood while others sat on the grass in front of their first-base dugout at Morse Stadium.
They knew that just as easily could have been them celebrating the Western District baseball championship and trip to the World Series.
CSN lost 9-6 on Saturday to the team from Prescott, Ariz., but the Coyotes truly watched their best chance to win the tournament end the day before against the same club.
Yavapai scored four runs in the ninth inning to win 5-2 on Friday afternoon and send the Coyotes deeper into their rotation than they would have preferred. And it forced them to win Friday night and then twice Saturday, while Yavapai needed one victory.
"Everything changes if we win that game yesterday," said CSN second baseman Tyler Brown, who went 3-for-5 with a home run and three runs.
Yavapai (45-16) advances to play in the National Junior College Athletic Association Division I World Series from May 23-30 in Grand Junction, Colo. CSN's season ended at 46-18.
The teams weren't far apart in skill, and that's what made it difficult for the Coyotes to accept watching another team celebrate on their field.
"I've got to give (Yavapai) credit, they fought and put a four-spot up," CSN coach Nick Garritano said. "It's not easy to overcome. When you think about it, we were a pitch away from being 2-0 and making them beat us twice here. We didn't lose a doubleheader on our field the whole year. It's a tough pill to swallow."
CSN, however, showed resilience.
The Coyotes bounced back from that difficult loss to beat Trinidad (Colo.) State Junior College 8-1 on Friday night in the losers' bracket final.
Then they took a 5-2 lead Saturday in the top of the fifth inning against Yavapai with three runs on RBI doubles by Kenny Meimerstorf and Mason Hayes and a run-scoring single by Ali Deolarte.
But back came the Roughriders with five runs in the bottom of the inning. Austin Paschke delivered the critical shot with a two-out grand slam for a 7-5 lead.
CSN had a chance to end the inning one batter earlier, but third baseman Jose Verdugo had difficulty fielding a hard grounder that was scored an infield single to load the bases.
"Again, we were a play away from getting out of that inning," Garritano said. "If you don't make plays and give good-hitting teams four or five outs in an inning, they're going to make you pay, and they did."
CSN right-hander Josh Nuernberg (4-2) tried to get a fastball up and in on Paschke, who sent the pitch over the right-field fence.
"I had it in, but I guess I didn't get it far enough up," Nuernberg said. "He just got extended on it."
The Coyotes got within a run in the sixth on Brown's solo homer, but Yavapai answered with two runs in the bottom half.
Neither team scored after that, and then the celebration began for the Roughriders.
"We know we're a better team, but we didn't come out and play to our circumstances," Nuernberg said. "They played better than us."
Now the offseason begins, and Garritano will conduct exit interviews with his players this week. This being junior college baseball, the roster will look almost nothing next season like it does now.
Some players will move on to four-year schools, and others will keep an eye on the major league draft, which is June 8 to 10.
So building for the future will begin soon enough at CSN, but that wasn't on anyone's mind Saturday.
"This is tough on guys," Garritano said. "These sophomores come out here since August and lift weights at 6 in the morning together. When it comes to an end, it hurts."
Contact Mark Anderson at manderson@reviewjournal.com or 702-387-2914. Follow him on Twitter: @markanderson65.