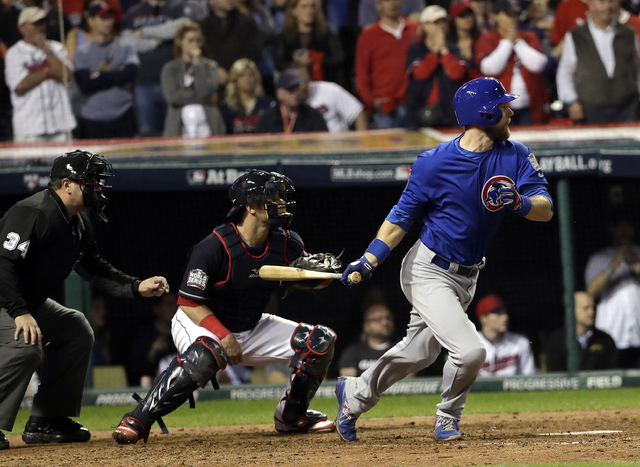 The Chicago Cubs and Cleveland Indians faced off in one of the most entertaining World Series in recent years — a seven-game battle in 2016 between two teams in aiming to break long championship droughts the Cubs won.
This March, they'll meet again at Cashman Field for Big League Weekend, the 51s and LVCVA announced Monday.
The March 17-18 games will mark the Cubs' 14th consecutive appearance in Las Vegas and their 17th all-time visit for Big League Weekend.
"We've got the alliance with the Cubs which is obviously very strong," team president Don Logan said. "They like coming here, we like having them and obviously last year they're the World Champions and getting the rematch of who they played in … the World Series was a great thing."
The games will be at 4:05 p.m. on March 17 and 1:05 p.m. the next day. Ticket packages are available through the 51s' box office, which can be reached at (702) 943-7200.
It will be second time the Indians have come, the first being in 1998. Logan said he put in a call to the Indians last year about having them come to Big League Weekend but they already had committed to go elsewhere.
"The guys at the Indians, a lot of the baseball guys, (manager) Terry Francona I've known for a long time. (Bench coach) Brad Mills managed here. He's a great friend," Logan said. "(First base coach) Sandy Alomar, arguably the greatest player in our franchise's history is on (their) staff. A lot of great synergy there, so it's going to be great to get them here."
Both the Cubs and Indians were playoff teams once again this year, with the Cubs bowing out to the Dodgers in the NLCS and the Indians falling to the Yankees in the ALDS. Both look poised to sit atop the standings once again in 2018.
"We are excited to welcome Major League Baseball back to Las Vegas for the 28th year," Rossi Ralenkotter, president and CEO of the LVCVA said in a statement. "The Cubs and Indians will provide a great matchup for fans and Las Vegas will provide a great experience for visitors coming to see the games."
Contact Betsy Helfand at bhelfand@reviewjournal.com. Follow @BetsyHelfand on Twitter.