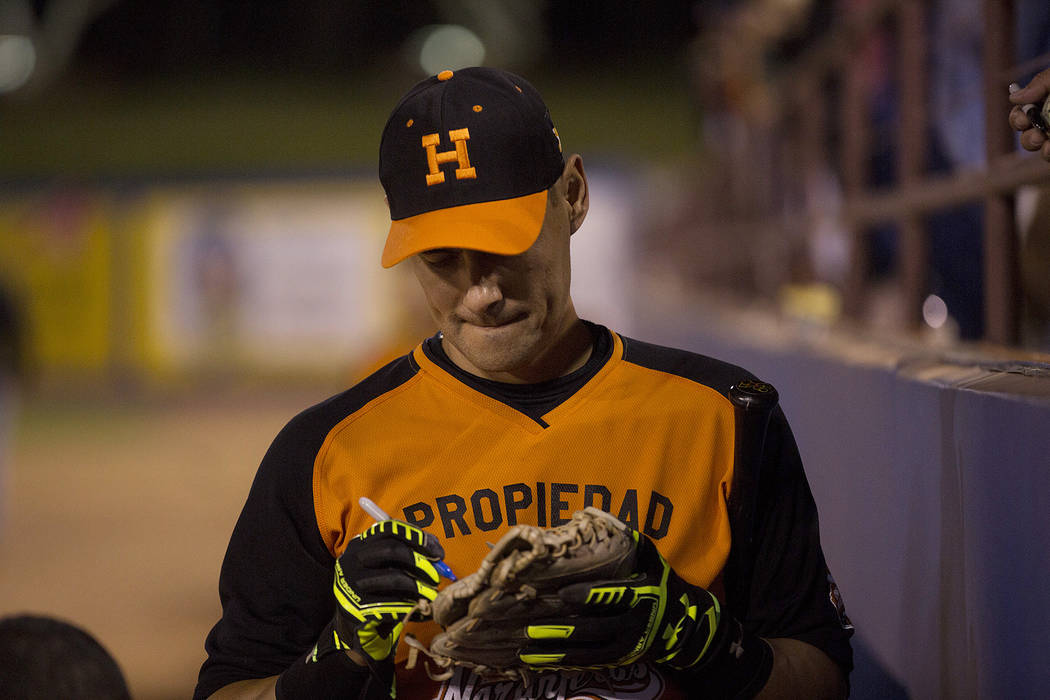 Luis Garcia looked out the bus windows on the way to Cashman Field this weekend and the memories started flooding back. The scenes looked familiar. He had made a similar drive so many times before.
"It was just like I was here again in 2004," he said.
Garcia played for the 51s in 2004 while the team was affiliated with the Los Angeles Dodgers. Before this weekend when Naranjeros de Hermosillo, his team, came to Las Vegas to participate in the Mexican Baseball Fiesta, he hadn't been back to Cashman Field.
"The dugouts are the same. The clubhouses are the same. Even the stands," Garcia said. "It was a good feeling. Good memories and everybody's asking me about that year that I played here and I tell them my stories."
Garcia, 38, has most recently been playing in the Mexican League. But back in 2004, he was just one step away from the majors, performing in Triple-A for his second consecutive year.
The first baseman hit for power and average that year in Las Vegas, leading the team in many offensive categories, but the Dodgers never promoted him.
"I put all my effort and my heart into it and it didn't happen," he said. "I really thought at the end of the year I was going to get the call up and the organization decided not to and it was frustrating for me because all the effort, all the work that I put in, all the hours, all the swings and everything."
In his first and only season in the Dodgers' organization — he also played in the minor leagues while with the Red Sox, Cardinals, Indians and Mets — Garcia hit .314 with 129 hits, 32 doubles, 32 home runs and 95 RBIs in 129 games played.
Though the 51s missed the playoffs and he wasn't promoted, Garcia has fond memories of Las Vegas.
"I was disappointed and frustrated at that time but right now I'm still playing and enjoying baseball, you know? I really enjoy my career," he said.
Garcia was limited to 16 games last season for the Diablos Rojos del Mexico and has recently been recovering from surgery on his hand and elbow.
After leaving Las Vegas, he spent one more season in affiliated ball — at Triple-A Norfolk, then a Mets affiliate — before heading back to Mexico to play, where he has mostly played since then, save for stops in Japan in 2011 and 2012.
"As long as the owners and my abilities and my body allows it, I'll be playing," he said. "I don't know for how long. God knows that answer."
Retirement doesn't seem to be on the horizon.
Already, he's thinking about coming back to Las Vegas. He enjoyed the atmosphere of the Mexican Baseball Fiesta and was impressed by the number of fans who showed up.
"Playing under this condition in front of a Mexican audience in the States, it's different," he said. "It's motivating. It's motivating because that means that the league is doing good and people are getting interested in our league and the teams. I hope. I hope. I really hope that we come back."
Contact Betsy Helfand at bhelfand@reviewjournal.com. Follow @BetsyHelfand on Twitter.