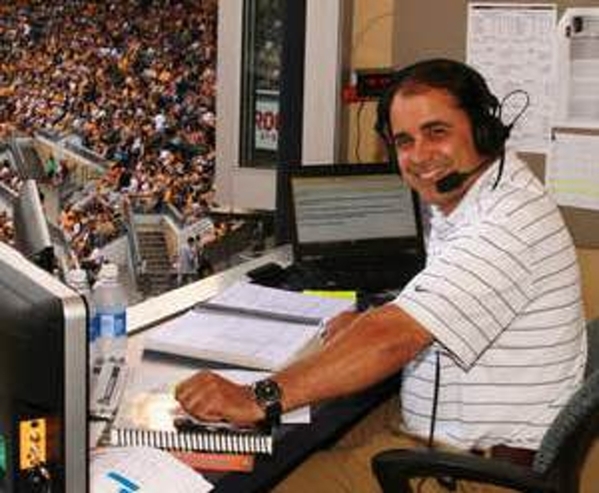 PITTSBURGH — The minute Tim Neverett walked into his parents' home in Nashua, N.H., his family immediately knew something wasn't right.
Instead of jeans and a sweater, he was decked out in a suit and tie.
Neverett had spent the past seven years as the play-by-play announcer for the Pittsburgh Pirates. Now, on Christmas Eve, he was about to spring some big news on his family. But before he could, his sister Nancy said, "You're the new Celtics or Red Sox announcer!"
His response? "It's not the Celtics."
And with that and the ensuing pandemonium in his parents' living room, Neverett was coming home for good.
"It's more than a dream come true," said Neverett, 49. "I grew up a Red Sox fan. I went to school and played baseball at Emerson College, which is three blocks from Fenway Park. It's in my blood and, to be honest, I still can't believe it."
When longtime TV announcer Don Orsillo's contract was not renewed and Dave O'Brien moved from radio to TV, it created an opening. And Neverett, whose credentials as a broadcaster long had been established, was selected, perhaps as much for his New England roots as for his smooth delivery on the air.
"I think that had a lot to do with it," he said. "There's a connection with every Red Sox announcer to the area. You either lived there or you played for the Red Sox."
In 1996, Neverett was about as far away from Fenway Park as one could be. He was doing talk radio in Las Vegas, trying to get his broadcasting career going. And when Jerry Reuss left the Las Vegas Stars to do the California Angels' games, Neverett got his chance.
"I had done some minor league baseball before," he said. "But now, I'm doing Triple-A games, calling games with guys who are either a step away from the big leagues or have already played there. It was a great opportunity for a young broadcaster."
Neverett called games in Las Vegas for eight years as the Stars transitioned into the 51s. He remembers many days when it was 114 degrees and he'd walk up the ramp to the club level of Cashman Field, set up and go to work.
"I look back on those days very fondly," he said. "It was a chance to really lay a foundation for my career."
While in Las Vegas, Neverett got to grow as a play-by-play man. In addition to baseball, he did hockey, arena football, indoor soccer, and UNLV football and baseball. He still enjoys calling something other than baseball. On this day, he was doing a basketball doubleheader, calling Boston College-Pittsburgh at Petersen Events Center in the afternoon before hustling over to Duquesne's Palumbo Center for the Dukes' 6 p.m. game with St. Bonaventure.
"I like staying busy," Neverett said. "I love doing basketball, and doing two games in a day seems a little hectic. But I don't mind."
While his family was celebrating the good news on Christmas Eve, Neverett was thinking about the one person who couldn't be there to enjoy the news. Bob Blum had been with the Las Vegas Triple-A franchise from Day One in 1983 and had been a top-notch broadcaster himself. Blum, who died in 2012 at age 91 after a long illness, had helped mentor Neverett, and Neverett never forgot the kindness and wisdom Blum provided.
"He meant the world to me," Neverett said. "He would have been so thrilled. He was such a supporter of me, and he gave me great advice, not only while I was in Las Vegas but right up until he got sick.
"Bob taught me not just about the actual broadcast, but broadcasting itself. His critiques, advice and suggestions, Bob was a real mentor and a great friend."
Blum also got Neverett a chance to do hockey. In the second year of the Las Vegas Thunder's run in the International Hockey League, Neverett took over at the microphone and quickly established himself as a first-rate hockey play-by-play man.
"You couldn't have two more different sports to call," he said of baseball and hockey. "But I really loved calling the Thunder. They were great guys to work with, and I really thought hockey, not baseball, was going to be my ticket to the bigs."
Neverett applied for several NHL jobs and interviewed with the Pittsburgh Penguins. He didn't get the job. But ironically, he made it to Pittsburgh as the Pirates' announcer.
While he was there, he saw the fans reconnect with their team after the Pirates finally shook off years of losing to become a playoff team. But with the Red Sox, it's not just Boston. It's an entire region. And with it comes a responsibility not seen in most markets.
"Red Sox baseball is religion in New England," Neverett said. "I totally get it. I grew up in New Hampshire listening to games on the radio and watching on television.
"There's a guy in Caribou, Maine, listening on his front porch or a kid in Brattleboro, Vermont, with the radio on in his room or someone driving through Connecticut that has the game on their car radio. You're their eyes and ears, and nothing happens for the listeners until they hear it from the announcer. So I take what I do very seriously."
Neverett said he already has touched base with Joe Castiglione, the longtime Red Sox broadcaster who will be his partner this season.
"He's a great guy," Neverett said of Castiglione, an institution in New England who has been calling Red Sox games since 1983. 'But you know what? Everyone has been so nice since word got out I was taking the job. It's all very humbling."
Including the part about calling Fenway Park his home office.
"You're not going to believe this," he said. "I've been to Fenway a million times in my life, but I've never broadcast a game from there. I've been to every major league stadium to work, some that don't even exist anymore. But the one place, the one place I've never called a game from, is Fenway. So I've circled April 11 on my calendar. That's the home opener against Baltimore."
And it will be Christmas Day early for the Neverett family.
Contact reporter Steve Carp at scarp@reviewjournal.com or 702-387-2913. Follow him on Twitter: @stevecarprj.