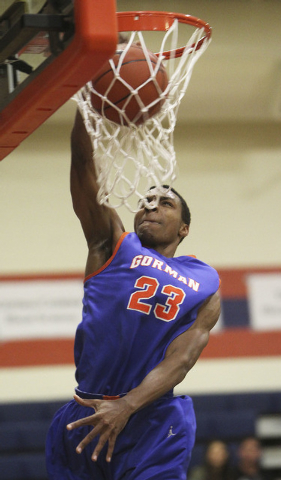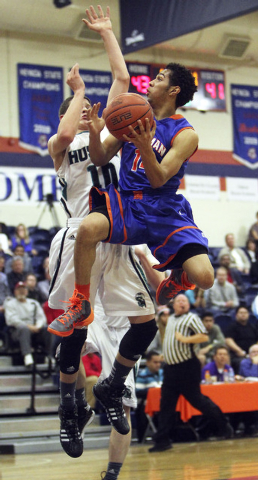 Sheldon (Calif.) used red-hot shooting from the perimeter to take an early lead Thursday.
But the Huskies finally cooled off enough to let Bishop Gorman take control, and the Gaels gained a 65-49 win in the Tarkanian Classic at Gorman.
"They stopped making jump shots," Gorman coach Grant Rice said. "I think they made their first six shots in the game, so we hoped that wouldn't continue. We were just fortunate enough to catch them at the half, and I was proud of our guys. We didn't panic, and we just kind of let our big guys take over."
The Gaels (4-2) will play Valor Christian (Colo.) at 10 a.m. today at Gorman, with the winner advancing to the semifinals of the Platinum Division. That game will be at 7 p.m. at Orleans Arena.
Sheldon started the game by making its first six 3-pointers to take an 18-11 lead. The Huskies led by 10 before Gorman closed to within 34-33 at halftime.
After Sheldon's barrage, the Gaels answered with some long-range shots to take control in the second half. Obim Okeke and Nick Blair hit back-to-back 3-pointers for a 49-43 lead, and Gorman pulled away.
Blair scored a team-high 15 points, 12 in the first half as the rest of the Gaels struggled. The 6-foot-6-inch forward hit 3-for-4 3-pointers, giving Gorman another perimeter option to go with point guard Noah Robotham and help take pressure off big men Stephen Zimmerman (7-0) and Chase Jeter (6-10).
"This is the second game in a row that Nick Blair has really grown up as a player, and he definitely gave us a big lift today as well," Rice said.
Jeter scored nine of his 11 points after halftime and finished with 11 rebounds and two blocked shots. Zimmerman had 10 points and 12 rebounds, and 6-9 sophomore Zach Collins supplied four points and three rebounds in the second half.
"We've got three high-level big guys," Rice said. "Obviously Zim and Chase are going to start, but we're just as comfortable with Zach in there. He's doing a great job for a sophomore."
Robotham added 12 points, six rebounds and seven assists.
Ian Miller had 16 points to lead Sheldon, which shot 7-for-11 on 3-pointers in the first half but 2-for-13 after halftime.
Contact prep sports editor Damon Seiters at (702) 380-4587 or dseiters@reviewjournal.com. Follow @DamonSeiters on Twitter.